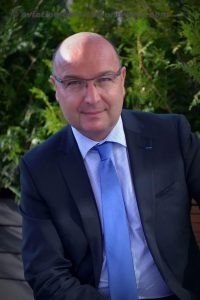 New Delhi. 07 April 2018. "MBDA has been delivering battle-winning capabilities to the Indian Armed Forces and co-operating with Indian industry for over 50 years, and throughout this our strategy has been one of true partnership. We have an excellent track record in terms of providing both operational and industrial capabilities, and given the strength of these two pillars we feel we are very well placed to continue our partnership with India for the future, " reiterated Loïc Piedevache, Country Head, India, MBDA in an exclusive interview to Aviation & Defence Universe (ADU).
ADU.  As the Chief Executive of MBDA India, how do you perceive the prospects for the company
in the next five years?
MBDA. Ourjoint venture with Larsen and Toubro is an evidence of our confidence and desire to continue to deepen our partnership with Indian industry and the Indian Armed Forces. Through L&T MBDA Missile Systems Ltd we are offering several key capabilities under the Make in India initiative, including products such as ATGM5 – which has the world's only fifth generation anti-tank missile technologies, an "Indian Designed, Developed and Manufactured (IDDM)" category.
ADU. Could you give an update on Maitri?
MBDA. We are engaged with the DRDO on a number of projects and initiatives. For SRSAM, we understand that the Indian Air Force and Army will fulfil their SRSAM requirement with Akash, while the Navy will fulfil its SRSAM requirement through an international competition, in which we will offer our VL MICA and Sea Ceptor systems. Of course we would also be happy to update our original SRSAM offer if requested by the Indian MOD or DRDO.
ADU. To what extent and in what way will MBDA's investments in India impact the growth of international business for the company?
MBDA. MBDA is the product of the co-operation of the missile industries of five European nations working together to develop their capabilities, and so we are uniquely able to cooperate with India and understand its needs and desires for developing its industry. Given this, it is no surprise we have a long history of active partnership with Indian industry, which is evident through our successful track record in Indian manufacturing. MBDA is keen to continue this proud history and in supporting the Make in India initiative, as evidenced by initiatives like our JV with L&T. We see continued partnership with India as entirely positive for MBDA.
ADU. Is there any development on the VSHORAD project in India?
MBDA. The capabilities of the Mistral MANPADS system were very successfully demonstrated during extensive trials in India, and in full compliance with the requirements of the Indian Armed Forces in mountain, desert and maritime conditions. We believe Mistral is the best option for India, in terms of operational performance, cost, industrial benefits, and logistics benefits – as Mistral is already in service with the Indian Armed Forces as part of the ATAM helicopter weapon system. Mistral MANPADS will be fully manufactured in India.
ADU.  What is the progress on the integration of ASRAAM with Jaguar in the upgrade programme? 
MBDA. ASRAAM is providing the IAF's Jaguar fleet with a step-change in air combat performance. With its large rocket motor and clean aerodynamic design, ASRAAM has unrivalled speed and resultant aerodynamic manoeuvrability and range. ASRAAM gives it a high kinematic capability that delivers superior end-game performance for within visual range air combat. The ASRAAM programme on Jaguar is progressing well, in accordance with the timescales agreed with the customer.
ADU.  Looking back at the Modi's Make in India, how has the year been for MBDA? What are the high points and the low points in the context of Indian defence business?
MBDA. It has been a very positive year for MBDA. In February 2017, we formed L&T MBDA Missile Systems Ltd, our Joint Venture with Larsen & Toubro, and within its first year of its incorporation, the joint venture has already offered a series of missile systems to address Indian Armed Forces requirement under the Make in India initiative. These include ATGM5, the only 5th generation ATGM missile with substantially advanced features vis-à-vis other 3rd and 4th generation ATGM missiles. The missile is offered under the Buy (Indian – IDDM) procurement category for the Indian Army and Navy Special Forces. Short Range Surface to Air Missile (SRSAM): the JV has offered the latest in surface to air missile technologies under the Buy and Make (Indian) Category for the Naval Surface Platforms requirements of the Indian Navy. Medium Range Anti-Ship Missile System: the JV has offered the latest generation anti-ship missile system under the Buy and Make (Indian) Category for the Naval Surface Platforms requirements of the Indian Navy. The JV is also preparing to participate in various 'Make' category projects. The JV will also be exhibiting as a standalone entity at DEFEXPO 2018, demonstrating the confidence both MBDA and L&T have in the future of our partnership.
ADU.  Is MBDA in the process in identifying more partners to keep in step with Make in India?
MBDA. We are in on-going dialogue with a large number of Indian enterprises over partnerships on missile technologies that would support the Make in India programme. We have set up an extensive network of business partners throughout India, and this network is increasing year on year. This extensive Indian supply chain will be able to support our JV initiatives and we are ready to fulfil Make in India requirements through this JV.
ADU. Now that Rafale is being bought off the shelf, which MBDA Missiles are on the package ?
MBDA. India's Rafales will be equipped with MICA, a missile the IAF knows very well as it is also part of the upgrade package for the IAF's Mirage 2000 aircraft. MICA is the only missile in the world featuring two interoperable seekers (active radar and imaging infrared) to cover the spectrum from close-in dogfight to long beyond visual range. Its ability to fly out to BVR in passive mode before the seeker locks on in the final stages of the end game has earned it the nickname "silent killer" as the target has little time to react or to deploy effective countermeasures. Also fitted to Rafale is the Meteor beyond visual range air-to-air missile, which is widely recognised as a game changer for air combat. Key to this is Meteor's throttle able ramjet engine, active radar seeker and data link that combine to provide unmatched end-game speed and manoeuvrability at greatly extended ranges, resulting in its all-important 'No-Escape Zone' being several times greater than any other existing or planned BVR weapons. With these two systems, the Indian Air Force will have unrivalled dominance of its regional skies. Rafale can also be equipped with the SCALP deep-strike cruise missile, providing the aircraft with the ability to strike hardened and protected targets deep inside hostile territory.