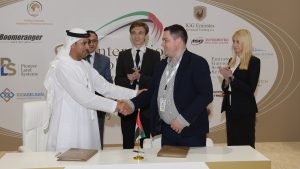 Abu Dhabi, 22 nd February 2019. This year's IDEX edition, a biennial arms and defence technology exhibition, has reached to its end and was marked by a number of important contracts that were signed.
Limpid Armor in IDEX 2019 showcased its cutting-edge product, the Land Platform Modernisation Kit (LPMK), allowing the tank/APC crew members to have a 360° vision "through the armor", hence augmenting the role of tanks and armored personnel carriers on the battlefield. This technology intends to revolutionize the combat experience and bring it to a new level in the XXI century. The real-time "friend/foe" identification allows to avoid the friendly fire loses in the combat zone, giving a significant advantage to the Armed Forces equipped with such a kit.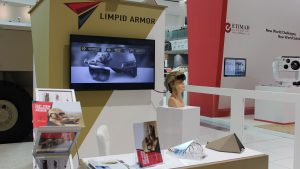 In addition to the elevated interest among the IDEX 2019 participants generated by Limpid Armor's solutions, the fourth day of the exhibition was marked by the singing of an exclusive distribution agreement with International Golden Group (IGG), a recognized leading supplier to the UAE Armed Forces and high-end defence and security solutions provider. This important event confirms the significant interest in Limpid Armor's solutions that exist in the Middle East and North African region.
"We are glad to sign the exclusive distribution agreement with the IGG. We have witnessed significant interest in our work in the sphere of AR, Artificial Intelligence and UI during the IDEX 2019 expo. And we are confident in our ability to propose cutting-edge and breakthrough solutions to our partners from IGG." – concluded Olha Dmytruk, CSO & Co-Founder of Limpid Armor. Limpid Armor – a technology company from Kyiv (Ukraine) specializing in Artificial Intelligence, Augmented Reality and Computer
Vision. Over the last two years, it has been actively involved in the development of a unique solution for the modernization of armored vehicles, which has been finally presented at IDEX 2019 as the Land
Platform Modernization Kit (LPMK). The company is a member of the NATO Science and Technology Organisation Working Group.