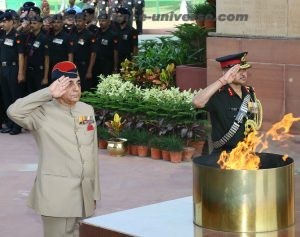 New Delhi. 28 Sep 2017.  George S. Patton famously said, "I do not have to tell you who won the war. You know, the artillery did." Regiment of Artillery, one of the largest Arms of the Indian Army celebrated 190th Gunners' Day on 28 September 2017. The Gunners' Day is celebrated to commemorate the raising of the first Indian Artillery Unit namely, 5 (Bombay) Mountain Battery on this day in 1827.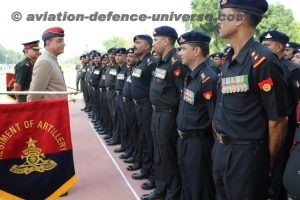 Over the ages, Artillery has proven to be the arm of decision, a battle winning factor and will continue to be the pivotal arm in all future battles. The Regiment of Artillery today embarked itself on a path of modernisation, both in terms of equipment and support systems as well under the "Make in India" initiative of the Government of India.
 Wreathes were laid at Amar Jawan Jyoti by Gen Deepak Kapoor (Retd) and Lt Gen PK Srivastava, Director General Artillery and Colonel Commandant, Regiment of Artillery to honour the sacrifices of our fallen heroes. A large number of veteran officers were also in attendance.