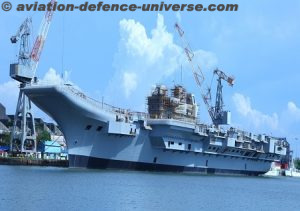 CSL building the dream called IAC Vikrant
Prime Minister Narendra Modi to do the honours
By Team ADU (With inputs from Indian Navy)
New Delhi. 01 September 2022.  In exactly 24 hours from now India and Indian Navy would have joined the select group of nations which make their mark by manufacturing their aircraft carriers indigenously. The stage is all set for the Prime Minister to commission IAC Vikrant tomorrow at Cochin Shipyard Ltd. Indigenous design, made in India, for the Indian Navy to protect both our waters and the global commons-IAC Vikrant will be an asset par excellence for the nation and Indian Navy's pride.
IAC Vikrant gets back the nostalgia the nation feels for its predecessor which gave sleepless nights to the western neighbour during the 1971 war. Kudos to Indian Navy's Warship Design Bureau (WDB) for making the infallible blue print and three cheers for Cochin Shipyard Limited (CSL), L&T, Tata Power SED, GE, BEL, BHEL, GRSE, Keltron, Kirloskar, Wartsila India, Elecon Engineering and the 100 plus MSMEs who together ensured the best and state-of-the-art aircraft carrier to protect Indian maritime borders with elan and ensuring that indigenous content of the project is approx. 76% which is an achievement indeed.
A journey which started in April 2005 with the steel cutting to 02 September when it joins the force IAC Vikrant's journey included laying of the keel in February 2009, and launch in August 2013. Warship grade steel required for construction of IAC was successfully indigenised through Steel Authority of India Limited (SAIL) in collaboration with Defence Research & Development Laboratory (DRDL) and Indian Navy.
The 262 m long and 62 m wide Vikrant displaces approx 43000 T when fully loaded, having a maximum designed speed of 28 Knots with endurance of 7500 NM. The ship has around 2200 compartments, designed for a crew of around 1600 that include specialised cabins to accommodate women officers and sailors. The carrier is designed with a very high degree of automation for machinery operations, ship navigation and survivability. The carrier is equipped with the latest state of the art equipment and systems. (The ship boasts of a fully-fledged state of the art Medical Complex with latest medical equipment facilities that includes major modular OT, emergency modular OT, physiotherapy clinic, ICU, laboratories, CT scanner, X-Ray machines, Dental complex, Isolation ward and telemedicine facilities etc.)
The aircraft carrier will have air assets which will definitely be cynosure of all eyes. The ship would be capable of operating air wing consisting of 30 aircraft comprising of MiG-29K fighter jets, Kamov-31, MH-60R multi-role helicopters, in addition to indigenously manufactured Advanced Light Helicopters (ALH) and Light Combat Aircraft (LCA) (Navy). Using a novel aircraft-operation mode known as Short Take Off But Arrested Recovery (STOBAR), the IAC is equipped with a ski-jump for launching aircraft, and a set of three 'arrester wires' for their recovery onboard.
The shipborne weapons include Barak LR SAM and AK-630, while it has MFSTAR and RAN-40L 3D radars as sensors. The vessel has a Shakti EW (Electronic Warfare) Suite. Vikrant is powered by four General Electric LM2500+ gas turbines on two shafts, generating over 80 megawatts (110,000 hp) of power. The gearboxes for the carriers were designed and supplied by Elecon Engineering. The ship's combat management system (CMS) was developed by Tata Power Strategic Engineering Division in collaboration with Weapon and Electronics System Engineering Establishment and MARS, Russia. It is the first CMS developed by a private company for the Indian Navy, and was handed over to the Navy on 28 March 2019.
Despite of COVID related imponderables and restrictions, adversely affecting availability of OEMs & supply chain, readiness of ship's propulsion and Power generation equipment/ systems in harbour was tested as part of Basin Trials in Nov 20. 'Vikrant' has successfully completed multiple phases of Sea Trials from Aug 21 to till date, where the ship's performance, including response of ship's hull to various conditions of operations, manoeuvring trials, main propulsion, Power Generation and Distribution (PGD), ship's Navigation and Communication systems, endurance testing of propulsion machinery, electrical & electronic suites, deck machinery, lifesaving appliances, integrated trials of majority of equipment/ systems and trials of other auxiliary equipment were ascertained and proved to the satisfaction of Indian Navy's trials team and ship's crew.
In line with the prevailing practices being followed by other advanced countries having experience of building Aircraft Carrier, the deck integration trials of fixed wing aircraft and exploitation of Aviation Facility Complex will be carried out post commissioning of the ship when the operational command & control of the ship including flight safety is with the Navy.
The count down to the commissioning of the ship has begun and ADU will be at the ceremony to get you the event live. Chaitali Bag, Chief of Bureau will be aboard IAC Vikrant tomorrow to report the momentous occasion both for the nation and world maritime fraternity.