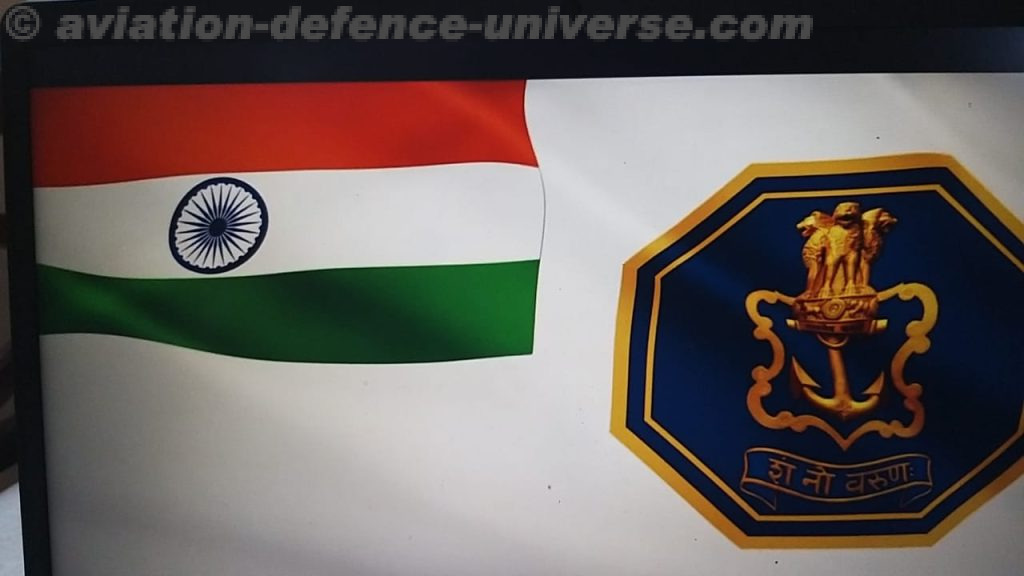 Kochi, India. 02 September 2022. IAC Vikrant commissioning was not the only attraction today at the  Cochin Shipyards Ltd. Indian Navy got its new ensign, for the un-initiated it got a new flag. It was unveiled by the Prime Minister of India Narendra Modi. What was the need for this change?
To move away from the British influence need was felt to transition to a new design that drew inspiration from our history. The White Ensign identified nation-wide with the Navy, now comprises of two main constituents – the National Flag in the upper left canton, and a Navy Blue – Gold octagon at the centre of the fly side (away from the staff). The Octagon is with twin golden octagonal borders encompassing the golden National Emblem (Lion Capital of Ashoka – underscribed with 'Satyamev Jayate' in blue Devnagri script) resting atop an anchor; and superimposed on a shield. Below the shield, within the octagon, in a golden bordered ribbon, on a Navy Blue background, is inscribed the motto of the Indian Navy 'Sam No Varunah' in golden Devnagriscript. The design encompassed within the octagon has been taken from the Indian Naval crest, wherein the fouled anchor, which is also associated with colonial legacy, has been replaced with a clear anchor underscoring the steadfastness of the Indian Navy.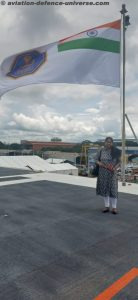 Till yesterday ensign of the Navy is a white flag with horizontal and vertical red stripes, with the Emblem of India emblazoned at the intersection of the two stripes. The tricolour is placed in the canton. The Union Jack was replaced with the tricolour after Independence in 1947, in the canton. On 26 January 1950, the Crown in the naval crest, depicted with an anchor, was replaced by Ashokan Lion for the Indian Navy's Emblem. The invocation to Lord Varuna (The Sea God) in the Vedas was adopted by it for its emblem, with the motto: "Sam no Varunah", meaning: 'Be auspicious unto us Oh Varuna'. The inscription of 'Satyamev Jayate' below the State Emblem was included in the crest. The nishaan as it is called has been inspired by the maratha warrior king Shivaji Maharaj. The naval ensign until now was the St George's red cross set on a white background, with the national emblem placed at the intersection and the Indian flag in the top left quadrant. The patron saint of England, St George lived in the 3rd century and is still identified with ideals of honour and gallantry. 75 years since the Britishers left India , the nation's Navy decided to shed off the remnants of it's colonial past and look truly Indian.