New Delhi. 08 October  2018 . Pratyush Kumar, president of Boeing India, has been selected to lead the  F-15 fighter aircraft program in the United States. Kumar will focus on furthering the F-15 business in the U.S. and globally.  As Boeing's senior in-country leader, Kumar has for over five years, advanced Boeing's activities in India across its three business units: Boeing Commercial Airplanes, Boeing Defense, Space & Security and Boeing Global Services while building strong relationships with the government and industry.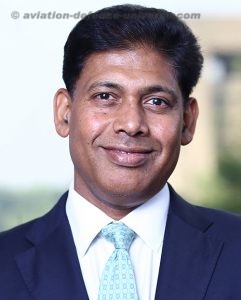 Kumar led the India team to an exponential expansion of Boeing's presence and business in India. During his tenure, Boeing launched a rapidly growing engineering and technology center in Bangalore to drive innovation, scaled up its aerospace supply chain, established a joint venture in Hyderabad with Tata to manufacture fuselages for the Apache attack helicopter, established Boeing Defense India to serve customers locally, finalized the sale of both Apache and Chinook helicopters to the Indian military and converted options for the P-8I maritime surveillance aircraft to firm orders.
He also led the effort on skill-development for aircraft maintenance engineers along with the Ministry of Civil Aviation and Air India Engineering Services Limited, and the HorizonX India Innovation Challenge that will nurture three start-ups to create aerospace innovations in India.
"I want to thank Prat Kumar for his enormous contribution to Boeing's business in India and the development of a stronger aerospace industry ecosystem across the country. He is an exceptional leader who has demonstrated his ability to respond to global customers, and to empower his team to collaborate and deliver results. This appointment is a testament of our recognition of Prat's ability to lead a team to success," said Marc Allen, president of Boeing International. "We will be announcing his successor soon."
"I am excited as ever for the future of Boeing in India, and the significant investments we are making in India to establish our roots and build our future together. We will continue to expand our local manufacturing, our technology and innovations, our products and people," added Pratyush Kumar." I am honoured and equally thrilled about my new role and hope to build a strong business momentum for the iconic F-15 program, around the world."