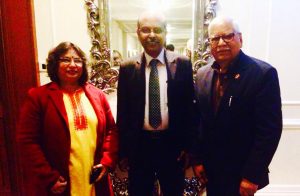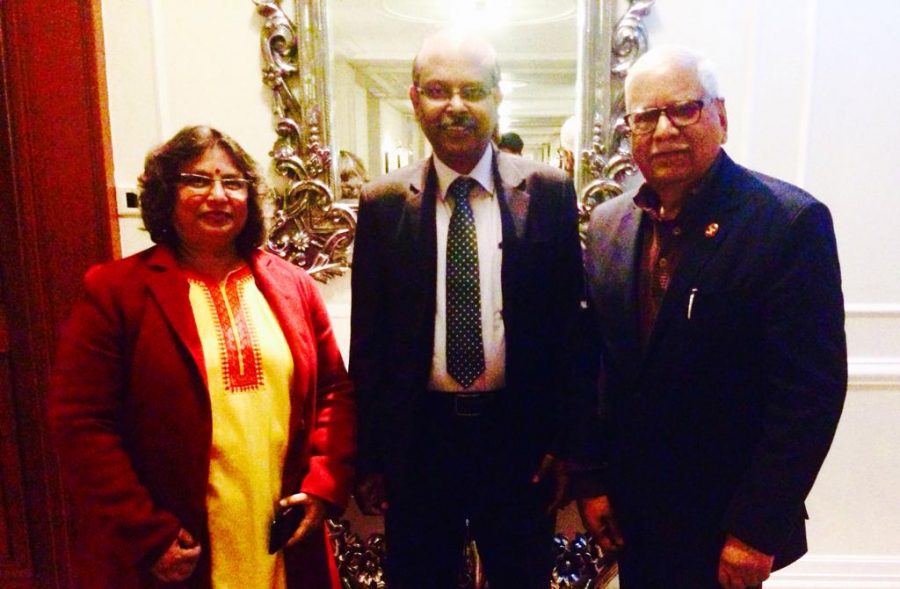 M V Gowtama Chairman & MD Of B E L Interviewed By ADU at New Delhi (Transcribed Video).
ADU: Good evening, today we are interviewing Mr. MV Gowtama, the CMD of BEL and welcome Mr Gowtama, to this first interview of the season for AERO India for ADU. We are so happy to have you with us, we'd like to know ,as you are in Delhi for the quarterly general body meeting so how is the spirit?
MVG: Spirit is very good and for the first time BEL crossed more than eight thousand crores of revenues in three quarters so we made good progress as far as revenue growth is concerned also over the bottom line has grown significantly upto Q3 of this year, we still feel the guidance what we have given in the beginning of the year to the shareholders, that we will maintain around 17-19 % EBT margins and we certainly will have a double digit growth anywhere between 12-15% so we still maintain these figures and I'm quite confident in Q4 also we'll be able to do it.
ADU: Also that you know, we just had a defence expo in Egypt and we saw BEL in full participation there and you had offices opening at Vietnam so international business seems to have been you know suddenly growing. Could you talk a little about your international business?
MVG: Our plan is to have 15-25 % of our revenues coming from exports, so towards that the government is assisting us in providing opportunities wherever the line of credit is being extended by government to different countries, other countries, so we started having the first overseas marketing office in Vietnam and before March we are going to commence three more overseas offices, one in Myanmar, one in Sri Lanka and one more in Oman, so the necessary approvals for this has come and I'm thankful to the respective governments of those countries who also agreed to have a stake and those who also felt that our presence there benefits them so this is going to be a win-win situation for both Bharat electronics and India as well as those countries so we are also looking forward for expanding further growth in the coming years so based on the performance of this we are going to further invest in ensuring that we have globally addressable products developed for them.
ADU: Since we are talking of an international business ,we've seen that BEL has a good association with the international companies in India and you have a lot JVs. Could you talk about them?
MVG: As JVs, we have two JVs at this point of time with international companies, one in health care sector where we are a minority shareholder and GE medical systems is majority shareholder, that company is in Bangalore and is doing very well as far as majority shareholding in a joint venture is concerned, we are having a joint venture with Thales, France, there Thales is minority shareholder so this company has also posted net revenue end of Q3 this year and we are trying to ensure that a good vision is made for this joint venture even though we initiated this joint venture for mostly joint research and development but we are seeing for a revenue growth even in this joint venture and today BEL is open for joint ventures with many other MNCs, we have got good amount of discussions and god willing shortly we may be I think either JVs or SPBs with other MNCs.
ADU: Also when you talk about JVs would you like to about JVs with the domestic companies. So which ones are the most active in the aerospace defence sector for you at the moment ?
MVG: So with the domestic companies, our relation is a little tricky, from Bharat electronic side we consider them not as competitors, we consider them as our strength, so many programs we partnered with domestic industries, be it L&T be it Tatas and we have delivered products successfully with their partnership so we try to build our relation with them. We collaborate on many of the projects and we also compete, so today with the domestic industries, we have initiated having memorandum of understanding with them so that how a specific project or a program we can collaborate with them, so we are hoping to form again with domestic industries a JVR SPV even in this regard we have good amount of discussion happen with many of the Indian defence industries, large defence industries especially and for small and medium defence industries we are helping them from my side, assurance from BEL side is that any process, they develop any product they develop which meets our cost, quality and delivery timelines, BEL is going to take directly from them so we are encouraging SME sectors in defence today more than 300 new SMEs are being registered as partners with us in this financial year.
ADU: You know your major customers, the three forces of the Indian Armed Forces, we'd like to start with the Air Force, What is the status, any new tenders, what are the supply status of whatever you are doing for them and just a consolidated review.
MGV: Till we got a large SAM order, Air Force was the largest customer firm with the integrated air command control system project, which is a very major project what we are doing for Air Force apart from this, we have got orders from Air Force for electronic warfare systems and many other requirements. Similarly when it comes to Navy, we are supplying the complete electronic feed required on modern ships of Indian Navy so with a large SAM coming up they are one of the largest customers for us even though the orders were large SAM came to us through the shipbuilders but the end customer is Navy. Then coming to Army, we are tier one suppliers to VDL for Akash system. We get huge orders from VDL for supporting and delivering the Akash regiments. Apart from that with Army we have got various communication, command control, electro-optic, radar and weapon system as well as upgrade of weapon systems with us so we are in a way all the three services are equally giving work and importance to Bharat Electronics and in coming years I feel that we will retain our status as most preferred partner with these services.
ADU: What about the homeland security market?
MVG: We started focus on homeland security as a new vertical almost a year and a half back now and I'm very happy to tell that we are a doing a homeland security project for one of the isle natural gas gained in India. Apart from that now recently we have been awarded perimeter security system for Naval airfields and we also have become L1 for such a system for the Indian Air Force
ADU: You've always been making in India, but with the current prime minister saying make in India, is there some development which you have done in addition to what you are already doing, to make the ecosystem of make in India strong?
MVG: Yes, as I told today we are investing heavily in developing ecosystem in defence, so government has created two corridors, one in U.P and another in Tamil Nadu, we have our own industries located in those corridors. In U.P, we are there in Ghaziabad. In Tamil Nadu corridor, we are there in Chennai. Inspite of that we're now investing our CAPIT in bringing up a regional product support service centre in U.P in Agra and near Coimbatore in Tamil Nadu. We are committed, board has approved the CAPITs there, apart from this BEL and HAL have started a section 8 company called defence innovation organisation under the last defence expo prime minister has announced IDEX, where we are supporting defence innovators so BEL is committed to develop the ecosystem and as I told previously, this year, we have developed nearly 300 small MSMEs in defence.
ADU: And with all this I would like to understand how does the order book look like as on date ?
MVG: We have posted very strong order book this year, in fact for the first time in the history of BEL, we crossed backlog order book of 50,000 crores during FY 19 and today with the increased deliveries our order book stands at 48,000 crores. So this year, order book requisition was very great for us and I also see strong order book for coming years especially the large missile system programs are going to bring us good orders and also the modernisation, what the country is committed for re-equipping the defence forces with the state of the art products and also coming over the obsolescence what has set in, I'm sure that we will be continuing acquiring orders to the tune of 13-15 thousand crores every year henceforth.
ADU: And now that we are on a countdown to AERO India I just wanted to ask you how BEL sees AERO India from the marketing perspective?
MVG: Its a very good opportunity for us in AERO India. Most of the Indian Ocean region countries, they send their defence delegations here and there is an opportunity for us to showcase our state of the art products and convince them that we have ability to match their requirement and especially in defence the products and solutions have to be custom made for the real perceived threats of the respective countries and we have got necessary technology, we have got the necessary financial as well as the technological resources available within the company to meet those aspirations, so this way we will try to market our ability to build systems and solutions for them
ADU: Thank you so much sir it's been wonderful talking to you and we hope to meet you at the AERO India.
MVG: Thank you maam.