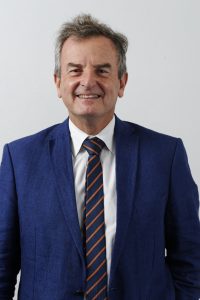 New Delhi. 19 February 2019. "Thales strategy of developing its industrial footprint in India is in line with the Indian  government's policy of 'Make in India' and of developing the defence base of the country. We have been co-operating with the Indian private sector, particularly large corporate players and SMEs, to build transfer of technology and supply chain partnerships. We are further leveraging the 'Make in India' policy and liaising with numerous group supply chain partners to support the local industry in India and open up growth opportunities for them," said Emmanuel de Roquefeuil, VP & Country Director, Thales in India in an exclusive interview with ADU.
ADU. What are the existing partnerships and JVs that Thales has in India?
ER. Thales has been working closely with Hindustan Aeronautics Limited (HAL) for over 50 years. We have been providing high-end avionics to equip the platforms that HAL is designing. Thales has a JV with Bharat Electronics Ltd. (BEL) as BEL-Thales Systems Limited (BTSL), which is dedicated to the design, development, marketing, supply and support of civilian and select military ground based radars for India and the global markets. With BTSL, Thales is jointly developing the PHAROS fire control radar for gun and missile systems that will cater to both domestic Indian and international markets. BTSL will also be undertaking the production of the LBREC – Low Band Receiver of the self-protection suite of the Rafale.
Thales also has successful JVs with L&T Technology Services to develop software engineering activities in India, particularly in the avionics domain, with Samtel for helmet mounted sights and displays, military avionics and airborne sensor systems, and recently formed JV with Reliance Aerostructure.
ADU. You are soon going to open Engineering Competence Centre in Bengaluru. Please tell us more about that.
ER. The new Engineering Competence Centre will expand our footprint and cement our long-standing relationship with India. It will be a first-of-its kind engineering centre in India that will focus on software and hardware capabilities in the areas of civil as well as defence businesses, serving Thales' global needs. We seek to hire over 2000 engineers in the next three to five years for this Engineering Centre.
ADU. Can you give details about Thales' tie-up with IIT-M?
ER. Collaborating with the world's most dynamic universities is a key aspect of innovation at Thales. In March 2018, Thales signed an MoU with Indian Institute of Technology (IIT) Madras for a jointly supervised PhD fellowship scheme. Last December, this partnership took another step with the purpose of collaborating to design a SHAKTI RISC-V processor compatible with the highest Safety Critical standards.
By adopting an open approach to both hardware and software, this joint effort will create new opportunities for the design of mission-critical systems in all sectors, including aerospace, space, automotive, rail transport, security and defence.
ADU. Tell us about Thales' innovative solutions and its endeavors in supporting the modernisation of Indian armed forces.
ER. Present in India since 1953, Thales has been a reliable partner to the Indian armed forces and is supporting its modernization efforts. Under the government's 'Make in India' policy, the Indian defence and aerospace sector is taking right strides towards becoming a global manufacturing hub. This has opened several new avenues for OEMs like Thales to explore business opportunities and form new relationships with our local partners in India.
As a global technology leader, Thales' strong innovation capabilities prepare its customers to achieve their big ambitions and master every decisive moment. The company has been on the cutting edge of connectivity and a driving force in the digitalisation of the defence, aerospace and space markets among others. Since 2014, Thales has invested almost € 7 billion in digital technologies (AI, Big Data, Cyber Security & IoT), including the under process acquisition of Gemalto.
As India's digital ecosystem is rapidly developing, there is a huge potential for organisations like Thales to support the needs of the Indian Air Force, Army and Navy with their solutions coupled with key digital technologies.
ADU. Tell us about your views on the growth of Indian Defence sector.
ER. With new initiatives and policy decisions on several fronts, the Indian defence sector is moving towards an era of self-reliance. The Indian defence sector has seen robust growth over the last year. As India has progressed and built up capabilities in its air, naval and ground combat services, Thales has stood by with stellar support. Thales started its operations in India in 1953, and since then the company has been a long-term supplier of globally acclaimed solutions for combat aircraft, air defence systems, sensors (ground, ship-borne and airborne), tactical communication and military avionics, among others to all three branches of the Indian armed forces.
Strong economic growth coupled with the will to modernize its armed forces enables India to stand tall as a defence manufacturing hub in the region. We are ready to partner with the country as always, and provide assistance to build up and strengthen its home grown defence industry.
ADU. What are the key technologies and products that Thales will be showcasing at Aero India 2019?
ER. At Aero India this year, Thales will showcase its solutions developed in India through its supply chain partnerships with the local industry – supporting the 'Make in India' initiative of the government. It will also present the latest advancements in its capabilities that seek to serve the interests of the Indian Air Force and also Ministry of Civil Aviation. Thales stand AB 2.21 will bring alive a range of solutions across aero civil and defence domains through special immersive digital experiences. Some of the demos at the stand will include optronic pod TALIOS, latest generation mini-UAS Spy'Ranger, high velocity missile STARStreak, rockets and a range of radio communication products, among others.
ADU. What are your expectations from the show?
ER. With the success of its past editions, Aero India has carved a niche for itself globally as a premier aerospace exhibition. We look forward to participating in this mega event and showcasing our cutting-edge solutions to the Indian customers and building new relationships with our stakeholders and industry at large. Thales, together with its local partners, is keen to address the modernisation plans of the Indian armed forces with its cutting-edge technologies. It also steps forward in its aim of expanding its industrial footprint in the country with the upcoming engineering competence centre in Bengaluru and seeks to showcase the same at the Aero Skills Pavillion too.