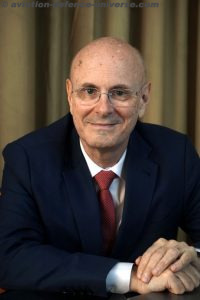 New Delhi. 04 December 2022. "Naval Group in India has also been instrumental in cementing partnerships with French MSMEs to enter into tie-ups and joint ventures with Indian MSMEs to deliver locally manufactured equipment in India," said Laurent Videau, Country & Managing Director – Naval Group India Pvt Ltd. in a one on one with Aviation & Defence Universe (ADU) on Navy Day 2022.
ADU. How have you been able to develop a manufacturing ecosystem for the Indian naval industry?
LV. We are among the first company to have created a fully functional wholly owned subsidiary in India, with sole purpose of developing a sustainable manufacturing ecosystem in India. The main purpose of Naval Group India has been to support 'Make in India' activities for Scorpene class submarine equipment, through developing the Indian defence eco-system, as well as building design services with talented Indian engineers.
Naval Group India is working with a range of MSMEs under P75 program. This has enabled equipment to be locally manufactured in the categories of Float (Hulls, Hatches, Ballast Valves), Move (Steering Consoles) and Fight (Weapon Handling). Today, we can boast of a strong and sound industrial ecosystem of 50+ Indian companies, which is still growing keeping in mind the future projects (not limited to submarines).
Moreover, for some repairs of very complex equipment of the Kalvari class submarines, we have trained and qualified some local MSME to perform these tasks in a time-bound and cost-effective manner in order to avoid having to send the equipment back to France for maintenance.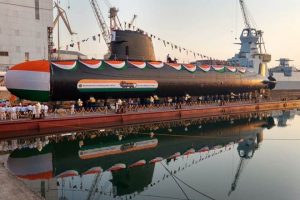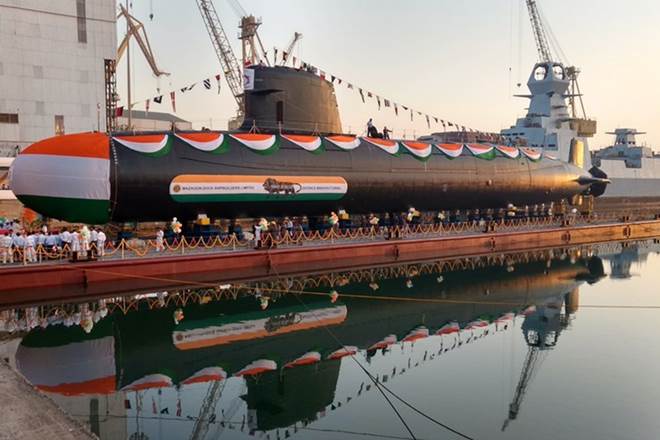 ADU. Naval Group has been into Indian Make in India concept for long but how does it plan to keep pace with AtmanNirbhar Bharat programme of the government?
LV. In our opinion, making in India is the foundation to achieve self-reliance or Aatmanirbharta in naval defence manufacturing. Today we can proudly say that the P75 program has significantly contributed to government's Aatmanirbhar Bharat vision.
Under the P75 program, the TOT to Indian shipyard and industry has been extensive and encompasses transferring manufacturing capabilities and expertise in quality control for several tasks. This has also resulted in qualification of skilled local manpower. Today India is one of few countries which has mastered from A to Z the complete chain of submarine construction and it is at par with most other international shipyards manufacturing submarines.
With MDl and Indian Navy we have also contributed to enriching the indigenous content for the P75 program as a whole.
 ADU. What are your future plans for Naval Group India? What after Scorpenes?
LV. Naval Group is proposing to expand in-service support to the existing Kalvari class submarines through the supply of spare parts and the latest simulators and tools for training and maintenance. We are engaging with private and public Indian companies, as well as the Naval Dockyards, in order to support them in ensuring the best possible service support for the six Kalvari-class submarines.
Naval Group India is continuously investing in training our Indian engineers to acquire expertise to perform increasingly complex maintenance and repairs tasks in time bound manner to maximize the operational availability of the submarines.
ADU. What is the status of your offer of the F-21 heavyweight torpedo (HWT)  to the Indian Navy?
LV. We have responded to the ongoing tender from Indian Navy with our F21 torpedo. This is the latest generation HWT developed for the French Navy for its latest SSN submarines and whose characteristics far exceed all other heavy torpedoes currently in service with international navies, so we have offered the best and the latest.
We are waiting for the next steps in the tendering process to be implemented by the Indian decision makers and fully geared to start and deliver the best in class HWTs for Indian submarines along with necessary involvement of Indian industry in best way possible.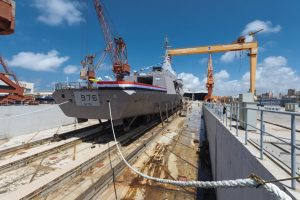 ADU. Apart from MDL what are Naval Groups existing partnerships with other government shipyards?
LV. Naval Group is committed to PM Modi's SAGAR (Security and Growth for All in the Region) initiative and hence collaborated with India's leading shipbuilder GRSE to develop surface ships for export markets based on the adaptable and sea proven Gowind® design. The MoU seeks to leverage the capabilities of both partners to meet the growing requirements of international navies and deliver a robust world class product. This blend of technology, innovation and management of state of art Indian and French naval expertise will be a real value proposition for international navies.
Further, Naval Group has also signed an MoU with premier Defence PSU shipyard – Hindustan Shipyard Limited (HSL) to collaborate in construction of Landing Platform Dock for Indian Navy.
ADU. What is on your platter for Indian Navy of the next decade?
LV. Considering Indian Navy's experience and existing infrastructure at its naval bases, Naval Group is already providing adapted services with aim of optimizing availability of P75 submarines at sea. We are also training our local teams under supervision of experts from maintenance domain to perform critical tasks on-board the submarines in India.
We are proposing to the Navy, in the frame of the HWT RFP, the F21 torpedo, the latest generation HWT developed for the French Navy for its latest SSN submarines, with considerable indigenous content.
The Indian Navy has an ambitious modernization program and Naval Group would like to support that vision by helping Indian shipyards to build modern platforms. Naval Group is interested in supporting the Indian shipyards in building future Indigenous Aircraft Carrier (IAC) 2, the Landing Platform Dock and other future naval platforms with high-end military requirements and performances.
In addition, we are in discussion with Indian industry for latest simulators and tools for training and maintenance of P75 submarines.