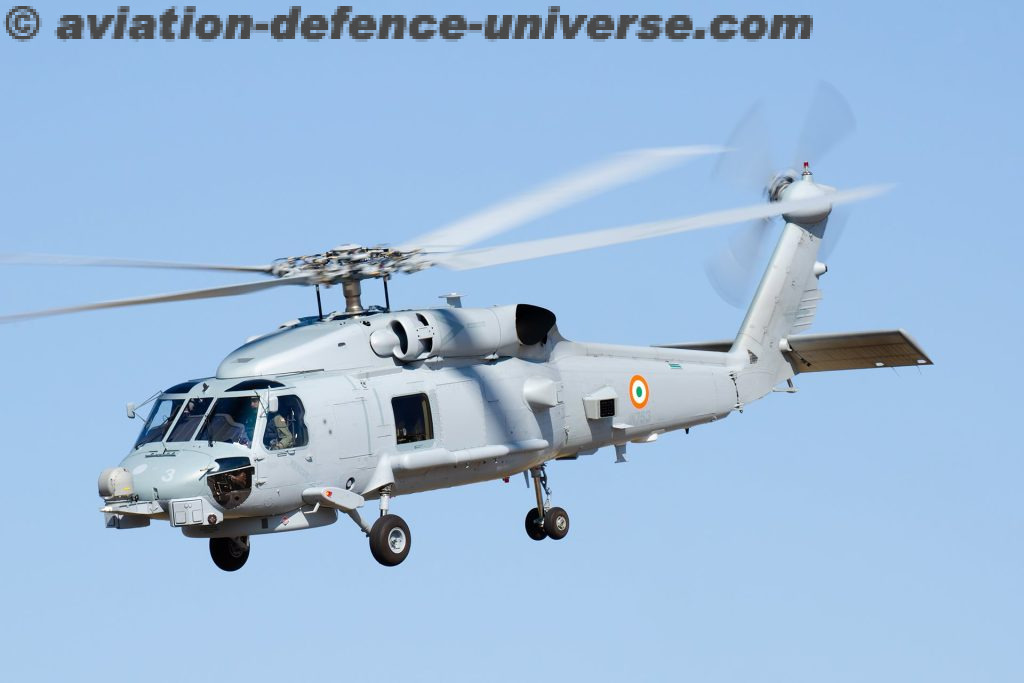 New Delhi. 04 December 2022.  It was a long wait for Sikorsky which had come to an end with India and US signing the deal for procuring 24 MH-60R Seahawk multi-role helicopters worth $2.6 billion made by Lockheed Martin Sikorsky for the Indian Navy in 2020. With 6 of the choppers already in the fleet , MH-60R is a giant leap  in the stories of Lockheed Martin and U.S.-India partnerships. It is the largest program for Lockheed Martin in India in support of United States Government foreign military sales.
As Indian Navy today celebrates its raising day ,  MH-60R provides a vital capability for the force in the Indo-Pacific region. MH-60R  allows the Indian Navy to benefit from an active production line getting them this capability quickly, and the ongoing support the OEM is providing for over 300 MH-60Rs flown by the U.S. Navy, the Royal Australian Navy, Royal Danish Navy, and the Royal Saudi Naval Forces. MH-60R acquisition ensures partner Navies are part of the technology insertion roadmap, including obsolescence mitigation, ensuring the Romeo stays relevant and ahead of the evolving threat environment.
Hamid Salim, Vice President, Sikorsky Maritime & Mission Systems stated in a statement to  Aviation & Defence Universe (ADU) , "Navy Week is an appropriate time to reflect on the Indian Navy's distinguished operation of Sea King maritime helicopters, while looking ahead to 24 new generation MH-60R SEAHAWK helicopters entering into service," said Hamid Salim, vice president, Sikorsky Maritime & Mission Systems. "With the MH-60R, the Indian Navy is acquiring a proven multi-mission aircraft with unmatched capabilities. Over 40 years of continued H-60 SEAHAWK collaboration and partnership between Sikorsky, Lockheed Martin and the U.S. Navy establishes the foundation on which MH-60R provides transformational capability to meet 21st century security challenges. We offer our congratulations to the Indian Navy on your legacy of achievements and extend our support as you deploy this future-ready helicopter system."
MH-60R helicopter is powered by two General Electric T700-GE-401C turboshaft engines rated at 1,425kW. It has a maximum and cruise speed of 267 km/h and 168 km/h respectively, with a maximum flying range of 834 km. It weighs around 6,895 kg and has a maximum take-off weight of 10,659 kg.
The Indian Romeos will carry specific satellite communications and datalinks unique to the Indian military. The helicopters will be outfitted with the AN/AQS-22 Airborne Low-Frequency Sonar (ALFS) as well as the AN/APS-153(V) multi-mode radar. With anti-surface, anti-submarine warfare, search and rescue missions capabilities, MH60-Rs will be just the helicopters required in the Indian Ocean Region. The choppers will be armed with Hellfire missiles, precision kill weapon systems, and MK 54 torpedoes.
The Lockheed Martin Common Cockpit™ avionics suite is common to the U.S. Navy's MH-60R and MH-60S multi-mission SEAHAWK helicopters. The cockpit enables the aircrew to perform diverse missions, including anti-submarine warfare, anti-surface warfare, Combat Search and Rescue, Vertical Replenishment, and Airborne Mine Countermeasures.
Romeos' fully Integrated Mission System builds complete situational awareness and actionable knowledge, enabling target engagement both close-in and over-the-horizon. 98% Availability (Ready Basic Aircraft) and less than $5K (USD) cost per flight hour give it the lowest life-cycle cost in its class.
The Common Cockpit™ avionics suite is based on open architecture and commercial-off-the-shelf technology, including:
Four 8″x10″ full color, night vision device-capable, sunlight-readable displays
Digital communications suite
Common programmable keysets soon to be replaced with trackball
Fully integrated Global Positioning System and Inertial Navigation System
Mass memory data storage
Rugged integrated mission computer
In addition, a new flight management computer and new operational software provide for greatly increased operational capability.
The MH-60R was originally known as "LAMPS Mark III Block II Upgrade" when development began in 1993 with Lockheed Martin (formerly IBM/Loral). Two SH-60Bs were converted by Sikorsky, the first of which made its maiden flight on 22 December 1999. Designated YSH-60R, they were delivered to NAS Patuxent River in 2001 for flight testing. The production variant was re-designated MH-60R to match its multi-mission capability.The MH-60R was formally deployed by the US Navy in 2006.
The MH-60R is designed to combine the features of the SH-60B and SH-60F. Its avionics includes dual controls and instead of the complex array of dials and gauges in Bravo and Foxtrot aircraft, 4 fully integrated 8″ x 10″ night vision goggle-compatible and sunlight-readable color multi-function displays, all part of glass cockpit produced by Owego Helo Systems division of Lockheed Martin.
Onboard sensors include AN/AAR-47 Missile Approach Warning System by ATK,Raytheon AN/AAS-44 electro-optical system that integrates FLIR and laser rangefinder, AN/ALE-39 decoy dispenser and AN/ALQ-144 infrared jammer by BAe Systems, AN/ALQ-210 electronic support measures system by Lockheed Martin, AN/APS-147 multi-mode radar/IFF interrogator, which during a mid-life technology insertion project is subsequently replaced by AN/APS-153 Multi-Mode Radar with Automatic Radar Periscope Detection and Discrimination (ARPDD) capability, and both radars were developed by Telephonics, a more advanced AN/AQS-22 advanced airborne low-frequency sonar (ALFS) jointly developed by Raytheon & Thales, AN/ARC-210 voice radio by Rockwell Collins, now Collins Aerospace an advanced airborne fleet data link AN/SRQ-4 Hawklink with radio terminal set AN/ARQ-59 radio terminal, both byL3Harris, and LN-100G dual-embedded global positioning system and inertial navigation system by Northrop Grumman Litton division. MH-60R does not carry the MAD suite.
Offensive capabilities are improved by the addition of new Mk-54 air-launched torpedoes and Hellfire missiles. All Helicopter Anti-Submarine Light (HSL) squadrons that receive the Romeo are redesignated Helicopter, Strike Maritime (HSM) squadrons.