New Delhi. 04 December 2022. From development of INS Nilgiri, a Leander-class frigate, which was a result of an Indian-UK engineering collaboration,  to assistance to Indian shipyards to help India with the integration of missiles on warships, to Hawk Mk132 aircraft for Indian Navy with it's  comprehensive maintenance capability at  INS Dega for the fleet at point of use, BAE Systems has a long standing relationship with Indian Navy.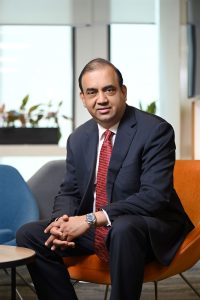 Ravi Nirgudkar, Managing Director – India, Sri Lanka, Bangladesh, BAE Systems lauded the Indian Navy for it's commendable role in trailblazing Make in India and Atmanirbharbharat  in the defence forces. "Our heartiest congratulations to the Indian Navy as it celebrates its achievements on Navy Day. The recent commissioning of its first indigenous aircraft carrier, INS Vikrant, is a historical milestone in its journey of self-reliance and puts India in the select group of nations with the niche capability to indigenously build an aircraft carrier," he said.
"BAE Systems has been a proud partner of the Indian Armed Forces for the past seven decades and has supported the Indian Navy in strengthening its maritime capabilities. Hawk Mk 132 India programme that has exceeded 100,000 flying hours with Indian Navy and Indian Air Force, is a great example of BAE Systems' commitment towards 'Make in India.' BAE Systems remains fully committed to support the Indian Navy in its efforts to achieve self-reliance by partnering with the Indian industry through co-development of mission critical defence equipment and services," he added.
It may be recalled that BAE Systems offered the Queen Elizabeth design for the Indian Navy's second Indigenous Aircraft Carrier (IAC-2) project. IAC-1 will be the first newly constructed aircraft carrier the Indian Navy will operate and will be capable of using a catapult launch which enables an aircraft to carry more weapons and fuel.
BAE Systems has developed the mission computer system suite for the P-8I aircraft for the Indian Navy. BAE Systems' mission computer system suite for the P-8I is a flexible and ruggedized processing platform that can be configured to meet the general purpose, input and output, video, voice, and graphics processing needs for modern military battle management requirements.
Another BAE made addition Indian Navy has the Advanced Precision Kill Weapon System (APKWS) laser-guided rocket which the US Navy deploys on its MH-60S and these help in hitting targets with improved accuracy and minimal collateral damage. It has been pitched as an ammunition upgrade for India's AH-64E Apache, HAL Rudra and Light Combat Helicopter.
India's National Security Council Secretariat (NSCS) and the UK Government in collaboration with BAE Systems successfully designed and conducted the Cyber Security Exercise for 26 Countries as part of the International Counter Ransomware Initiative- Resilience Working Group which is being led by India . National Security Council Secretariat in a statement had said that the exercise has been facilitated by BAE Systems through  the Immersive Labs platform, and the scenario has been written specifically for the participants based on threat Intelligence and operational experiences.
As Indian Navy sails smoothly in its journey of self reliance and modernisation , BAE System pitches in to keep it gliding ahead.