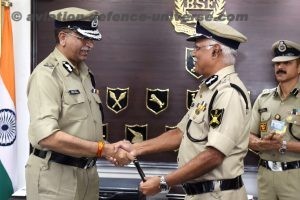 New Delhi. 02 September 2019. Vivek Kumar Johri took over the charge of Director General of BSF on 31st August, 2019. He is the 25th Director General of the Indian Border Security Force, which is the largest Border Guarding Force of the world having the strength approx. Two Lac sixty-five Thousand (2.65 Lacs) brave and dedicated men and women, protecting the International Borders with Pakistan and Bangladesh.
Vivek Kumar Johri belongs to the 1984 batch of the Indian Police Service of Madhya Pradesh Cadre. He is an Engineering graduate from MANIT, Bhopal.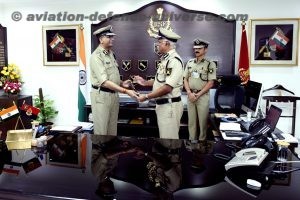 He has served as Superintendent of Police in the districts of MP in Panna, Bhind, Hoshangabad, Ratlam and Jabalpur. He also commanded a Battalion of MPSAF working for anti-ULFA operations in Assam in 1991. He also served as SP CBI and then in Cabinet Secretariat in New Delhi before joining BSF.
BSF is an elite border guarding force of the country with 192 Battalions (including 3 Disaster Management Battalions) and a strength of more than 2.65 lakh personnel.  These units are aptly supported by robust Training infrastructures, a well-equipped Medical Set Up, an Artillery Regiment, Air and Water Wings, Camel contingent & Dog Squads, to meet the responsibility challenge of safeguarding International Border with Pakistan and Bangladesh. The Border Security Force is a unique Force with both" Peace as well as War time" roles and has proven its mettle in most difficult tasks assigned to it by the Government in times of Peace, War and No War No Peace situation (NWNP) at Borders and Hinterland.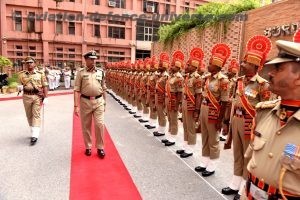 The Challenge of effective policing of Indo-Pak border arose immediately after Independence. Till 1965, the police units of bordering States were entrusted with security of international border. The attack by a Pakistan Brigade on Sardar Post in Gujarat necessitated the requirement of an armed force to function under Union Govt. to ensure secured Borders. The need of the hour was to raise an Armed Force trained on the pattern of Army to defend the borders and also work like police to check trans-border crimes during peace and thereby inculcating sense of security in the border population. On the recommendations of a committee of secretaries the BSF came into being under the dynamic leadership of Shri K F Rustamji on 1st Dec 1965. Since raising BSF has been most dependable force for the Govt. in fulfilling arduous tasks and acceptable to the people of the nation in times of need.
Baptised by fire during various sensitive operations, the young force grew from strength to strength to become one of the best and trusted professional forces in the country. During the nascent years of its raising the force was tasked to assist Mukti Vahini in Bangladesh Liberation war of 1971. BSF was mobilized before the actual war had broken out during Liberation war of Bangladesh.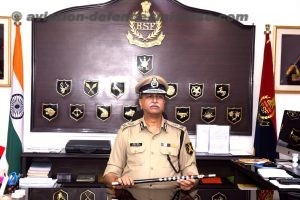 Border Security Force is deployed in J&K since its raising in 1965 and actively participated in 1971 War. In March 1990, BSF was inducted for Counter Insurgency Operations. During this most difficult phase of Insurgency from 1990 to 2005, BSF neutralized a large number of militants and was also successful in apprehension of more than 11000 militants, apart from surrender of more than 1000 militants.
BSF has also carved out an elevated niche among the security establishments of the nation in Internal Security, Counter Insurgency and Anti Naxal Operations through its dedication and unflinching professionalism. The world's largest border guarding force is marching ahead by getting equipped with modern resources keeping pace with changing times and technology. The professional approach and capability and meticulous execution of assigned tasks bestows the Force with the status of the most Dependable Warriors. BSF has defended our borders with courage and hard work, giving due respect to human rights. BSF has earned not only laurels but also the faith and cooperation of border population. Bordermen resolve to perform their duties with more vigour and valour and continue to live upto our motto ..