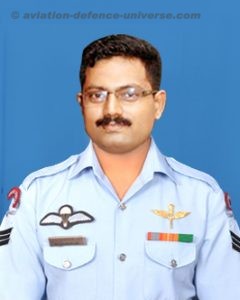 New Delhi. 26 January 2018. Sergeant Khairnar Milind Kishor was deployed with Rashtriya Rifles in Counter Insurgency role in Bandipora district of Jammu and Kashmir. Based on specific intelligence input about the presence of a group of terrorists, a cordon was laid on the night of 10 Oct 17 for search operations on the outskirts of Hajin village. Sergeant Milind was in the inner cordon as stop party towards the rear of the target house.
On 11 Oct 17, at 0440 hrs, a group of five to six heavily armed terrorists charged out of their hiding place firing automatic weapons and grenades directly towards the position held by Sergeant Milind. Sergeant Milind retaliated by firing back at the terrorists and pinned them down with his accurate fire. However, due to the intense and concentrated fire from automatic weapons and grenades lobbed by terrorists, Sergeant Milind was hit by flurry of bullets and shrapnel. In spite of being grievously injured and being under heavy fire, the airwarrior disregarding his personal safety, held his position and maintained precise fire and cut off the escape route of the terrorists. With the escape route blocked, terrorists resorted to indiscriminate firing and closed-in towards Sergeant Milind. In the resulting close quarter fight, Sergeant Milind shot down one terrorist and grievously injured another. However, due to dense and persistent firing by the surviving terrorists, Sergeant Milind was hit by bullets and was critically injured. He was evacuated to 92 Base Hospital, where he succumbed to his injuries. Sergeant Khairnar Milind Kishor displayed bravery of the highest order and in this confrontation lead the attack against the terrorist.
For his indomitable spirit, exceptional courage, disregard of personal safety in the face of enemy and for making the supreme sacrifice, Sergeant Khairnar Milind Kishor has been awarded Shaurya Chakra (Posthumous).