Established on 8 th October 1932, this year the Indian Air Force completes 89 years of glorious service to the nation. The Indian Airforce has over the years emerged as the fourth-best air force in the world. With 1,80,000 air force personnel and 1750 aircraft, it is one of the most advanced, powerful, and prestigious Air forces in the world.
Its motto- "Touch the sky with Glory', epitomizes its broad vision.
The mission of the Indian air force is to serve the country. During warfare they attack the enemy, when at peace they perform non-military operations like evacuations, relief work during natural calamities, surveillance missions, and special missions.
During war or military conflict, the main aim of the Air Force is to secure and protect the Indian airspace from the enemy. There is a multitude of aircraft, with each aircraft designed for a special purpose like attack planes, special-mission aircraft, logistics airplanes, support aircraft in the defense of the country.
History of First Indian Airforce Aircrafts
Russian aircraft dominate its inventory.
The first aircraft to be inducted in the Indian Airforce were four Westland Wapiti
The Airforce had 6 Royal Airforce Trained officers.
The first assignment by the IAF with the United Nations was during the Congo Crisis in 1961. The Canberras were sent to assist the UN.
During the Sino-Indian War(1962), the aircraft were used for only supply missions.
In the Indo Pak War 1965, MiG 21 were deployed only in the defensive line.
It was during the Indo Pak War 1971 that the IAF showed its dominance and might and were instrumental in winning the war.
The other major operations are Operation Vijay, Operation Megdoot, Operation Cactus, and Operation Poomalai.
The Indian Air Force sources its aircraft and other equipment from Russia, Britain, France, Israel and the US. Some of its aircrafts are also indigenously made in India.
The Indian Airforce Aircraft can be classified into nine categories:
Combat or Fighter Aircrafts
Airborne Warning and Control System(AWACS)
Reconnaissance
Electronic Warfare
Transport Airport
Helicopters – fighter helicopters and transport helicopters
Trainer Aircraft
Aerial refueling
Unmanned Aerial Vehicles commonly called Drones
Combat or Fighter Aircraft or Active Combat Aircrafts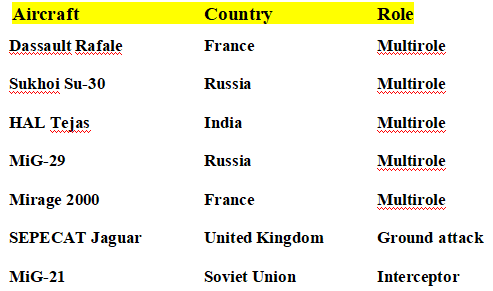 These fighter jets are designed to destroy enemy aircraft in air-to-air combat, air-to-ground, air-to-air, anti-ship as well as anti-submarine attacks.
MIG 21
The first supersonic fighter inducted in 1962, these interceptor planes have a glorious past and will be phased out by2025.
MIG 29
This twin-engine fighter was renamed "BAAZ" and inducted in the year 1985.
It is a multi-role fighter capable of launching air-to-air missiles, mid-air refueling, and advanced avionics.
During the Kargil war (1999) these aircraft proved their mettle and help win the war.
Jaguar
Introduced in 1973, this multi-role aircraft with a speed of 1700km/h and a range of 3524 km, is capable of a nuclear strike, supersonic performance, and reconnaissance.
The new Jaguar Darin 3 has better avionics, a radar that can detect 62 targets at a given time. It can carry laser-guided and anti-ship missiles.
These fighters spread fear in the hearts of the Pakistani Army during Kargil War.
Mirage 2000
Inducted in the IAF 1980 and renamed VAJRA, this aircraft made history as it showed its capability by landing on Yamuna Expressway.
Mirage 2000 was used successfully during the Kargil war to destroy enemy bunkers.
This is a multi-role aircraft equipped with new avionics, MICA missiles, and nuclear warhead carrying capacity.
Sukhoi Su30
The most potent, super maneuverable fighter became the backbone of the IAF, soon after its induction in the year 2002.
This multi-role fighter is meant for air-to-air, air-to-surface for deep penetration missions, and reconnaissance. It is equipped with superior avionics, capable of carrying the Brahmos and Nirbhay Nuclear Missiles.
HAL Tejas
Inducted in 2016, Tejas is the smallest, lightweight, multirole, single-engine, fighter aircraft in the world.
It has ground to air, air-air, anti-ship missiles, precision-guided rockets, and bombs.
Laced with reconnaissance, surveillance, electronic warfare, the aircraft also has a multi-role radar.
With advanced avionics and weaponry systems, it is especially effective is its infrared-seeking air-to-air missiles.
Dassault Rafale
The latest fighters from France are multi-role Rafale aircraft. They can undertake, both, long and short missions.
Its best feature apart from the ability to carry out air- to air strike, ground and sea attacks, and reconnaissance, is its AESA radar.
Airborne Early Warning and Control System
AEWACS
AWACS is an airborne radar system mounted on an aircraft.
The surveillance sensors are located in the 'turntable rotodome' giving it the unique look.
The radar system is designed to detect, track and identify aircraft, ships, ground vehicle movement deep into enemy territory.
These act as penetrating "eye in the sky".
The radars can help detect and distinguish between friendly and hostile aircrafts hundreds of miles away.
A major project of Rs10,500 crore has been set up to develop six airborne warning and control systems by the Indian government.
List of AWACS in the Indian Airforce
Phalcon AWACS -Isreal
Netra AEW&CS aircraft -DRDO
Embraer-145 jets -Brazil
RECONNAISSANCE & SURVEILLANCE
Reconnaissance aircraft or spy planes are equipped with cameras and sensors.
These are usually modified fighters or bombers.
Now UAVs and satellites are taking over this role with real-time surveillance and gathering intelligence.
Battlefield and airspace surveillance, marine patrolling and troop movement, and artillery spotting are done using surveillance and observation aircraft.
UAVs, moored balloons, and modified aircraft are used for this purpose.
The Reconnaissance and Surveillance Aircrafts
Boeing 707
Global 5000
Gulfstream G100
ELECTRONIC WARFARE
An electronic warfare aircraft is a military aircraft equipped for electronic warfare. They use radar jammers and deception methods to degrade the effectiveness of the enemy radar and radio system.
They have mostly modified versions of aircraft.
Gulfstream III from Israel is the most sophisticated and technologically advances in the world
Tanker
Tankers are flying fuel stations for aerial refueling of aircrafts
Air-to-Air refueling, in-flight refueling, and tanking is the process of transferring aviation fuel from the tanker to the aircraft.
The refueling of Rafale mid-air for a non-stop flight is a recent example
Ilyushin II-78 is Indian Air Forces Tanker.
MILITARY TRANSPORT AIRCRAFTS
These are mostly gigantic aircraft used primarily to transport troops, artillery, and war supplies.
During natural calamities, the government also uses them for civilian evacuation, disaster relief, like airdropping food and supplies to the stranded population.
Aerial tankers are also included in this category.
The biggest transport aircraft in the world C-17 Globemaster III is in the IAF.
LIST OF COMMISSIONED TRANSPORT AIRCRAFTS
Boeing C-17
IIyushin II-76
Lockheed Martin C-130J Super Hercules
Antonov An-32
Hawker Siddeley HS 748
Dornier Do 228
Boeing 737
Embraer Legacy 600
HELICOPTERS
The Indian Airforce has 2 categories of helicopter
Attack helicopter and Transport helicopters
Attack Helicopter
The attack helicopter, like a fighter jet, is a fighter helicopter whose primary role is to engage and destroy the enemy's infantry, military vehicles, and barricades.
Attack helicopters can use weapons like machine guns, rockets, anti-gun missiles. The new helicopters are now capable of air-to-air missile attacks
It gives air support to ground troops and destroys enemy arms and infantry. Some can carry guns, rockets, and missiles.
They are also used to escort transport helicopters
THE LIST OF ATTACK HELICOPTERS
HAL Light Combat Helicopter
Boeing Apache AH-64
HAL Rudra
HAL Dhruv
HAL Chetak
HAL Cheetah
TRANSPORT HELICOPTERS
These are used to transport troops and for logistic purposes.
Boeing CH-47 Chinook
Mil Mi-17
Mil Mi-24
MILITARY TRAINER AIRCRAFT
This is an aircraft designed to facilitate the training of pilots and aircrew with safety features.
These fighters allow real-time piloting and simplified cockpit arrangement, navigation, and warfighting skills.
THE LIST OF TRAINERS IN THE INDIAN AIRFORCE
Pilatus PC-7
HAL HTT-40
HAL Kiran
BAE Hawk
SEPECAT Jaguar
Mikoyan MiG-21
These are aerial vehicles, remotely controlled by personnel on the ground or with pre-programmed flight plans without a pilot.
Compared to the initial UAVs, the UAVs now are extremely sophisticated and have been rechristened, "Unmanned Aircraft System – UAS. They have dedicated ground stations, onboard weapons, satellite connectivity, the Indian air force has the following UAVs.
List of UAVs in the INDIAN AIR FORCE
IAI Harop
IAI Heron
IAI Searcher
DRDO Lakshya