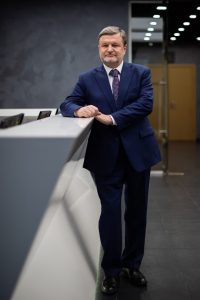 Bangalore. 03 February 2021. "I would like to note that we are not only interested in delivering aircraft, but also organizing a comprehensive industrial partnership. The degree of Indian involvement depends directly on the number of ordered aircraft. The partnership can include authorization of a maintenance and repair center, creation of localized warehouse for spare parts and a training center, and even include production of individual structural elements and eventually assembly of the aircraft and localization of the main aircraft components and assemblies, in case of large orders of 200 aircraft," said Director for International Cooperation and Regional Policy of Rostec State Corporation, Viktor Kladov in an exclusive interview to Aviation & Defence Universe (ADU).
ADU. What kind of prospects does Rostec see in the Indian market?
VK. India is one of the most promising foreign markets for Russian civil aviation technology. We are open to cooperation and ready to develop projects in this field together with our Indian colleagues. I'd like to say a few words about what we can offer to our Indian partners.
As you are aware, Rostec also includes the United Aircraft Corporation, which is constantly analyzing the situation with civil aviation both in Russia and abroad. We study the market demand and offer the most optimal products for potential partners around the world. Currently we are promoting the short-haul aircraft SSJ100 Superjet 100 to India. Several presentations have been held for major organizations in the Indian air travel market over the last few years. We believe that interest in this segment may grow in the medium term as domestic routes and transportation to remote regions of the country keep developing.
Rostec is also prepared to offer cooperation in conjunction with other aircraft models, in particular MC-21 and Il-114-300. On December 15, 2020, MC-21-310 passenger airliner equipped with new Russian PD-14 engines made its first flight. The first MC-21 models that flew earlier were powered by the PW1431G engine from Pratt & Whitney. The choice between the two engines can become a competitive advantage of the Russian airliner. The American engine has already passed certification and has established itself in the market, with a network of operating service centers. The MC-21 program is developing successfully despite the attempts of the Western powers to disrupt it. I'd like to remind that MC-21 has a significant amount of composite materials, around 35%, in its construction. This is another of the advantages that makes the aircraft more cost effective. If our Indian colleagues are interested in MC-21-310, we will be happy to initiate cooperation.
I would like to note that we are not only interested in delivering aircraft, but also organizing a comprehensive industrial partnership. The degree of Indian involvement depends directly on the number of ordered aircraft. The partnership can include authorization of a maintenance and repair center, creation of localized warehouse for spare parts and a training center, and even include production of individual structural elements and eventually assembly of the aircraft and localization of the main aircraft components and assemblies, in case of large orders of 200 aircraft.
Il-114-300 is relatively cost effective and undemanding aircraft when it comes to regional operation. We are prepared to organize its assembly or industrial production in India, or develop a joint Russian-Indian modification of the whole project.
ADU. Since 2018, Russia has signed contracts worth over $ 15 billion with India. How do you see your business developing in the coming years?
VK. As you rightly noted, the volume of our partner projects is quite impressive. India is one of the key importers of Russian military equipment and weapons. Our countries have been involved in strategic partnership for more than a decade.
Around 80% of the Indian military aircraft fleet consists of Russian technology. This includes multifunctional fighters such as Su-30, MiG-29UPG, shipborne MiG-29K/KUB, Il-76MD military transport aircraft, Il-78 air tankers and A-50E AWACS aircraft, military transport helicopters Mi-17, transport and combat helicopters Mi-35M, heavy transport helicopters Mi-26T2 and several other models. Thus, we can say we are in a strong position.
We are implementing diverse joint projects for the armed forces with a degree of cooperation between the enterprises of our two countries that is unique for the world market. Long-term cooperation with HAL continues for the licensed production of Su-30MKI, which is the most numerous aircraft in the Indian Air Force. The production of Ka-226T helicopters is being planned. The HVF plant is producing T-90 tanks for the Indian ground forces, and Mango shells are produced at the artillery factories of the Indian Ministry of Defence. Rosoboronexport, Kalashnikov Concern and OFB are planning to launch localized production of Kalashnikov assault rifles in India. Construction of Project 11356 frigates for the Indian Navy is being prepared at the Goa Shipyard Ltd.
Supplies of military materiel and weapons is an important but not the only part of our collaboration. We primarily associate prospects of quicker collaboration growth with civil projects. In particular, the Civil Aviation Department of India has validated the type certificate of Mi-171A2 helicopter, serially produced at the Ulan-Ude Aviation Plant of the Russian Helicopters holding. The validation of the Mi-171A2 certificate in India testifies to the high level of trust in Russian helicopter technology and its relevance in this country. It also confirms the compliance of the helicopter design with local flight safety requirements and permits its operation.
It is important to emphasize that regular meetings between the leaderships of Russia and India are a powerful incentive for the development of relations between our countries. They play a special role in expanding and strengthening our collaboration.
ADU. The Indian team will travel to Russia for training with the S-400. Could you tell us about the timeframe of the program implementation?
VK. I can say that the supply contract of S-400 systems is proceeding according to schedule. We are in close contact with our Indian partners and pay special attention to this project, which marks a new stage in military-technical cooperation between our countries.
ADU. How does Rostec view the Make in India program? Is Rostec planning to participate in the Self-reliant India (Atmanirbhar Bharat) flagship program launched by the Indian Prime Minister?
VK. Since the start of the program in 2014, our countries have initiated over 200 joint projects under the initiative. But even preceding it, we implemented the licensed assembly of T-90S tanks and Su-30MKI fighters in India, and work is under way on the BrahMos-2 hypersonic missile.
UEC is in active cooperation with HAL within the framework of the Make in India program on projects such as the transfer of technologies for the production and repair of engines to India. To date, our Indian partners have already received licenses for the production of AL-31FP and RD-33 ser.3 engines. We have provided technical assistance in organizing the overhaul of these engines at HAL facilities.
ADU. Could you tell us about the Ka-226T program?
VK. In May 2017, the Russian Helicopters holding, Rosoboronexport and the Indian HAL corporation registered a joint venture called Indo-Russian Helicopters Limited, which deals with the localization of the Ka-226T production. The implementation of a joint project to localize the production of the Ka-226T is one of the key points of cooperation between Russia and India within the Make in India program.
I can say that work is currently underway, and we will keep you updated on it.
ADU. Warfare and weapon technology are going through a transformation. Are there any plans to work with Indian organizations in the fields of quantum computing, artificial intelligence, etc.?
VK. Of course, we do not want to be only limited to our current projects. It is very important to constantly move forward and diversify. We want to create and develop joint innovative projects, both in the military and in the civilian sectors.
We currently use artificial intelligence algorithms in a number of areas. For example, artificial intelligence is present in the Su-35 combat aircraft. The jet uses a smart targeting system that provides both independent selection of priority targets and the choice of the most suitable weapon systems for destroying them.
Test models of Armata also use elements of artificial intelligence to support the crew with targeting. The operator needs to indicate the desired direction to the target, and the algorithms calculate the rest independently.
Innovations are being introduced not only in the military solutions. We are currently implementing Smart City ecosystem projects in Moscow and other Russian cities. The project consists of the creation of integrated urban lighting systems, an automated control system for urban transport, "smart" urban infrastructure and much more.
Rostec can also offer its expertise in the construction of intelligent video surveillance and face recognition systems in cities. Projects such as NtechLab's face recognition algorithm FindFace have already received international recognition. The FindFace Security software, based on this algorithm, detects people's faces in photos and videos, searches for them in databases with high speed and accuracy. The algorithm can determine a person's gender, age and even emotions. Searching a database of 1 billion photos takes less than half a second. It has already proven its effectiveness in a number of Russian cities such as Moscow, as well as during events like the 2018 FIFA World Cup, where FindFace allowed to catch more than 180 criminals, some of whom were on the federal most wanted list.
If we talk about a different application of artificial intelligence algorithms, then here we can highlight the UEC project. The United Engine Corporation of Rostec and the Zyfra Group have started testing the Zyfra Industrial Internet of Things Platform (ZIIoT) at the Salyut production association facilities. The system with elements of artificial intelligence will track the manufacturing process of engines and simulate their tests in a virtual environment. This will significantly reduce the number of real tests, improve the quality of manufactured products and speed up the production process itself.
We have a lot to offer and we are ready to develop cooperation with India in all these areas. At the same time, the expertise of Indian partners is also of great interest to us.
ADU. What do you think of working with the Indian private sector? Do you have plans to develop India-specific weapons systems with the Indian sector?
VK. I have already mentioned a number of key military projects. But we are also building up cooperation in the civilian field.
Of example, the VSMPO-AVISMA Corporation, which is the world's largest producer of titanium, supplies semi-finished products from titanium alloys to different divisions of Indian aerospace company Hindustan Aeronautics Limited, including HAL Helicopter Division and HAL Aircraft Division, the subcontractor of Airbus manufacturing component parts for Airbus А320 aircraft.
AVISMA also collaborates with the shipbuilding division of the Larsen and Toubro company that operates in the fields of industrial production, technology, engineering and construction. Through the joint venture Uniti LLC, AVISMA is involved in the supply of welded titanium pipes for RSPL and Godrej & Boyce Mfg, Co. Ltd for both national and international projects in the chemical industry and the energy sector.
The Technodinamika holding is interacting with Indian enterprises in two main fields: supply and repair of various parts, assemblies, systems and components for Russian aviation equipment in the interests of Indian companies and structures. The most important Indian partners for the products and services of the holding include the supply and repair of auxiliary power units (APU), the supply of wheels and brakes, and hydraulic filters.