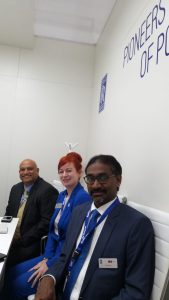 Co-creation and Co-development is the mantra to forge ahead
By Sangeeta Saxena
New Delhi/Lucknow. 18 February 2020. IndianCoast Guard, Indian Navy and Indian Army are powered by MTU engines which include indigenously built India's Main Battle Tanks Arjun. The journey of engine maker Rolls Royce which started eighty years ago in India , has reached a point where more than 750 Rolls-Royce engines of 10 different types are powering aircraft of the Indian military supported by the defence service delivery centre Bengaluru.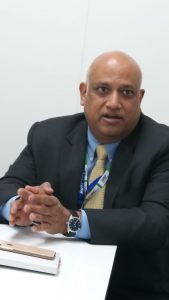 Speaking to the media at a round table, President, Rolls Royce India and South Asia, Kishore Jayaraman said, "We are also keen to support India's goals of indigenisation and self-reliance through technology partnerships and co-development initiatives. Co-creation programmes to co-develop relevant technologies in areas of strategic importance to bolster commercialisation of production in India, as well as strengthen the ecosystem to become a global supplier and exporter of defence technologies."
Matching steps with Skill India programme of the government Rolls Royce launched 'Unnati' Skill Development initiative for underprivileged women in partnership with the Centre of Excellence in Maritime & Shipbuilding (CEMS) at Lucknow during the DefExpo 2020. In addition the engine maker has also launched the 'Unnati' Scholarship Programme for women engineering students with Buddy4Study and Charities Aid Foundation (CAF) India.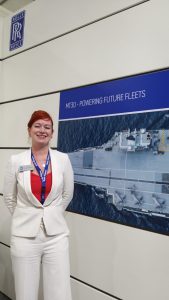 Louise Donaghey Senior Vice President, India & South Asia, Rolls-Royce elaborating the vision of Rolls Royce India said, "we're proud to have been a partner with India for eight decades and here move our partnership with India to a strategic level so we wish to move from make in India which we've been doing in partnership with HAL for 40 years, to create in India and are excited to become a part of the future combat story of India's armed forces and we believe as that we have the power to protect the Indian nation we are working towards building upon of our foundation of 750 aircraft powered by Rolls-Royce here in India."
She added that the company wanted to continue that story into the Navy today and was proud to introduce MT30 which is the world's most power dense green gas turbine and was looking forward to understanding if there's a place in the Indian Navy for it. " We plan to take our relationship into that strategic level where we are proud to be here working with India, for India and for the world. We are partners of the future for our ability to use the talents and skills in India to build services they can keep building."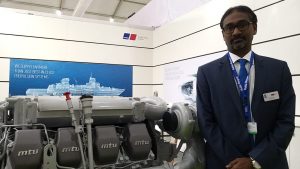 This DefExpo all concentration at the Rolls Royce stand was on the MT30 and its tag line Powering the Future seemed very apt. GS Selwyn Managing Director MTU said, "Proven at sea, MT30 can deliver its full power of up to 40MW (depending on application) in ambient temperatures up to 38°C, without any power degradation through life of ship allowing the ship to operate anywhere in the world without loss of performance or power. In just over a decade, the MT30 is operating or has been selected for all conceivable propulsion arrangements across seven ship types in ten naval programmes around the world. This includes mechanical, hybrid and fully integrated-electric, with power delivered to water-jets, controllable and fixed-pitch propellers, depending on application."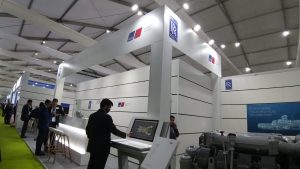 He added, " a gas turbine engine, MT30, can deliver its full power of up to 40 MW in ambient temperatures of up to 38 degree Centigrade without any power degradation, allowing the vessel to operate anywhere in the world without loss of performance or power. It is known to be the world's most power-dense marine gas turbine in service today."
MTU also brand positioned its solutions for marine automation including the EM 50-2 Integrated Bridge System. The EM 50-2 is a modern integrated bridge responsible for providing access to all information that is crucial to safe and efficient ship operation, that collates information previously scattered over diverse displays at a standardised display using a single graphic interface which enables faster overview using an ultra-modern visuals concept.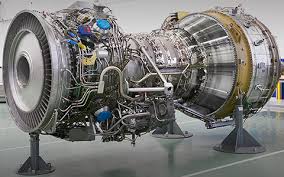 Rolls-Royce has been working closely to ensure that India is uniquely placed to support both its future requirements and the development of advanced technological solutions across global markets. Kishore reiterated that the Aerospace Engineering Centre in Bangalore has over more than engineers contributing to global aerospace engine programmes and Rolls-Royce's R2 Data Labs, an acceleration hub for data innovation with a facility in Bangalore, develops data applications that unlock design, manufacturing and operational efficiencies and creates new service propositions for customers.
With India's focus on modernisation and indigenisation of its Armed Forces, Rolls-Royce is committed to sharing innovation, capability and knowledge through its enduring and cooperative partnerships. The company feels that this is the right time to step up discussions on its products & technology and fully participate in the evolving sector in the country. In line with their vision to pioneer the power that matters to their customers, Rolls Royce is well-positioned to offer it's strong portfolio of more efficient and cleaner products and solutions and play a key role in India's growing aviation sector.