By J K Verma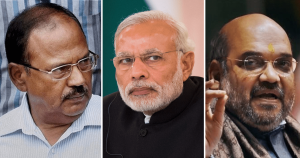 New Delhi. 08 August 2019. Announcement of Reorganisation of Jammu & Kashmir, Repealing of Articles 370 and Abrogation of Article 35A by Indian Prime Minister Narendra Modi got the expected response from Pakistan. Our neighbour got a strong jolt after Modi's 5th August 2019, Monday morning roar in Indian Parliament. And it took his Home Minister just two days to clear the decision with a majority ayes. And his second trusted Lieutenant National Security Advisor Ajit Doval made it possible by strategising the announcement with utmost secrecy, in a planned and phased manner which only an intelligence man could do.
Pakistan's Prime Minister Imran Khan after jittery statements chaired a meeting of the National Security Committee at Prime Minister's Office on 7th August which was attended by Foreign Minister, Defence Minister, Interior Minister, Minister for Education, Minister for Human Rights, Minister for KA&GB, Law Minister, Adviser Finance, CJCSC, COAS, CAS, V-CNS, SAPM on Information, DG-ISI, DG-ISPR, Secretary Foreign Affairs and other senior officers.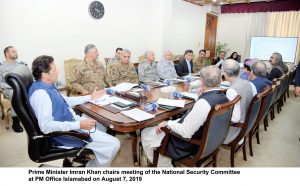 The official statement from the Prime Minister of Pakistan's office stated that the Committee decided to take some decisions. These were downgrading of diplomatic relations with India, suspension of bilateral trade with India, review of bilateral arrangements which meant downgrading of the diplomatic ties by expelling Indian High Commissioner Ajay Bisaria at Islamabad and calling back their High Commissioner from New Delhi. In addition the statement said that the matter will be taken to the United Nations, including the Security Council.
The statement ended with that the Independence Day this 14 August is to be observed in solidarity with brave Kashmiris and their just struggle for their right of self-determination. 15th August will be observed as Black Day. As if it makes any difference to India.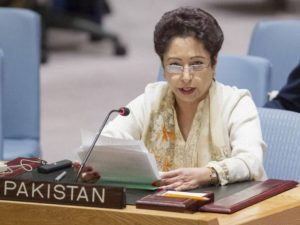 In addition to the above five restrictions Islamabad has again partially closed its airspace. Nevertheless these measures are basically to satisfy the domestic audience, Jihadists including anti India terrorist outfits and masses. The impact of these measures is very limited. The legal bilateral trade between both the countries is very less as major trade is through Dubai, Singapore and other places. Taking the Kashmir issue in international forums including UN is also of no consequences as Islamabad regularly raises Kashmir issue in UN, OIC and other places. Downgrading of diplomatic ties, expulsion of Indian High Commissioner or celebrating Independence Day as Kashmir Solidarity Day are fruitless as for as India is concerned.
Well the fear is evident in Pakistan and more so in it's Prime Minister. Fear of loosing on the biggest agenda any elected government in Islamabad has – Kashmir. Fear of getting a drubbing from the Pakistani Army which calls the shots for the government. And fear that this decision will have permanent repercussions on his political career.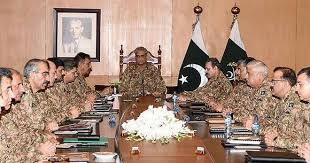 A day before the Pakistan Army had held a Corps Commanders' Conference presided by General Qamar Javed Bajwa, Chief of Army Staff (COAS) at General Head Quarters (GHQ) on single point agenda of situation regarding Kashmir.
On 5 August 2019 Modi led Bhartiya Janata Party fulfilled its old promise of revocation of Article 370 and scrapping of Article 35A. Both these articles gave special rights and privileges to the state and to its permanent residents. In past there were amendments in Article 370 but Article 35A which remained untouched was incorporated in Indian constitution in 1954 through a Presidential order and it was not passed in parliament.
As anticipated Pakistan took very stringent view of revocation of these articles. Pakistan army which considers itself as the saviour of Pakistan, gave false hopes to the fanatic masses that they will snatch Kashmir from India. Army also mentions that snatching of Kashmir will be Islamabad's revenge of disintegration of Pakistan and creation of Bangladesh. But rescinding of Kashmir's special status came as a jolt to Pakistan and it condemned India's action and warned to take requisite actions against India.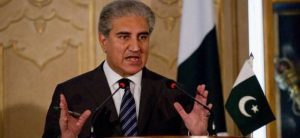 Imran Khan gave a veiled threat of war between two nuclear powers. Shah Mehmood Qureshi Pakistan's Foreign Minister stated that the action is against "regional peace and tranquillity". He also mentioned that he will visit China and will apprise Beijing about India's unilateral decision of making article 370 a dead letter and revoking article 35A.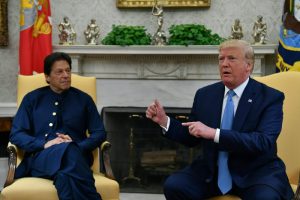 Actually, Pakistani Prime Minister Imran Khan was emboldened after US President Donald Trump offered to mediate between India and Pakistan on Kashmir issue. Trump made this offer when Imran Khan met him in White House in Washington DC on 22nd July 2019. Trump also mentioned that he will love to visit Pakistan. Although the official statement issued by White House after the meeting has not mentioned anything about Kashmir. India emphatically mentioned that Kashmir is an internal issue of India and it will be resolved bilaterally between India and Pakistan.
At present US wants to withdraw its forces from Afghanistan and negotiating with Taliban. US already requested Pakistan for assistance and Islamabad which has considerable influence on Taliban is assisting in the negotiations. It is the reason that President Trump offered for mediation and also promised to release the aid.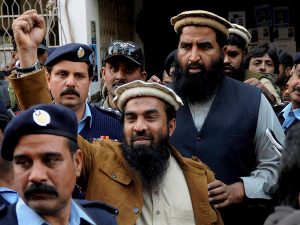 Pakistan also enhanced the infiltration and according to intelligence reports large number of terrorists are waiting at the launching pads to be infiltrated. However Indian security forces have increased the vigil and successfully eliminated seven infiltrators of Special Services Group (SSG) in Karen sector on 3rd August as they were moving clandestinely inside Indian border with malafide intention of killing Indian soldiers.
Before revocation of articles 370 and 35A the Indian security forces took requisite safeguards. Besides enhancing the strength of CAPF Kashmiri leaders like Omar Abdullah, Mehbooba Mufti and Sajjad Lone were arrested. In few districts undeclared curfew was enforced while in some places Section 144 was imposed. The educational institutions were closed, and outstation students and tourists were told to leave the state. Amarnath yatra and few other Yatras were also suspended, riot control vehicles were stationed at sensitive places. High alert was also issued in states like Utter Pradesh where miscreants can start communal riots.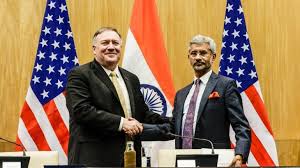 India also took precautionary measures internally as well as in international arena. Indian Foreign Secretary Vijai Gokhale briefed Ambassadors of important countries including the five permanent members of United Nations Security Council (UNSC) about the justification of revocation of these articles. Foreign Minister Jaishankar already met US Secretary of State Mike Pompeo and sensitised him about the issue. US State Department official clearly mentioned that revocation of Article 370 is the internal matter of India. It is a big victory of India's foreign policy. Alice Wells senior US State Department official is also scheduled to visit India on August 8. UAE Ambassador to India also mentioned that the "decision of non-operationalisation of some sections of Article 370" and "the reorganisation of states" is an internal matter of India. Jaishankar would be visiting China from August 11 to 13 ahead of Chinese President Xi Jinping's visit to India. Although Pakistan will try to internationalise the issue, but it appears that Islamabad will not able to muster much support. Pakistan was expecting support from US as it is supporting Washington in peace negotiations but US State Office clearly mentioned that it is India's internal matter.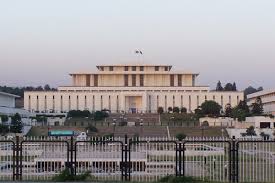 The opposition parties will take the matter to Supreme Court while secessionists and accomplices of ISI will try to carry out terrorist activities, attacks on security forces. Few political leaders will issue inflammatory statements condemning the revocation of these articles so that the peace of the state is disturbed but security forces are fully prepared hence no major incident will happen. The ISI agents will also try to carry out some big terrorist activity but as security forces are on red alert the chances are remote that they will succeed in their nefarious designs.
Nonetheless government must chalk out a long-term plan to win the heart of common Kashmiris. The Pakistani agents, secessionists and political leaders will continue to criticise government, but the common people are fed up with insurgency. They want peace and employment, government should try to generate employment through tourism, establishing employment intensive industries, agriculture and horticulture should be made more profitable so that it attracts the unemployed youths. Government must restore the Sufi culture of the state and the Imams who are spreading fundamentalism and extremism in the state must be punished.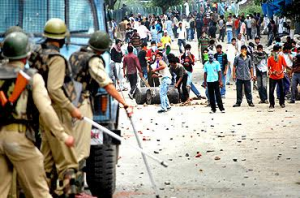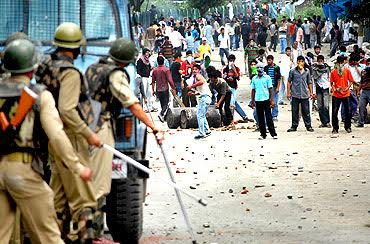 Beside ISI few middle eastern countries are also funding the terror outfits, sincere efforts should be made to curb the external as well as internal funding. The security agencies should be very stringent with lawbreakers especially stone pelters as they are the prospective terrorists.
It is encouraging that at present NSA is in the valley and meeting, talking and dining with the local masses and trying to build a positive atmosphere. Government should also relax the restrictions during Fridays and on Eid al-Adha, also called the "Festival of the Sacrifice" falling on August 12. However, security forces should remain alert not only in the valley but other places in India as Islamabad and its supported terrorist outfits will try to carry out major terrorist activities not only in J&K but in whole of India.
(Jai Kumar Verma is a Delhi-based strategic analyst and member of United Services Institute of India and Institute for Defence Studies and Analyses. The views in the article are solely the author's. He can be contacted at [email protected])