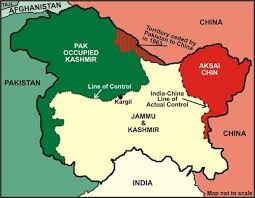 Two Lt. Governors recommended by Government
Article 35A automatically goes away
By Brig.VK Atray & Sangeeta Saxena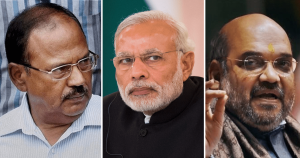 New Delhi. 05 August 2019. Modi's Mission Kashmir successful! After a high-powered Cabinet Committee on Security meeting at Prime Minister Narendra Modi's home the Home Minister Amit Shah proposed to remove all provisions of contentious Article 370 of the Indian constitution in the Rajya Sabha.
Expectancy was rife when the government partially suspended mobile and internet services and imposed Section 144 in Jammu and Srinagarpost suspending the Amarnath Yatra and closing all hotels to facilitate safe exit of tourists, given the current situation in the LOC and the Valley.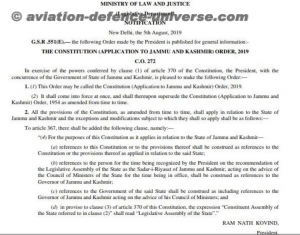 Section 144 has been imposed at 6 AM on Monday, 10000 more troops are there in the state and riot control vehicles have also been kept on standby. All schools and colleges have been closed until further notice. Top state leaders including National Conference chief Omar Abdullah, Mehbooba Mufti, Sajad Lone among others have been put under house arrest.
And all this in a state which has interesting and surprising demographics. State of J&K Under India ( Area wise 101380 sq Km) excluding POK has interesting division with Kashmir having 15%, Jammu 26% and Ladakh 59% of the area. 85,000 sq Km comprising 85% area are not Muslim Majority. Population is about 1.25 Crores in which Kashmir has 69 Lakhs where only 55 Lakhs speak Kashmiri rest 13 lakhs speak non kashmiri languages. Jammu has 53 Lakhs who speak Dogri, Punjabi and Hindi. Ladakh has 03 Lakhs who speak Ladakhi language. This does not include 7.5 lakh people settled who do not have citizenship. And to an outsider the impression is that J&K polity is run by Kashmiri muslims who are a majority of the state. The government definitely had the interest of the suppressed majority in mind.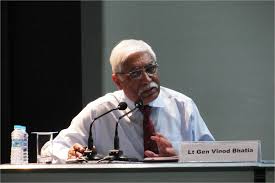 "Modi 2.O demonstrated an unprecedented political will in abrogating the provisions of Article 370 and 35A as it pertains to J&K. Equally importantly the reorganisation of J& K into a Union territory of J&K and Ladakh will contribute to fostering long term peace , stability and development of the region plagued as it is with a proxy war waged by Pakistan. This has obvious immediate security implications as Articke 370 is a very emotive issue, however in the near to mid term it will benefit the people of Kashmir as it will lead to economic development and investments furthering much needed employment opportunities. There are two dimensions, the external dimension which is Pakistan who will try and take advantage of the fragile security situation by calibrating violence levels carrying out high visibility terrorist attack either in the valley or in the hinterland. The attacks though high visibility are likely to not cross the red lines like Uri and Pulwama so that India does not have a jus ad ballum to carry out punitive strikes. In the internal dimension in the near to mid term India should ensure better governance and effective administration, clamping down on corruption in Kashmir. Empathy for the people is a must including all Kashmiris outside the state. Any untoward incident will have adverse ramifications," former DGMO Lt.Gen Vinod Bhatia (Retd.) told ADU.
The dice was cast when BJP declared its manifesto before the 2019 elections to do away with the Article 370 & 35 A. It got winds when BJP got thumping majority in 2019 elections.
ADU has been reporting the likely split of J&K for a long time. And lo & behold the historical day came so soon. The State of J & K has been split in two Union Territories by the Presidential order invoking the provisions of Clause 3 of Article 370 which empowers the President of India to make changes. With this Jammu & Kashmir would now be a UT with legislature , while Ladakh would be a UT without Legislature & governed by the Centre.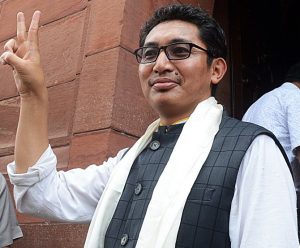 Bharatiya Janata Party MP from Ladakh, Jamyang Tsering Namgyal shows his excitement with a victory sign at the Parliament after Home Minister Amit Shah moved a bill proposing the bifurcation of the Jammu and Kashmir state into two Union territories. He is happy about it as Ladakh was getting a rough deal from Srinagar. This independent UT status now would get it's due share which would bring development & jobs for the Ladakhis.
The J&K Reorganization Bill was introduced in the house today by Amit Shah the Home Minister. This is a monumental , historical decision for the
nation as this dismantles the wall created between J&K & the rest of India by Article 370 & 35 A .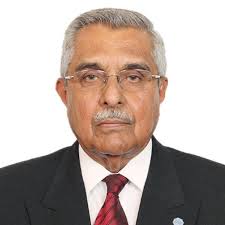 Padma Shri Lt. General Satish Nambiar called it a great news which was long overdue. "From now on only tricolor will be unfurled in Srinagar & Kashmir, " he added.

The major effect of this decision would be that all the provisions of the constitution of India would now apply to the reorganised J &K. The simultaneous abrogation of 35 A will bring in more investment , industry , private institutions which would seek more jobs. Government has already announced an Investors' Summit in J&K in October and the changed scenario could get in people to invest in the two union territories.
The historic decision has been taken and the nation is celebrating except for the section which feels that the special status of J&K is its lifeline. The world is watching the situation very keenly, India is expectant of most of the problems of the state getting controllable without interference from local politicians and Pakistan suffering a major jolt by this announcement for the obvious reasons. Meanwhile ADU is hoping to do live coverage of setting up of a Defence Corridor and an Aerospace Manufacturing Hub in the new J&K . And this time it might not be wishful thinking.