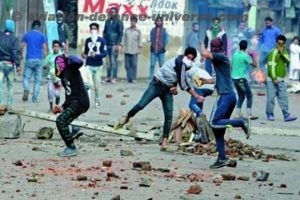 By JK Verma
New Delhi. 23 February 2019. Pakistan sponsored terrorism in India especially in the valley is continuing unabated. On February 14 Pakistan trained suicide bomber martyred 40 valiant CRPF personnel at Pulwama. Again, in another encounter on February 18 at Pulwama, one Major and four security personnel were martyred although the security forces successfully eliminated Kamran, the mastermind of Pulwama attack of February 14. According to reports in 2018 about 232 terrorists were eliminated but 240 terrorists are still operative in the valley. Large number of security personnel were martyred while civilians were also killed during encounters.
These unwarranted killings and continuation of insurgency stressed the need of complete integration of Jammu & Kashmir (J&K), hence an intense debate started about the revocation of articles 370 and 35A. Large number of people feel that because of these articles there is no investment hence no development of the state and no employment is generated. Previously the people were employed in agriculture and orchards of fruits. In the season there were large number of tourists and it was also a big source of employment. Tourism is considerably reduced while work in agriculture and fruit orchards is also diminished. The unemployed youths are easily radicalised and involved in stone-pelting and other anti-national activities.
The Article 370 gives special status to Kashmir and limits the Central Government's authority to four subjects only. The four subjects include defence, foreign affairs, currency and communication, for all other subjects Union Government needs concurrence of the state government.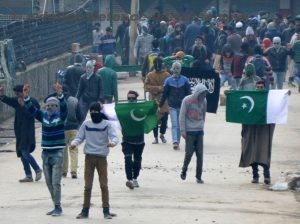 The Article 35A authorises J&K state legislature to outline the "permanent residents" and their special rights and privileges. These were also supplemented in the constitution through a presidential order in 1954. The presidential order provides "permanent residents" the right to purchase immovable property, admissions in educational institutions and secure government jobs in the state government.
Vast majority of Indians feel that these articles are discriminatory, outdated and are hinderance in the amalgamation of J&K in India. They claim that the ruler of J&K had signed the Instrument of Accession hence the state should be amalgamated with India as other states were merged.
The article 370 is discriminatory, as it mentions that persons who migrated from the state to Pakistan will be considered as state subjects for two generations, while the persons who came from Pakistan except POK will not be considered as state subjects even if they were residing in J&K. The article further mentions that, Kashmiris can settle, purchase land and can-do job anywhere in India while residents of other parts of India are denied these rights in J&K. The article is inequitable among Kashmiris also. In case a Kashmiri woman marries non- Kashmiri she and her children lose the permanent status, while if a male Kashmiri marries outside, this rule does not apply to him. The opponents of the article claim that it should be revoked as it is discriminatory and is against the spirit of the Indian constitution.
However, several Kashmiris and Kashmir based political parties and their leaders are against the revocation of these articles. The former Chief Minister of J&K Mehbooba Mufti warned that the special status of Kashmir cannot be changed. Farooq Abdullah Chairman of Jammu & Kashmir National Conference and the former union minister also cautioned that if these articles are withdrawn there will be massive protests in the state.
The Kashmiris fear that if Article 370 is removed then the demography of the valley will be changed. The valley based political parties also nurture this idea among the residents of the valley. The J&K state is divided into three major parts i.e. Jammu, Ladakh and Kashmir. The residents of Jammu and Ladakh have not much objection about the revocation of these articles. In fact, Ladakh wants to become a Union Territory. But the sole objection comes from the valley which has Muslim majority. It is not feasible to revoke article 370 from Jammu and Ladakh areas only as it has to be revoked from entire J&K.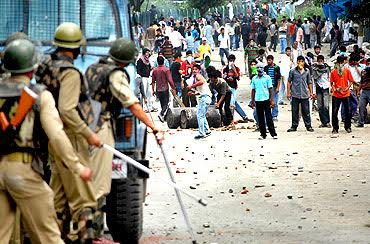 The argument that repeal of articles 370 and 35A will change the demography is a farce, as residents of Jammu and Ladakh can purchase land and settle in the valley but the residents of these areas have not moved in the valley and no demographic change occurred in last 70 years. The property left by Kashmiri Brahmins was purchased by Kashmiri Muslims on throwaway price. Basically, the rescinding of these articles is opposed by the residents of valley although they occupy a very small area. Hence residents of valley should not be allowed to represent full state of J&K. The opposition is more from the leaders of the valley based political parties as they fear that they may lose their political support.
The J&K High Court in October 2015 ruled that Article 370 is permanent and it can neither be repealed nor abrogated. However Supreme Court ruled that it is not permanent, and parliament can annul the article.
There is a need to have a free and fair debate in the valley, in the educational institutions, in the vernacular media about the advantages and disadvantages of these articles as they are harming the state and impeding its development. The opinion of entire state should be taken, and it should not be restricted to the residents, politicians and prominent families of the valley.
J&K is a heterogenous state, Kashmir has 15 percent area which has Muslim majority while 85 percent area consists of Jammu and Ladakh where Hindus, Sikhs, Buddhists are in majority. Secondly there are 22 districts in the state and insurgency is only in five districts namely Srinagar, Anantnag, Baramulla, Kulgam and Pulwama, hence mentioning that whole of J&K is suffering from terrorism is incorrect. The retention of Article 370 and 35A give a wrong signal to whole of India, Kashmir as well as to Pakistan.
The legal luminaries believe that Article 370 can be revoked by President of India on the recommendation of the Constituent Assembly of the state. Hence for revocation of the article a new Constituent Assembly of J&K has to be convened and it should recommend the revocation of the article. Parliament can amend the constitution, but it will be a difficult task as no party will have the requisite majority.
Few legal experts also claim that article 370 is linked with accession and if article 370 is repealed the accession of Kashmir with India will be in jeopardy as accession of other states in India is different from Kashmir. The proponents of Article 370 also claim that the revocation of the article would further alienate the Kashmiris.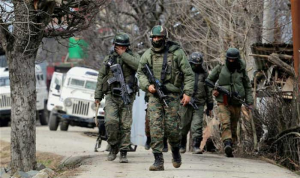 However, analysts claim that Article 370 should be revoked as it has created a situation where J&K inhabitants have right all over India while Indian citizens have limited rights in J&K. It is a disgrace and the article 370 is continuing only because Kashmir is a Muslim majority state, but it gives a wrong message to majority Hindus that government is pursuing the policy of appeasement of minorities.
The hard-core nationalists claim that the document of accession was signed on 26th of October 1947 and this document of accession is akin to the document of accession signed by other more than 500 princely states. As all documents of accession were conditional this document of accession signed by Maharaja Hari Singh was also conditional and gave four areas to Union of India. Here it is important to note that in 1947 there was no constitution of India, which was promulgated on 26 January 1950, hence there is no linkage between accession and constitution. Dr.BR Ambedkar refused to draft article 370 as it was discriminatory. The constitution mentions that Article 370 is temporary.
Article 35A came through a presidential order in 1954 and is against the basic ethos of constitution. It has outlived its utility and must be scrapped urgently. In reality, Article 35A is utilised by Pakistan sponsored separatist outfits like Hurriyat to keep the terrorism alive in the state.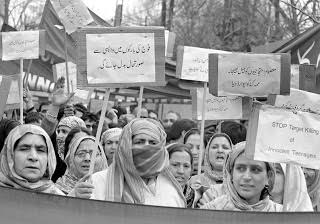 Although Parliament is empowered to scrap Article 370, but it will be difficult for any political party to repel it as other political parties will oppose the bill because of their party interests. Article 370 is the principal impediment in the integration of J&K in India. Hence article 35A should be repealed immediately and procedure should be initiated so Article 370 is also revoked. Indian leaders should try to convince Kashmiris that Pakistan is exploiting them, and terrorism has ruined their lives and Kashmir which was once considered heaven on the earth has become centre of terrorism where innocent people are losing their lives.
(Jai Kumar Verma is a Delhi-based strategic analyst and member of United Services Institute of India and Institute for Defence Studies and Analyses. The views in the article are solely the author's. He can be contacted at editor.adu@gmail.com)