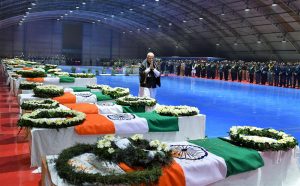 By Brig. VK Atray
New Delhi. 15 February 2019. Pulwama terrorists attack on the CRPF convoy killing 40 plus soldiers, shook the nation and shocked the world. An a day after we are still pondering what went wrong and why?
A misguided , indoctrinated youth Adil Ahmed Dar hailing from Kakapora of Pulwama Distt in J & K claimed to be from JeM outfit, rammed his explosive laden SUV into a bus carrying CRPF personnel at Awantipura around 3 p.m. on Thursday the 14th February. Approximately 40 personnel were killed due to the explosion on the spot while the assailant's Jihadi comrades gave him cover fire, so as to prevent help from the following vehicles who watched the dastardly act helplessly. These CRPF personnel were returning from leave all set to join their duties in J &K. Whether Adil gets Jannat is not certain – which was one of his wish – but the brave men of CRPF have definitely attained martyrdom.
It is learnt that Indian Intelligence Agencies had intercepts about the likely large scale attack on Indian forces around 9th February , the day when Afzal Guru -the master mind of attack on the Indian Parliament- was hanged.
It is a common practice to sanitize the highways in J & K before a force's convoy is allowed to move, troops are deployed along the convoy route and vantage points so as to allow the convoys to move without a threat of any attack by the militants. Earlier no civilian vehicles were permitted to move on the route of convoys but this rule was relaxed & this concession resulted in the tragedy. This concept is not first of its kind.1989 saw the exodus of Hindus from J & K and the year 2000 recorded the first suicide bomber ramming his car in Badami Bag in Srinagar in the year 2000. It coincided with the IE module carrying out such acts in Europe in the year 2000. Since then there have been a series of such blasts by militants in J & K , be it attack near J & K Assembly in 2001, Kaluchak or Raghunath temple, to name a few.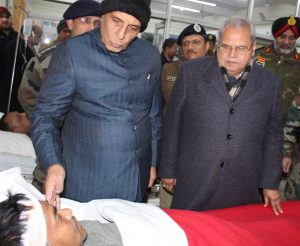 The Pulwama attack has been condemned by the civilized world – Israel ,US , UK , France -while many others have shown their concern , sympathy & support to India to counter such inhuman act. But will it give us solace or will the chants of Maha Mrintunjaya Mantra by million Indians wash away the tears of those families who are mourning; nor would the surgical strikes !
It is time to introspect, be united and take lessons from the history. Was it not during the strife in Sri Lanka , their Government never celebrated any victory over LTTE . The all powerful LTTE forces with highly motivated men, latest arsenal, helicopters and even submarines succumbed one day.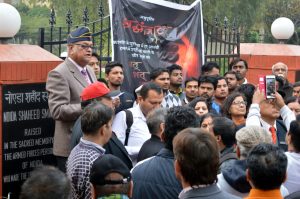 India needs to blank the media in J & K  , jam all social media networks. All actions political or military should be planned meticulously and in detail including the latest technology, be quick in execution and the element of surprise should never be lost sight off. We should remember what the Chinese thinker and strategist Sun Tzu said in 5th century BC –which is still applicable in this situation –
" Be extremely subtle even to the point of formlessness. Be extremely mysterious even to the point of soundlessness. Thereby you can be the director of the opponent's fate."
One of the senior most veteran Lt. Gen. Satish Nambiar stated, " we should have no doubts that in every Pakistani unit, every day, if not more often, there must be a prayer and exhortation to exact revenge for the events of 1971; for the ignominy of the break-up of Pakistan, the total defeat of the Pakistan Army in the Eastern theatre, and the unconditional surrender of about 93,000 personnel as prisoners of war; the largest such surrender since World War 2. It is therefore the responsibility of the current generation of officers, JCOs and men in the Paltan, and the generations to follow, to defeat all such Pakistani designs, by being ever prepared and ever alert."
Last but not the least; all political parties should be taken on board during the conceptual stage. Any individual or organization acting in contravention to the agreed concept should be dealt with firm hand.
Pakistan should be dealt with firmness and strength and no-nonsense elan. The Deep State will continue to weaken India and we have to assort to strict measures. Its all weather ally China has to be also made to understand that cowardly and dastardly acts of violence on Indian citizens and forces will not be taken lying down. Probably its big brotherly advice to Pakistan will instill some sense into its revocious compromise Prime Minister.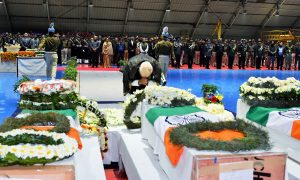 When the bodies of the martyrs arrived at Palam Airport today it was a positive sight to see the nation standing together cutting across party lines. Prime Minister Narendra Modi exhorted, "I want to tell the terror outfits and those aiding and abetting them that they have made a big mistake. They will have to pay a very heavy price for their actions. Let me assure the nation that those behind this attack, the perpetrators of this attack will be punished. Our neighbour which is already isolated by the global community is in a state of illusion, if it thinks that it can demoralize India with its dastardly acts and nefarious designs. Let me state categorically that it should stop day dreaming to destabilize India. This neighbour of ours which is in a state of economic despair must know that no such attempt is destined to fail and will be foiled."
Lets just keep our fingers crossed and hope for a befitting revenge for the loss of our soldiers who gave their lives to make our today and tomorrow safe.