By J K Verma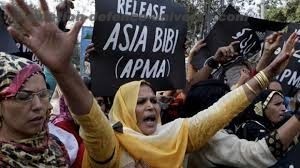 New Delhi. 04 November 2018. The Islamic extremists organised massive protests, forced to close schools, colleges and business installations, roads were blocked, anti government, anti judiciary and anti military slogans were chanted against the acquittal of Asia Bibi. She is a Christian woman who was sentenced to death in 2010, for a blasphemy allegation by a lower court; the sentence was confirmed in 2014 by Lahore High Court. In fact the hardliners have made Pakistan standstill, when the apex court on 31st, October reversed the judgment of the lower court and acquitted Asia Bibi. There were apprehensions that the right wing extremists would launch massive protests but the Supreme Court announced the judgment on merit.
In June 2009 a Muslim woman fought with Asia Bibi and alleged that she insulted Prophet Muhammad and took her to a nearby police station where Asia was charged with blasphemy. The analysts claim that the petitioner had fabricated the charges and on the basis of fictitious allegations the lower court sentenced her to death. Not only this, police registered the formal complaint after five days of the occurrence, which clearly indicates that charging under blasphemy law was an afterthought and with malicious intention. There were several inconsistencies in the statements of the witnesses, which also prove the malafide intentions of the accuser.
The extremist Sunni Barelvi party Tehreek-e-Labbaik Pakistan (TLP) led the protests and proclaimed that Supreme Court judges who overturned the judgment should be dismissed and killed.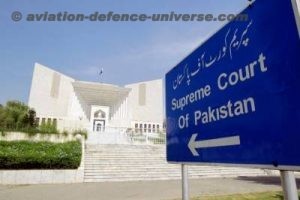 In Pakistan, the demonstrators desist from chanting anti military slogans but this time the Islamic fundamentalists demanded the dismissal of Army Chief, while Pir Muhammad Afzal Qadri an important religious leader urged the army commanders to revolt against Chief of army staff. Khadim Rizvi reprimanded Imran Khan and mentioned that when Pakistan is burning he is visiting abroad.
Besides TLP other terrorist outfits including Muttahida Majlis-e-Amal and Hafiz Muhammad Saeed co-founder of Lashkar-e-Toiba, Chief of Jamaat-ud-Dawah, mastermind of 2008 Mumbai attacks also demanded hanging of Asia Bibi. Pakistan Ulema Council Chairman Hafiz Tahir Ashrafi also stated that punishment should be given to the violators of blasphemy law.
Imran Khan on October 31, after release of Asia Bibi, gave a hard-hitting speech, in which he emphatically warned the trouble makers, that the government cannot be intimidated and is determined to maintain law and order in the country. He stated that those who are protesting and disturbing law and order in the country are the "enemies of Islam". The secular minded Pakistanis, which are rare in the country, also voiced in favour of Prime Minister. However the hardliners reminded that Imran Khan, before becoming Prime Minster, defended blasphemy law. The blasphemy law is widely used by Muslims to harass and usurp the properties of minorities. The U.S. Commission on International Religious Freedoms mention that about 40 persons are languishing in Pakistani prisons, as they are facing blasphemy charges. The human right activists also claim that more than 62 persons were killed by the uncontrollable mobs since 1990 under suspicion of blasphemy. The human right organisations all over the world criticise and condemn the blasphemy law, which is used against the minority community as well as against the journalists.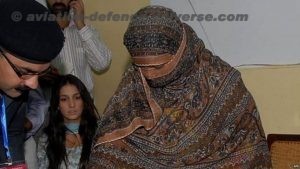 Asia Bibi was the first woman to be awarded death sentence under blasphemy law, nonetheless several persons, who dared to support her were also killed. In 2011 Salman Taseer who was secular minded governor of important Punjab province was assassinated by his own bodyguard Mumtaz Qadri, as Taseer was working for the release of Asia Bibi as well as for the amendment in the blasphemy laws. Although Mumtaz Qadri was hanged but he was made a martyr by fundamentalist parties and was depicted as a hero. After sometime Shahbaz Bhatti, the minister of minorities, a Christian politician who was also trying to modify blasphemy law, was also shot dead in front of his house in Islamabad.
After the acquittal of Asia Bibi there was lot of violence against minorities especially Christians, the churches and houses of Christians were burnt and looted. Several Christians had gone in hiding and churches were on high alert.
General Zia-ul-Haq, who enhanced Islamic extremism in the country with ulterior motive of suppressing democratic forces in Pakistan, made blasphemy law more repressive by including death penalty for insulting the Prophet Muhammad.
In view of uncontrollable resentment of Islamic fundamentalists, the government took an about- turn and made an agreement with Islamic extremists on 2nd November. The government agreed that it will not allow Asia Bibi to leave the country, although few countries are ready to give her asylum. The government also acquiesced that it will not contest the filing of an appeal for review in the apex court. Government also settled to free all the protesters. The right-wing leaders who issued statements castigating army and Chief of Army Staff General Qamar Javed Bajwa also apologized for those proclamations.
Saif-ul- Mulook the lawyer of Asia Bibi had gone out of country as there was danger to his life. Mulook claimed that besides religious fanatics, he also has danger from the lawyers' community; nonetheless he offered to represent Asia's case provided army provides security to him and his family members.
The life of Asia Bibi is also in danger as the extremists have already threatened to annihilate her. According to Christian community she is at a secret location under the safe custody of security agencies.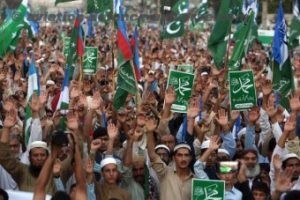 The Human Right activists point out that Pakistan government's action was too little too late against the Islamic fanatics who were demanding death sentence to Asia Bibi. The lassitude of government has strengthened the resolve of extremists and they took the country to ransom. The bowing down of the government to Islamic zealots and frenzied protests has further tarnished the image of Pakistan in civilized world. The Christians especially Catholics condemned Pakistan for the death sentence to Asia Bibi. A catholic charity organisation namely Aid to the Church in Need (ACN) held prayers for the safety and release of Asia in United Kingdom.
Pakistan which is on the verge of economic collapse should chalk out a comprehensive plan so that the country can be saved from economic disaster and the Prime Minister of the country should not visit friendly countries with a begging bowl. Islamabad needs $12 billion immediately to repay the loans and strengthen the foreign reserve which has dwindled to $8 billion, which is insufficient to repay the loan and pay the rising imports bills. Imran Khan also attended Saudi investment conference, which was boycotted by several countries because of murder of Saudi journalist in Istanbul. The Saudi government granted Pakistan $6 billion and Abu Dhabi and Beijing will also assist Islamabad. The powerful deep state took Pakistan on the verge of economic collapse and now compelled the civilian prime minister to visit friendly countries for beseeching bailout packages. Unfortunately Pakistan is wasting time and energy in nursing diverse terrorist outfits to carryout terrorist activities in India and Afghanistan. The government should utilise these scarce resources in the development of the country.
The condition of minorities in Pakistan is pitiable and the religious fanatics are using blasphemy laws to curb minorities and compel them to accept Islam. Churches and temples are systematically desecrated and young girls of minority community are abducted and converted to Islam. According to Farahnaz Ispahani, in 1947 Pakistan's 23 percent population was non-Muslim, however now it is reduced to 3 percent which includes Ahmadiyyas also. In 1947 Ahmadiyyas were Muslims in Pakistan. Farahnaz Ispahani is wife of Hussain Haqqani and a Pakistani American writer. Pakistan must give full right to their minorities as its image in the world is diminishing because of their maltreatment. The annual reports of United States Commission on International Religious Freedom (USCIRF) also criticised Pakistan for religious persecution and the blasphemy laws.
The analysts claim that after suppressing minorities the Sunni extremists are killing Shia Muslims. Few Sunni organisations including Lashkar-e-Jhangvi, Tehrik-i-Taliban Pakistan, Jundallah, Sipah-e-Sahaba Pakistan carried out terrorist activities in Shia mosques, Dargahs and their religious places, in which large number of Shia Muslims were exterminated. The analysts mention that extremism has no place in this civilized world hence Pakistan government should adopt stringent measures so that furtherance of radicalisation is stopped and efforts should be made to deradicalize the persons who are already radicalised.
The analysts also claim that if persecution of minorities continues in the country, the day is not far-off when all minorities would be exterminated in Pakistan. Once all minorities are converted, then there will be fight between Sunnis and Shias and subsequently different factions of Sunnis will fight for supremacy.
(Jai Kumar Verma is a Delhi-based strategic analyst and a retired senior intelligence officer. He is also member of United Services Institute of India and Institute for Defence Studies and Analyses. The views in the article are solely the author's. He can be contacted at editor.adu@gmail.com)