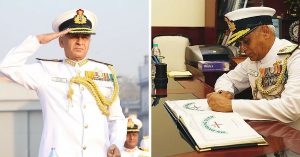 New Delhi. "We now have the capability to design and construct complex frontline combatants like stealth frigates, destroyers and even an aircraft carrier. Though considerable progress has been achieved in indigenisation of hull and hull systems, and engineering systems on these ships, thrust has been given to the indigenisation of 'fight' component too. Given the complexity, magnitude and resource intensive nature of development of new naval systems, a Navy-industry relationship, founded more on partnership than mere customer-supplier relationship, would be required," said Admiral Sunil Lanba PVSM,AVSM,ADC Chief of the Naval staff  in an exclusive interview with Aviation & Defence Universe , on the occasion of Navy Day, 2016.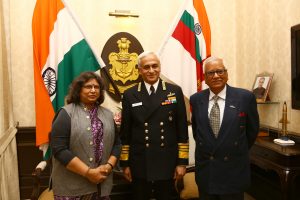 ADU.  Navy's indigenisation plan has definitely made it the trailblazer among the forces. But the fight component is very heavily dependent on imports. How do you plan to change that? And along with this how do you plan to reduce dependence on PSUs and involve the private sector?
CNS. Considerable success has been achieved in developing indigenous underwater and Electronic Warfare systems through Defence Research and Development Organisation (DRDO) and Public Sector Undertaking (PSU). Meanwhile, there has been an increased impetus towards involvement of private industry in design, development and manufacture of weapon and sensor systems. The recently delivered indigenous warships have been fitted with several indigenous weapon systems which include Sonar HUMSA (Next Generation) by Bharat Electronics Limited (BEL), Indigenous Rocket Launcher (IRL) and Indigenous Torpedo Tube Launcher (ITTL), by M/s Larsen &Toubro,(L&T), Kavach launchers by Gun and Shell Factory, Identification of Friend or Foe Mk 12 by Hindustan Aeronautics Limited, SANKET and Colour Tactical Display (CTD) by BEL.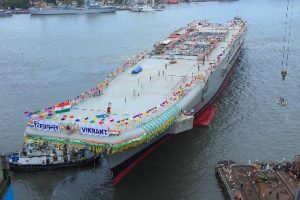 Other examples of indigenous systems include Combat Management System (CMS) by Tata Power Strategic Electronics Division (TPSED) for Indigenous Aircraft Carrier (IAC-1) and Torpedo Tube Launcher by Mahindra Defence Naval Systems (MDNS). It is also for the first time that under the 'Buy and Make in India' category, a contract for Surface Surveillance Radars is being concluded with M/s Nova Integrated Systems Limited. Accordingly, to synergise our efforts, the Indian Navy has formalised a 15 year perspective indigenisation plan, covering the period up to 2022. This 'Indigenisation Perspective Plan' has been shared with Indian Industry, among others. We have also taken another big step by preparing the 'Science and Technology Roadmap – 2025', aimed at development of indigenous technology for use in the Navy.
Private sector is presently being encouraged to participate in naval ship building projects particularly for non-weapon intensive platforms. Association of the private shipbuilding industry has been a positive step towards meeting the Indian Navy's requirement and advancing the national cause of self-reliance, by sharing the increased work load of the Defence Public Sector Undertaking (DPSU) shipyards and increasing the overall warship building capabilities in the country.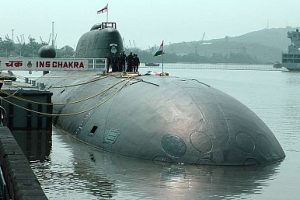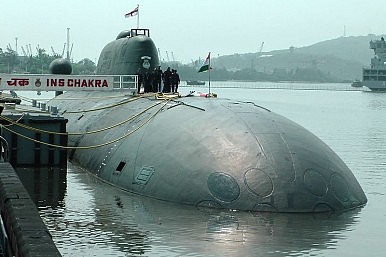 ADU. Diminishing submarine strength has dogged the Navy for some time but and Scorpene both seem a step too far. When and how can we have a underwater force to reckon with? Also will Scorpene leaks deter the security of these submarines?
CNS. Let me categorically reiterate that our submarine fleet remains potent and capable. Most of our submarines have been modernised and upgraded in terms of their weapon-sensor suites as well as their crew-support systems. The approved Medium-Refit-cum-Life-Certification in respect of four Sindhughosh class and two Shishumar class submarines is being progressed in a phased manner. The P75 class submarines will be inducted into the Indian Navy commencing March, 2017 and these will further strengthen or underwater capabilities. Further, the case for procurement of six submarines under Project 75(I) is also being actively pursued. As regards the Scorpene leak, a high level committee has been constituted by Ministry of Defence (MoD) to investigate the issue. While the report of the committee is under examination at MoD, prima facie, it appears that the leaked information is of limited operational value with regards to compromising the war fighting capability and combat worthiness of our Scorpene submarine programme and therefore, unlikely to accrue any advantages to the adversaries.
ADU.  Is Chinese investment in Pakistan and Sri Lanka ports, thereby maintaining its presence in India's vicinity, a challenge for the Navy? Will Indian Ocean and South China Sea become Navy's main beat areas?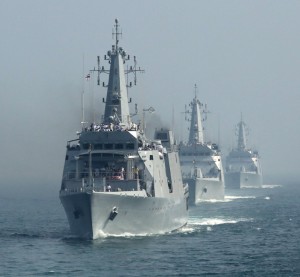 CNS. The Indian Navy is cognisant of the development of infrastructure projects by China in Sri Lanka and Pakistan. In our view, every nation is free to pursue their economic goals and policies as per their strategic requirements. However, our bilateral relations, especially with Sri Lanka transcend such concerns. As a contiguous maritime neighbour, both our countries share a robust historical relationship. We also constantly monitor the developments and deployments in our areas of interest that may affect us, and factor these into our plans.
India's 'Look East and Act East' policies are now an essential part of India's foreign engagement matrix. The key to ensuring long-term security and stable equilibrium in Asia lies in the collective ability of Asian countries to build mutual economic stakes with each other and particularly with countries of Association of South East Asian Nations.
Considering our relationship with countries in the Indian Ocean Region and the extended neighbourhood, and the fact that a large quantity of our maritime trade passes through these waters, Indian Navy's presence will be maintained as required to secure our maritime interests and trade and Sea Lines of Communication (SLOCS).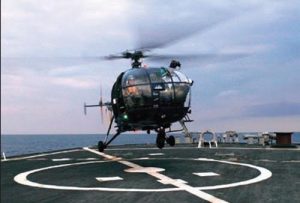 ADU.   What will be your long and short term plans for Navy's advancement both as a combat power and as a surveillance force?
 CNS.  India is a maritime nation and history is replete with examples that unhindered use of the seas is critical for national prosperity. Over the years, the Indian Navy's endeavour has been towards creating and sustaining a combat ready, technology enabled and networked force, capable of safeguarding our maritime interests and projecting appropriate maritime power in our areas of interest. In line with our vision, today the Indian Navy is a blue-water Navy, deploying a balanced force of modern assets in all the three dimensions capable of progressing operations in the Indian Ocean Region and beyond.
Our Navy's asset induction projects are being progressed as per our perspective plan, and a number of ships, submarines and aircraft would be inducted over the next few years. These include the first indigenous aircraft carrier (Vikrant), destroyers, frigates, landing platform dock, corvettes, offshore patrol vessels and cadet training ships, to name a few. The years ahead would also see the induction of the Scorpene class submarines into our submarine fleet.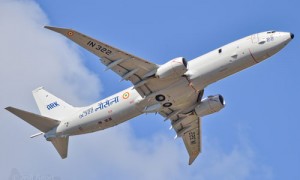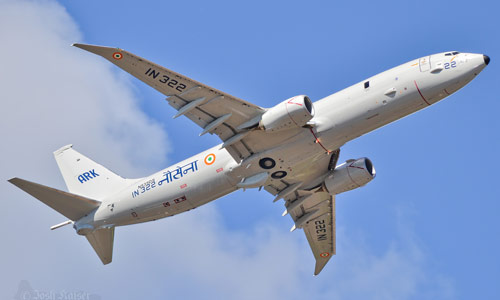 The Indian Navy will induct P8I long range maritime reconnaissance aircraft, Dornier medium range maritime reconnaissance aircraft and advanced light helicopters into its naval air arm. We would also continue to operate a variety of remotely piloted aircraft. Our endeavour is to develop a multi-dimensional networked force capable of meeting all challenges in the maritime front.
ADU.   Has the Navy finished with its project of coastal mapping the nation? How will you strategise based on the findings of this exercise? Will it require more air power in the Navy to keep round the clock surveillance of the vast coast line?
CNS. Coastal mapping involves mapping of the coast with vital details such as location of marine police stations, fishing boat landing points, non fishing landing points, hospitals, railway stations, customs 'naka', bomb disposal facilities, etc which provide inputs on robust security frame-work to the Coastal States and Union Territories (UTs) and these important details would be useful in the event of any untoward incident such as a terror-attack.
Coastal Mapping in states and UTs is being undertaken by Ministry of Home Affairs and most states have already completed the process. Based on the mapping of coastline, it would be endeavoured to collate this data centrally and share the same with stakeholders. As regards air power for surveillance, the Indian Navy coordinates deployment of its air assets with the Indian Coast Guard for conduct of the aerial surveillance. While the entire coastline is planned to be kept under electronic surveillance, procurement of additional air assets for providing aerial cover for coastal security is also being simultaneously progressed.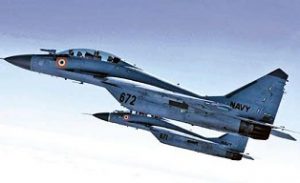 ADU.  What is the stage of development of IAC-2 and the plan of operating UCAVs, AEW aircraft, and medium and light fighters?  How closer are we in getting EMALs for it?
CNS. The Indigenous Aircraft Carrier-2 (IAC-2) Project is presently awaiting Approval of Necessity (AoN) by the Defence Acquisition Council (DAC). On accord of AoN for the project, the feasibility of conceptual design will be progressed. The feasibility and conceptual design will help decide technologies to be inducted. We shall also factor in the requirements to operate different types of aerial platforms from the IAC-2 as dictated by our requirements.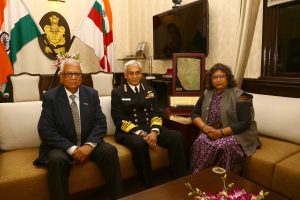 ADU.    When could we see women in combat roles in the Navy and what is the development on women pilots getting to fly P 8Is?
 CNS.The Indian Navy is committed to progressively expanding avenues for women, with a view to maximising their participation in the Service. As you would be aware the Indian Navy started inducting women officers as Observers, since 2008, onboard Maritime Reconnaissance and Patrol aircraft. These include Dornier, IL-38 and our latest P8I aircraft. Observers are responsible for sensor and weapon management, as per the aircraft inventory, and building up of the tactical picture over sea. Hence, the Navy has, in fact, already appointed women officers in a combat role. Taking it further, the Navy now plans to induct women as pilots for Maritime Reconnaissance stream aircraft 2017 onwards. With this, women would have an opportunity to even fly modern aircraft such as P8Is and Dorniers, as also operate complex weapons, sensors and equipment on these aircraft.