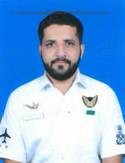 New Delhi. 14 August 2018. Cyclone Ockhi lashed the Kerala Coast by the nightfall of 30 Nov 17, stranding hundreds of fishermen. Sumit Raj, POA (FD) No. 212311-A, deployed onboard Seaking 42B for SAR displayed unprecedented valour and grit in saving the lives of 13 fishermen in extremely hostile conditions during four separate missions.
At 1700 hrs on 01 Dec 17, as a free diver he rescued four severely battered fishermen. The rescue strop being capable of lifting only one person at a time, he affected the rescue with great skill and grit whilst remaining in the heavy seas as each survivor was winched up. Again, at 2000 hrs on 01 Dec 17, as winch operator during dark night he winched up the survivor and diver safely into the helicopter with only an Omni glow marker for visual reference. His skill ensured the safety of both the diver and the survivor on 02 Dec 17 at 1100 hrs as free diver he rescued four survivors through double lift method in quick time despite hazardous conditions. At 1315 hrs on 02 Dec 17 as winch operator he rescued four casualties from a fishing dhow. With precise timing and skill he ensured the winch kept clear of various fittings/antennae on the dhow and hence each survivor and the free diver could be winched up.
The exemplary acts of bravery and selfless service in the face of life threatening conditions led to saving of precious human lives, for which Sumit Raj, POA(FD),     212311-A is strongly recommended for the award of Nao Sena Medal (Gallantry).