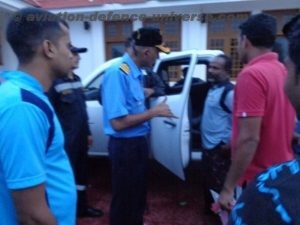 Kochi. 04 December 2017. Indian Navy's search and rescue operations (SAR) are ongoing for the fourth day on 03 Dec 17 over Southeast Arabian Sea and L& M islands in the aftermath of Very Severe Cyclonic Storm 'OCKHI'. Total ten naval ships including capital ships like Chennai and Kolkata were deployed over southeast Arabian sea and L& M Islands. In addition, eight aircrafts including long range maritime reconnaissance aircraft P8I were deployed throughout the day. Total 55 persons were rescued today taking the total rescued persons to 145.The weather conditions are still adverse at L& M Islands. INS Kalpeni rescued fishing vessel (FV) Gracias with thirteen survivors and handed them over to Kollam district collector. INS Sharda rescued nine persons from FV Albus at Kavaratti. The ship then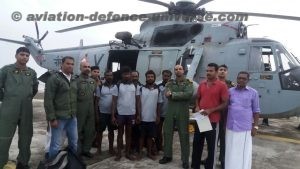 continued the rescue operations and saved another twelve persons from FV Infant Jesus off Kavaratti. She  is proceeding to Kalpeni islands for disembarking the HADR material that would sustain 500 persons for  ten days and is expected to reach early morning 04 Dec 17.  INS Chennai recued twelve persons from FV Lord of Ocean north of Kavaratti. Thereafter she rescued eight more persons from FV Jahova Hosseno off Chetlet island. Jahovah vessel belonging to L&M islands had been missing since three days and was found after persistent search operations by naval ships. All twenty personnel are being escorted to safety to Kavaratti Island.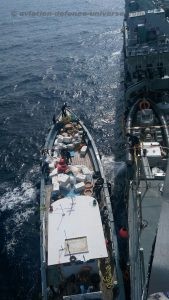 INS Shardul has disembarked all HADR material at Minicoy. The ship is equipped with Diving team and a Chetak for carrying out additional SAR operations.
INS Kolkata rescued nine persons from FV Akash 20 miles off Kapeni and personnel were brought tosafety to Kavratti by naval Sea King helicopter.
One body was recovered by INS Kalpeni off Kollam and the same was handed over to civil authorities at Kollam by naval Sea King helicopter. Three survivors rescued by Coast Guard Ship Samar have been air lifted to Kochi by Sea King B.
Indian Naval ships Chennai, Trikand and Kolkata are stationed around the islands with  HADR materials The ships are equipped with desalination plants and will be able to provide the islands fresh water as and when required. The total relief material carried would sustain approximately 5000 persons for over a period of seven days. Additionally all naval units in the vicinity of L&M have been directed to provide fresh water in consultation with local administration. Additional units will also be deployed to augment water supply.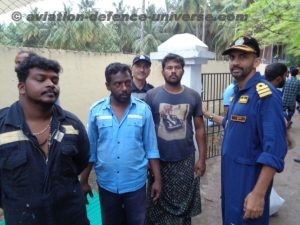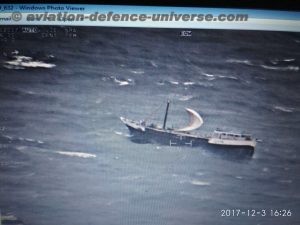 All other ships at the disposal of Indian Navy are continuing the Search and Rescue operations along the Kerala coast and around the L&M Islands in a systematic and planned manner to provide immediate aid to any person, vessel/ boat in distress. Indian Navy is relentless in shouldering the responsibility of providing relief from this natural disaster impacting Southeast Arabian Sea and adjoining LAM islands._