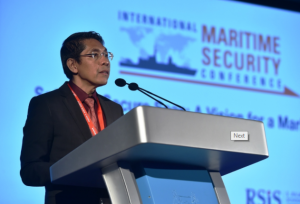 Singapore 17 May 2017. Senior Minister of State for Defence Dr Mohamad Maliki Bin Osman officiated at the opening ceremony of the 5th International Maritime Security Conference (IMSC) at the Changi Exhibition Centre this afternoon. Themed "Safe and Secure Seas: A Vision for a Maritime Region", this year's IMSC saw over 400 participants from navies and coast guards, maritime industries, academia, and think-tanks.
In his opening speech, Dr Maliki shared that the Asia-Pacific is a maritime region where the safety and security of sea lanes are critical to the region's continued growth and prosperity. Noting that the threats and challenges in the maritime domain are becoming increasingly complex, uncertain and transnational, he said, "In such an environment there is a need to work better with each other, abiding by mutually agreed rules and codes of conduct, to avoid unintended confrontations and accidents at sea." Dr Maliki added that this required naval forces in the Asia-Pacific to work together to build trust, which could be further deepened with greater practical cooperation.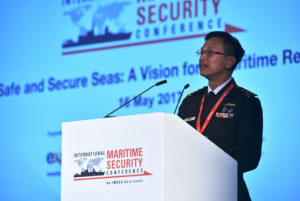 Chief of the Singapore Navy, Rear-Admiral (RADM) Lai Chung Han, was one of eight speakers at the conference, which included the navy chiefs from Australia, India, Japan, Malaysia, New Zealand, United Kingdom, and the United States. During the panel discussion on the changing security and strategic landscape, as well as the evolving threats and challenges in the maritime domain, RADM Lai echoed the need to strengthen the rules-based maritime order to pursue common maritime objectives for safe and secure seas as well as avoid misunderstanding and miscalculation at sea.
The IMSC, co-organised by the RSN and the S. Rajaratnam School of International Studies, is held in conjunction with the International Maritime Defence Exhibition and Conference (IMDEX) Asia 2017. Established in 2009, the IMSC brings naval practitioners together to exchange ideas and discuss ways to promote practical cooperation and enhance maritime security in the Asia-Pacific.
The third edition of the International Naval Engineering Conference is also held in conjunction with IMDEX Asia 2017. Permanent Secretary (Defence Development) Mr Ng Chee Khern will officiate at its opening ceremony tomorrow morning.