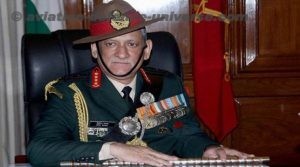 On the occasion of the Army Day 2018, I extend my felicitations and best wishes to all Officers, Junior Commissioned Officers, Non Commissioned Officers and Other ranks of the Army, the Civilian employees, our Veer Naris, Veterans and families.
On this occasion, we remain committed as a force capable of meeting the challenges, that may confront us, with each soldier dedicated to uphold the dignity of our Service. I wish to also pay homage to our brave martyrs, whose courage and sacrifice, in the line of duty shall continue to inspire us to rededicate ourselves with renewed fervour.
As we introspect and reflect on the year gone by, take stock of the security situation and plan for the challenges that lie ahead; 2017 has seen the Indian Army actively involved in operations both on the borders and in the hinterland. Our soldiers have given a befitting response to the adversary along the borders. Our conduct in Counter Terrorist operations has been professional, whilst at the same time, upholding the values associated with Human Rights. The improved security situation in J&K and the North East is result of continued selfless commitment of our rank and file in difficult and challenging situations. Our response in providing succour to our countrymen has been prompt, resulting in saving valuable lives. I can say with conviction that the Nation is proud of their Army and have always encouraged us in accomplishing our objectives with honour and pride.
While operational effectiveness to meet future challenges will remain our primary focus, contribution to nation building initiatives remains an abiding theme. Indian Army's bilateral engagements with other armies of the world are increasing and so is military diplomacy gaining ground. Our contribution to international peace in UN missions continues to earn international appreciation.
The future challenges continue to demand greater commitment from the Indian Army. While we focus towards infusion of technology for better capabilities in our weapon systems, we should continue to upgrade the required training benchmarks for optimal exploitation of these systems. Jointmanship and integration of available resources would remain to be the fundamentals for success on the battlefield.
The Indian Army prides itself in upholding core national values and ethos. I am confident that we shall live up to the trust reposed in us and continue to meet the aspirations of an emerging India.
As worthy soldiers of this Great Nation, let us rededicate ourselves and strengthen our resolve in the service of our nation. Army Day 2018
JAI HIND