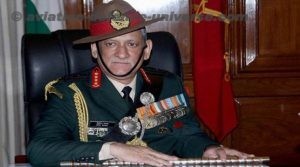 New Delhi.

17 January 2018

. 
 Terrorism can be tackled by imposing curbs on internet and social media said
Army chief General Bipin Rawat
at the Raisina dialogue 2018.
 He feels it is important to downsize the "evils of terrorist".  Acts of violence by terrorist must be denounced by media. Terrorists need not be made heroes. All the acts of violence should be denounced by the media. The more you highlight the evils of the terrorists the more popularity he or she gains."
"Terrorist are  using systems which are highly technology enabled and transcending international borders.We need to disrupt terrorist & their sponsors. Anyone who uses violence as means to end and disrupt civilian lives is a terrorist.," he added.
The threat of nuclear, biological & chemical weapons falling in hands of terrorist can be disaster for humanity and the terror organisation  carries out activity that gets visibility. He reiterated that there is need to identify nations who are sponsoring terrorists. Any nation who is using terror as means to end is sponsoring terrorism.
Army chief calls for strong action on politically organising of terrorists and feels that such political organisations  need to be banned along with their militant fronts. The political organisation continues with its activity of indoctrination, spreading propaganda and generation of funds for the militant activities, he said.
Gen Rawat
states, terrorism could not be a new form of warfare.Nations which spread terror becomes victims of terrorism. It's for the victim nation to act and not wait for others to come and help. Terror is not new to the international community but the contours of terrorism are changing and transcending international boundaries.
Terrorism is here to stay unless the entire international community joins hands and comes up together to combat it the Chief stated.