Chief of the Army Staff General Bipin Rawat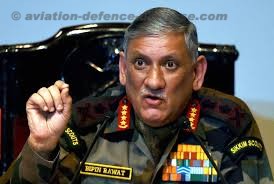 By Sangeeta Saxena & Brig. VK Atray(Retd.)
New Delhi. 13 January 2018. Words fall short when stories of men in olive green are written. Indian army which has never fallen short of the nation's expectations in  upholding  the honor and integrity of the nation, gives the 100 million plus their strength , hope and freedom. In deserts of Thar or glaciers of Siachen, the Army is 24/7 keeping a strong vigil and fighting battles with extreme weather conditions to keep the nation marching ahead.
Chief of the Army Staff General Bipin Rawat in his annual press conference exhorted that India would not allow its territory to be invaded by anyone, and that China may be a powerful country but India was not a weak nation either, thereby reassuring the nation that come what may the borders shall always remain impregnable and if someone tries to  cross their limit they have a strong force to reckon with.
"The time had come for India to shift focus to its northern border. The country was capable of handling China's assertiveness along the border. China is a powerful nation but we are also not a weak nation either. China is exerting pressure but we are prepared to deal with it. We will not allow our territory to be intruded or invaded. There are some vulnerable areas in the northern front but we are keeping our eyes and ears open, " he told journalists.
In what was a diplomatically astute stance he added, "I think we cannot allow the neighbourhood to be drifted away from us –whether it is Nepal, Bhutan, Myanmar, Bangladesh, Sri Lanka or Afghanistan. These nations have to be kept on board, and I think we have to put in our wholehearted effort to ensure we continue to support them."
The Chief also revealed that a hotline will be set up very soon between the Indian Army's Director General of Military Operations (DGMO) and the Chinese officer holding similar position. The discussions are on and the decision has to made whether it will be Lhasa or Beijing, he said.
Responding to a question on possibility of Pakistan using its nuclear weapons in case the situation along the border deteriorates., Gen Rawat stated, "if we will have to really confront the Pakistanis, and a task is given to us, we are not going to say we cannot cross the border because they have nuclear weapons. We will have to call their nuclear bluff."
He also said the terrorists are a disposable commodity in Pakistan and the Indian Army's approach is to ensure that Pakistan feels the pain. On the United States' warnings to Pakistan on the latter's handling of terrorism, the Chief said India would have to wait and see its impact." America's pressure on Pakistan to end support to terrorists if it wants aid should not lead India into expecting that Washington would take over New Delhi's work when it comes to dealing with Pakistan," he cleared.
Elaborating on the  military action against infiltration in Jammu and Kashmir, he strongly stated that Cavalry Fighting Vehicles (CFV) have been increased to destroy Pakistan posts that support infiltration ."The casualties which Pakistan has suffered are three to four times more than we did. Pakistan is sending messages regularly to return to ceasefire. We are ready, but we will continue till we see decrease in ceasefire violation," he told the media present.
The General also stated that surveillance will be top priority and Infantry battalion will get their own UAVs to keep all unpleasant surprises away and be able to pre-empt action based on inputs from the unmanned systems keeping a hawk eye on the activities across the border. This is a welcome step towards manned-unmanned teaming in keeping the borders safe. "We are getting UAVs for Infantry commanders to utilise in his area of three to five kilometres," General Rawat said.
"For too long, we have kept our focus on the western front. I think time has come for us to focus on the northern border. Therefore our infrastructure development on the northern border has to be speeded up," he said.
In another event at DRDO on the same day General Rawat said,  "The threat of the use of CBRN (Chemical, Biological, Radiological and Nuclear) weapons is indeed becoming a reality particularly from the non-state actors. Use of CBRN weapons could jeopardise life health property and commerce, and then take a long time to recover."
Chief also stressed on the enhancement of rotary power in the Army. "Our first requirement is of surveillance helicopters. We are looking at Kamov that are coming in. It is moving on track. 2019 should be the year when we should start looking at the real modernisation of helicopters. Out of the complete numbers  some will come in fully formed state and the rest will be made in India by HAL. We are hopeful delivery will be starting in the next two years. Light utility ALH is being delivered on scheduled with 70 to 80 % serviceability being our need. Weaponised version has also come in." HAL will also be the MRO for these helicopters , so delivery pace has to be kept slow so as serviceability remains good and grounding of the fleet is not an issue to combat, he explained.
"Assault Rifle which is primary weapon of Infantry soldier has got delayed due to the changed General Staff Qualitative Requirement (GSQR), " informed the Chief. He feels this is one requirement which needs urgent fulfilment.
He informed that the first lot of ballistic helmets has come. Some have been given to soldiers in Sikkim and rest to northern command. By and by this need will also get looked into on a priority basis and the soldier will have all that he needs on the battle front.
"We need modern weapons, technology. We have to look at what we require to fight the future wars. We have to get systems that are best suited for our requirements. When we talk of empowering soldiers, it is to give him technology," Gen Rawat stressed.
Moving away from the wishlist of the Army the Army Chief said, "A lot of radicalisation is happening in Jammu and Kashmir on social media. In schools, some teachers are teaching something that should perhaps not be taught. In schools, you see two maps. One of India, one of J&K. Why should there be two maps? Most misguided youth come from schools where they are being radicalised. Some control also has to be exercised on Madrasas and Masjids that spread misinformation."