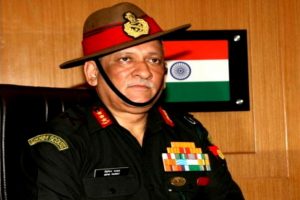 New Delhi. 17 December 2016.  Surprise, questions and wonder were the responses when the announcement of the new Army Chief was made today. Lt Gen Bipin Rawat, the vice chief of the Indian Army, will be the next Army chief, succeeding General Dalbir Singh Suhag.
Lt Gen Rawat was commissioned in the Fifth Battalion of the Eleven Gorkha Rifles in December 1978, from IMA, Dehradun, where he was awarded the 'Sword of Honour'.
He has vast experience in high altitude warfare and counter insurgency operations. He commanded an Infantry battalion along the Line of Actual Control in the Eastern sector, a Rashtriya Rifles sector and an Infantry Division in the Kashmir Valley. He has done instructional appointments at Indian Military Academy, Dehradun and Army War College, Mhow.
Lt Gen Rawat has held important staff appointments at Directorate General of Military Operations and Military Secretary's Branch at Army HQ. He has also been Major General General Staff at HQ Eastern Command. The officer commanded a Multinational Brigade in a Chapter VII mission in the Democratic Republic of Congo (MONUC).
An alumni of Defence Services Staff College, Wellington, the Higher Command and National Defence College Courses.
Not in accordance to norms that the incoming chief's name is announced two to three months before the incumbent retires, it is just 13 days to go before Gen Dalbir Singh Suhag retires.
And the fact that the appointment is of the third in hierarchy which has resulted into two supersessions of Lt. Gen Praveen Bakshi and Lt. Gen AM Hariz, is history repeating itself when Lt. Gen SK Sinha was superseded by Gen Arun Vaidya.