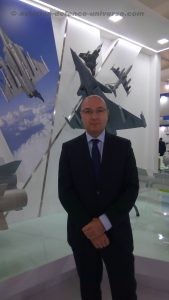 New Delhi. 12 February 2019. " It's important to note the large portfolio of MBDA missiles are already delivering battle-winning capabilities to the Indian Armed Forces or are ordered and soon to enter service," said Loïc Piedevache, MBDA Group India , Country Head in an exclusive interview with ADU.
ADU. As the Country Head of MBDA India, how do you perceive the prospects for the company
in the next five years?
LP. We have very good prospects with a strong pipeline of current programmes for the Indian
Armed Forces that we will be working to deliver. We are also working on new campaigns, some
of them to be delivered by L&T MBDA Missile Systems Ltd, our joint venture with Larsen and
Toubro that holds many promising possibilities for the future, and are looking to further
expand our co-operation with the Indian Armed Forces thanks to our unrivalled wide portfolio
of missile systems.
ADU. To what extent and in what way will MBDA's investments in India impact the growth of
international business for the company?
LP. MBDA's strong long-term investment in India has had a very positive impact on our global
business. India is an important and strategic market for us, and one we intend to continue our
long and very successful history of partnership and investment with.
ADU. Post VSHORAD announcement in favour of Russian Igla, MBDA & SAAB had complained to
the Indian Army. Have you got a response from them?
LP. We have not yet received a response from the Indian Ministry of Defence, however we remain
fully confident that Mistral offers the best solution for the Indian Armed Forces' requirement –
delivering excellent operational performance in all conditions, as proven by the extensive
Indian trials. You might also remember that Mistral has already been selected by the Indian
Army and the Indian Air Force to equip their Dhruv helicopters and soon their LCH too.
ADU. Despite of all controversy on the Rafale deal all concerned parties have praised the MBDA
missiles to be a part of Indian Rafale. Do you see a positive business in the forthcoming
fighter procurement to fulfil the 42 squadron strength need of IAF?
LP. The Indian Air Force has been clear: it has a large requirement for more fighter aircraft in the
future. MBDA has the strongest portfolio of aircraft armaments in the world and we will
carefully follow this process as it progresses.
ADU. What is the status of the JV between L&T and MBDA? What are the contracts the JV has
obtained till now?
LP. L&T MBDA Missile Systems Ltd, our joint venture with Larsen and Toubro, which we formed in
2017, is running and had a busy year in 2018 exhibiting at its first two defence exhibitions with
Defexpo in Chennai in April and MAST in New Delhi in November. The JV is currently focusing
on three main programmes for the Indian Armed Forces, namely: our offer of ATGM5, the
world's only true 5th Generation Anti-Tank Missile as an Indian Designed Developed and
Manufactured (IDDM) product under the Make in India programme; offering Exocet MM40
Block 3 for the Indian Navy's Medium Range Anti-Ship Missile (MRAShM) requirement; and the
JV's offer of Sea Ceptor for the Indian Navy's Short-Range Surface to Air Missile (SRSAM)
requirement. We look forward to further positive developments on these and other
programmes in the future.
ADU. How have you handled issues pertaining to upgrades, transfer of technology and training of
Indian personnel in maintenance of equipment, so far?
LP. MBDA has a successful and long-standing track record of delivering both battle-winning
capabilities to the Indian Armed Forces and delivering manufacturing expertise and work to
Indian industry. This makes us a trusted partner for India, and this is visible in the history of
our programmes with, for example, the MILAN anti-tank missile which has been license built
in India for more than 50 years, and continues to be so with upgraded versions providing
excellent performance to the frontline.
ADU. Looking back at 2018, how has the year been for MBDA? What are the high points and the
low points in the context of Indian defence business?
LP. 2018 was a positive year for MBDA in India. We saw all our existing programmes continue to
deliver for the Indian Armed Forces, as per our long-standing history of customer-focused
partnership. One of the main highlights was the progress of our joint venture with Larsen and
Toubro, L&T MBDA Missile Systems Ltd, across the year – particularly with our presence at the
Defexpo and MAST exhibitions where we exhibited for the first time. As a JV, we had many
positive meetings with our partners in the Indian Armed Forces and industry.
ADU. Which are the missiles which you feel shall be an asset to the Indian inventory?
LP. Firstly I think it's important to note the large portfolio of MBDA missiles that are already
delivering battle-winning capabilities to the Indian Armed Forces or are ordered and soon to
enter service. These include the MILAN 2T anti-tank missile, made under license in India for
many years; the SM39 Exocet that provides the Indian Navy with a high-performance
submarine-launched anti-ship missile capability; MICA, which is already in service on the IAF's
Mirage 2000 upgraded aircraft, that offers unique air-to-air capabilities and the ability to
defeat countermeasures by having both modern infrared and radar-guided seeker options; the
Mistral missile that has been chosen for India's ALH programme and later also for the LCH, and
which also offers highest-performance in the VSHORAD role for the Indian Army; Jaguar is
receiving our ASRAAM missile, the fastest dogfighting missile in the world; and India has also
purchased Meteor, the world's most lethal beyond-visual range air-to-air missile that
outperforms all current BVRAAMs by several times. In addition we are actively involved in
several new tenders for the Indian Armed Forces, including our JV's offer of ATGM5, which is
unique in being not only based on the only 5th Generation anti-tank missile in the world, but
also in being a fully IDDM product; and as I mentioned earlier our JV is also offering very strong
solutions to India's SRSAM and MRAShM requirements.