New Delhi. Flying was a passion and flying to secure the nation his ultimate desire. And he flew into heavens just doing what he desired the most.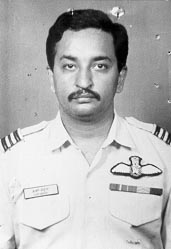 Squadron Leader Ajay Ahuja, a hero to our country and role model for the generations to come gave the supreme sacrifice for the nation while defending the borders of India from Pakistan during the Kargil War in 1999.
Born in Kota, Rajasthan, he did his schooling from Saint Paul's Senior Secondary School, Mala Road Kota, a renowned missionary school for boys and on graduation from the National Defence Academy (India) he was commissioned a fighter pilot on June 14, 1985 in the IAF.
As a fighter pilot he toured on the MiG-23 fighter-bomber and MiG-21 variants, as well as instructional flying experience of over 1,000 hours spent teaching ab-initio pilots. Squadron Leader Ahuja was posted to the Killi Bhisiana Airbase at Bhatinda, Punjab, India in 1997. He had only just become the Flight Commander of Squadron No.17 Golden Arrows (a specialist photo-reconnaissance squadron), when the Kargil War broke out in May-June of 1999.
On May 27, 1999, as part of Operation Safed Sagar in Kargil, a photo reconnaissance mission was launched over the Indian side of the line of control in Kashmir. A member of the mission, (then)Flt Lt Nachiketa ejected from his MiG-27 after an engine flame out. Sqn Ldr Ahuja stayed over enemy positions to help the rescue attempts knowing full well the existence of enemy surface-to-air missiles in the area. This was regarded as an act of great bravery in treacherous conditions.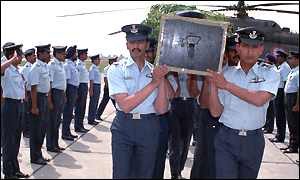 However, his MiG-21 fighter was hit by a shoulder-fired FIM-92 Stinger. Ahuja gave a radio call – "Hercules, I suspect a missile hit". IAF authorities lost track of his aircraft and all communication shortly afterwards.
According to the data released by the IAF, Ahuja's aircraft had been within the Indian side of the Line of Control. A post-mortem examination conducted by Indian military authorities said that Ahuja had landed safely after ejecting from his plane, but had been killed by soldiers. The report revealed that Ahuja had been shot twice through the ear and chest.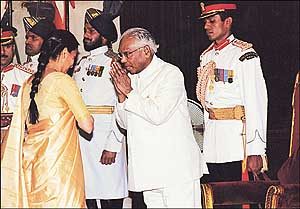 The Government of India lodged a strong protest with Pakistan's ambassador, sharply condemning this action by Pakistani soldiers The Government of Pakistan and Pakistani military authorities vehemently denied all accusations that Pakistani soldiers murdered Ahuja, a prisoner of war, and mutilated his body. Pakistan maintained that Ahuja was probably killed during the crash, or a victim of the vagaries of wartime, where it is impossible to keep track and protect every life, especially that of a downed enemy pilot.
No further investigations were carried out by either government nor impartial, outside entities. Both governments and their people stand by their respective version of events.
However, confirmation that Ahuja was alive when he landed came from an unexpected source – the website of a (then) serving PAF Officer. This website, set up by Air Commodore Kaiser Tufail confirms in its pages that Ahuja was killed 'in a shootout' on the ground.
On May 29th 1999, Sqn Ldr Ahuja's body was flown in from Srinagar by an IAF plane and was consigned to flames in Delhi. Ahuja remains a great hero in the eyes of each and every Indian.
On August 15th, 1999, India's 52nd anniversary of Indepenedence, Squadron Leader Ajay Ahuja was posthumously awarded the Vir Chakra, one of India's highest gallantry honors for military personnel.