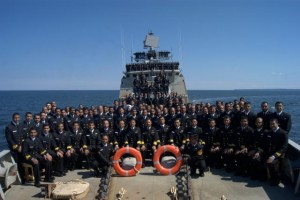 By Our Special Correspondent.
September.
It was a moment of pride and élan for India when INS Trikand moored on the waters of the Thames in London, to showcase the nation's 'blue water capability' to the world at Defence and Security Equipment International ( DSEi ). Its presence not only created a flutter but also attracted a lot of attention with it's stealth capability at display.
Commanded by Captain Vinay Kalia INS Trikand is part of the Indian
Navy
's Western Fleet and is under the operational command of the Flag Officer Commanding-in-Chief, Western Naval Command, with its Headquarters at Mumbai. The last of the three "Follow On Talwar Class" frigates built in the Yantar shipyard  of Russian Federation, was commissioned into the Indian
Navy
on 29 Jun 13 at Kaliningrad, Russia by the then Vice Chief of the Naval Staff, Indian
Navy
, Vice Admiral R K Dhowan, now chief of naval staff.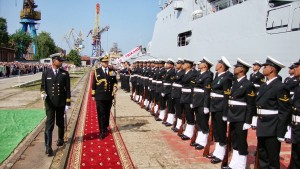 INS Trikand carries a  state-of-the-art combat suite which includes the supersonic BRAHMOS missile system, advanced Surface to Air missiles Shtil, upgraded A190 medium range gun, Electro-optical 30 mm Close-in Weapon System, Anti-Submarine weapons such as torpedoes and rockets and an advanced Electronic Warfare system. The weapons and sensors are integrated through a Combat Management System 'Trebovanie-M', which enables the ship to simultaneously neutralise multiple surface, sub-surface and air threats. The ship also incorporates innovative features to reduce radar, magnetic and acoustic signatures, which have earned this class of ships the sobriquet of 'Stealth' frigates. The ship is powered by four gas turbines and is capable of speeds in excess of 30 knots. The ship can carry an integrated Kamov 31 helicopter which is best suited for airborne early warning roles.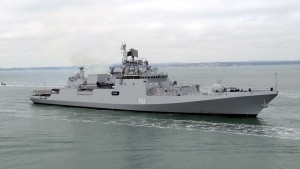 Yantar shipyard in Kaliningrad had started practical training of Indian crew for INS Trikand before the commissioning who have  mastered the  Russian built frigate as if it was made in India. The sixth and last Russian origin frigate, INS Trikand , underwent extensive acceptance trials conducted in the Baltic Sea.
This year, the Indian
Navy
was represented in the KONKAN 2015, the 10th edition in KONKAN series by INS Trikand, with integral helicopter and a team of marine commandos. The ship showcased India's state-of-the-art naval assets and war winning capability in two phases. The harbour phase at Devonport involved professional exchanges, exercise planning conferences, sporting fixtures and socio-cultural events. The elaborate sea phase was held off the South Coast of UK, which involved surface, sub-surface and air exercises of varying complexities. Explosive Ordinance Teams of both navies also participated in the exercise.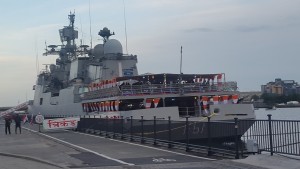 This was in continuation of INS Trikand's overseas deployment to West Asia, Africa and Europe. Towards bolstering the robust international ties INS Trikand made port calls at Devonport, Portsmouth in UK, port of Haifa , in Israel , Vaencia in Spain , Toulon in  France and Djibouti in the Gulf of Aden.