By Sangeeta Saxena
New Delhi. 03 December 2019. The LAC and Galwan were the opening issues at the Indian Naval Chief's annual press conference. "Tensions along our Northern borders significantly increased the complexities in our security situation. This dual-challenge scenario continues as we speak and the country, collectively, continues to battle the pandemic and tackle security challenges. In these testing times, the Indian Navy aims to stand steadfast as a 'Combat-ready, Credible and Cohesive force' furthering our national and maritime interests. Our job is to maintain maritime domain awareness in the region. It is clear that Chinese research vessels and fishing vessels are deployed but there has been no infringement in our maritime boundaries," he said.
"Vikrant is at an advanced stage of construction and will commence sea trials in early 2021. Visakhapatnam, the first of the P 15B destroyers is undergoing trials and is scheduled to be commissioned next year. 'Himgiri', the second of the seven ships of P17A frigates will be launched later this month at GRSE, Kolkata. Of the 43 ships and submarines, currently under construction, 41 are being built at Indian shipyards. These include the Aircraft Carrier -Vikrant, P-15B Class Destroyers, P17A class stealth Frigates and Scorpene class submarines," India's Chief of Naval Staff (CNS) Admiral Karambir Singh told the media in the Navy's annual press conference a day before the nation celebrates its Navy Day.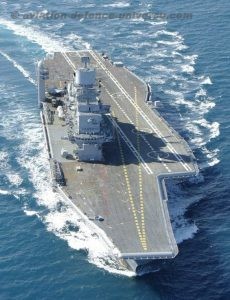 "As the Navy we are absolutely clear of the utility of the third aircraft carrier. Air operations are integral to naval operations. Air power at sea is required here and now. In the case of the third aircraft carrier before we go to the government we need certain parameters right. We have sent out certain RFIs to gather information. Once we have collated them we will go in for the AON, " he added.
But the most news of the day came in the form of P 75I submarine program which thw CNS said will be taken up at the next DAC meeting and the RFP will be issued after that. Modernisation of the submarine arm is also underway. The delivery of the third Scorpene (P75) class boat, Karanj, is expected by the end of the month, the fourth boat, Vela, is undergoing sea trials and fifth boat Vagir was launched recently.
The Admiral elaborating on the Navy's aviation wing's status said, "we inducted three ALH Mk III, four Chetak, eight Dornier and one P8I aircraft this year. Contracts for procurement of six P8Is, six Kamov 31 helicopters and upgrade of six Heron RPAs are under process and likely to be concluded in 2021. In case of 30 Predator drones, joint service demand, is being pursued with the US. Two MQ 9 B pre production models have been taken on lease to overcome capability gap. They are capable platforms with endurance of 33 hours. They have ability of sustained surveillance. We also signed the LOA for 24 MRH helicopter from the United States through the FMS route this year, with deliveries starting next year."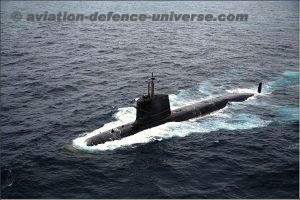 IN participated in 13 bilateral and multilateral exercises, this year. "The most recent exercise, Malabar, with US, Japanese and Australian Navies, contributed to enhanced cooperation and trust. I personally feel Quad will grow organically. Malabar exercise is different from the Quad. Next Malabar will be hosted by the US and we will then take a call in Australia's participation. As part of the Government of India's vision of 'Neighbourhood First', the Indian Navy undertook Joint EEZ surveillance with Maldives, Seychelles and Mauritius, as well as Coordinated Patrols (CORPATs) with Bangladesh, Thailand and Indonesia. IN ships were also deployed to undertake hydrographic surveys for friendly littoral countries, on their request, for about 130 days," he informed.
"Our engagement with friendly foreign countries, including under the IONS construct, aim to build collective maritime competence and, include the element of capacity building and capability enhancement. These engagements help improve interoperability, enhance security, and reaffirm our commitment as the 'Preferred Security Partner' in the IOR. On this note, I would also like to inform that training of personnel from friendly foreign countries, which had been held in abeyance owing to the COVID, have been recommenced last month. We have also started online training for foreign trainees in specific verticals to restart training effort during COVID," CNS added.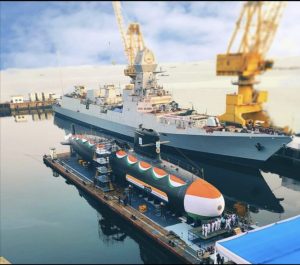 He added, "a few words are also in order about the defence reforms currently underway in India. I would like to reiterate the Navy's wholehearted support for reforms in our Higher Defence Organisation, and on enhancing Tri-Service Synergy. We are looking at the establishment of the 'Maritime Theatre Command' in the near future, which would further buttress 'Joint planning and application of force' in the maritime domain."
"To support our Fleets to operate effortlessly over the entire IOR, several marine and technical repair infrastructure projects are also being progressed. As you would be aware, a new Dry-Dock was commissioned in September. This is a big step towards captive capability to dock our Aircraft Carriers. Phase IIA of Project Seabird at Karwar is progressing well. Creation of a full-fledged Naval Dockyard and associated infrastructure to accommodate more number of ships and submarines is being undertaken during this phase," elaborated the Chief.
And all this is when Navy's share in the defence budget has declined in the last few years." We have also approached Ministry of Finance for funding models, especially for ship building," he informed.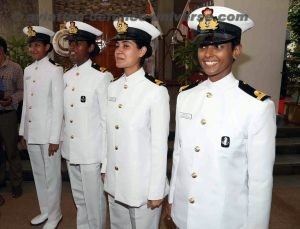 The Chief also reiterated that the force has taken measures towards enhancing opportunities for women officers in the Navy. In this regard, maiden induction of observers into the helicopter stream, appointment to Remotely Piloted Aircraft (RPA) squadron, and induction into Provost specialisation are some of the milestones achieved. Four women officers have also been appointed on ships, and two women officers have been appointed to overseas billets at Maldives and Moscow. In consonance with the verdict delivered by the Supreme Court, Short Service Commission officers are being considered for Permanent Commission in the Navy.