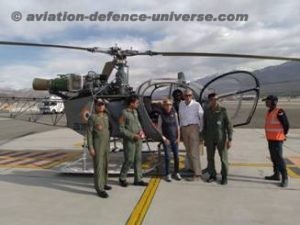 New Delhi. 13 September 2018. Barbara de Rham and Antoine, her husband, were on a holiday, trekking the hills of Ladakh in the Zanskar valley. Barbara developed acute symptoms of "altitude sickness" which required the immediate evacuation to a place with better medical facilities. The Embassy of Switzerland at Delhi requested for her evacuation to Leh at the earliest.
The Siachen Pioneers helicopter unit of Western Air Command were tasked with the mission, since this unit, not only was the closest but, also had pilots who are experienced in flying the treacherous Zanskar valley. The valley is known for its extremely turbulent weather, especially in the afternoons and is devoid of any suitable forced landing fields. The unit immediately launched two Cheetah helicopters at 1515 hrs. Two choppers were necessary due to the inhospitable terrain and the poor weather conditions in the general area of operations. Squadron Leader Sangram Patil led the mission and safely evacuated the lady and her husband to Leh Airforce station at 1615 hrs from where she was taken to the civil hospital.
"The lady displayed acute symptoms of dehydration when I checked her on landing. This could be a case of acute mountain sickness and it was best that she was evacuated to a better medical facility" said the seniormedical officer of Airforce Station Leh, SqnLdr K Anurag, who attended to the patient on landing.