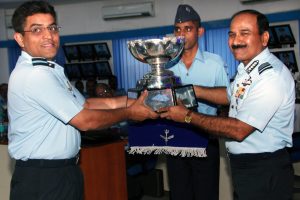 New Delhi. 03 May, 2016. For a command of an Indian Air Force whose area of responsibility extends from Kashmir to Rajasthan, covering the states of Jammu and Kashmir, Himachal Pradesh, Punjab, Haryana, New Delhi and some parts of Uttar Pradesh, the commanders' conference attracts attention uniformly.
A two day Commanders' Conference of Western Air Command was held on 02 & 03 May 16 at Subroto Park. Station Commanders and Air Officers Commanding of all Air Force Stations under HQ WAC attended the conference. The Chief Guest, Air Chief Marshal Arup Raha, PVSM AVSM VM ADC, Chief of Air Staff was received by Air Officer Commanding in Chief of Western Air Command Air Marshal SB Deo, PVSM AVSM VSM ADC and was presented a ceremonial guard of honour.
WAC has been assigned 10 permanent Air Force Stations (AFS)and 6 Forward Base Support Units (FBSUs), including the strategic Forward Air Base at Siachen. Along with these, WAC also has over 200 operational bases, Advance Landing Grounds (ALGs), and Operational centres placed under its command.
Speaking to the commanders, the CAS emphasized the need to build up mission capability of all platforms and weapon systems. He further reiterated the need for development and upkeep of infrastructure and fine tuning the human resource so as to be able to absorb induction of new technologies for a smooth transition of the IAF into a futuristic force. The Chief re-emphasized the role of Western Air Command in future operations as that of being the spear head of Indian Air Force.
He appreciated the encouraging aerospace safety record of WAC and urged the field commanders to continue earnest efforts towards creating an environment for safe operations. He also appreciated WAC's rapid response, untiring efforts and invaluable contribution in providing humanitarian assistance and disaster relief in recent times, which included Operation Rahat, Operation Maitri, Chennai Floods, Fiji Cyclone, Haryana Agitation, Operation Sonam, numerous causality evacuations and transportation of live organs. The Chief stated that, these contributions made the IAF and the nation proud.
He also lauded WAC on its performance during the recent IAF exercises including the fire power demonstration at Pokhran. He exhorted the commanders to refine their plans in consonance with the lessons learnt during these exercises to boost the war waging potential of WAC. CAS made a special mention on the need to maintain very high levels of vigil to ensure security of our air bases post the Pathankot incident.