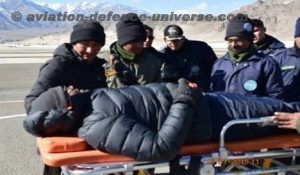 New Delhi. 20 January 2018. Yesterday, The Siachen Pioneers- 114 HU based at Leh, carried out a daring casevac mission from the far flung reaches of the Zanskar valley in the Ladakh sector. The casualty was part of the "Chadar Trek" organised over the frozen Zanskar river. Inspite of the short notice, the crew got airborne in 40' of receipt of message. The mission being in highly inaccessible area called for a two helicopter mission.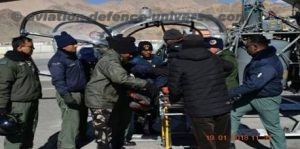 This way if one helicopter went down, the other was available for support. As the coordinates for the site were not available due to poor communication, the aircrew were faced with the daunting task of searching for the casualty in the icy mountains and crevices of the Zanskar Valley. Once they located the casualty  the Capt – Wg Cdr Khan realised that the landing would be an arduous and dangerous  task due to the terrain in the narrow valley on an unprepared surface.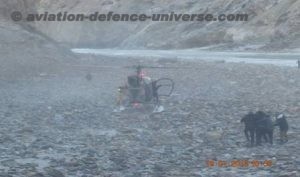 Undeterred and in keeping with the motto of the unit-"We do the difficult as routine, the impossible only takes a little longer", the crew displayed exceptional skill in maneuvering the aircraft in an extremely tight space and landed the helicopter on a rocky outcrop next to a river in between the steep mountains. All this while the #2 helicopter gave airborne support to his #1. The casualty was successfully evacuated and brought to Leh- another life saved by the helicopter of IAF.