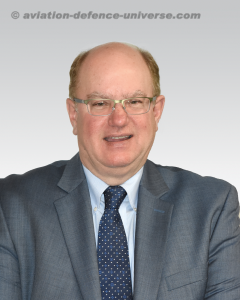 New Delhi. 18 June 2018. "For the Indian market in particular, we're also providing technologies to help customers overcome weather related and navigation issues that impact safety. India's terrain, weather and topographical patterns in particular, differ across regions, which makes it difficult for pilots to consistently navigate routes, fly and land safely and efficiently," said  Randy Anderson, President, Aerospace Europe, Middle East, Africa and India, Honeywell Aerospace in an exclusive interview to Aviation & Defence Universe (ADU).
ADU. What is your role at Honeywell and experience in the aviation industry?
RA. I currently act as the president of Honeywell Aerospace for Europe, Middle East, Africa and India. In this role I work closely with our channel partners on growth opportunities and ensure we are localising products and services to best serve our customers. My 40 plus years working for Honeywell across both manufacturing and engineering roles has prepared me well and given me the experience and knowledge I need to spot new opportunities.
ADU. According to reports, India is set to become the third largest aviation market by 2025. Where does Honeywell fit into propelling this growth?
RA. We're constantly introducing new technologies to keep up with the software transformation that's impacting aviation and cater to the needs of local airports, airlines and business and defense operators.
For example, to help airports manage passenger traffic that is set to increase from 224 million passengers to 421 million passengers by 2020, Honeywell offers cockpit solutions like the SmartPath® Ground-Based Augmentation System. This system is being used at the Chennai Airport to increase airspace capacity and air traffic control flexibility. It provides aircraft with augmented and highly accurate satellite navigation data to help pilots land and also helps increase airport capacity, decrease air traffic noise and reduce weather-related delays.
Since the Department of Telecommunications has approved in-flight connectivity in India, we're have the opportunity to play a big role in creating better in-flight experience by providing access to global un-interrupted Wi-Fi. At the moment, only local providers are permitted to offer these services, but in the future we'd like to be able to offer technologies like JetWave, the hardware that allows commercial and military customers to connect to Inmarsat's GX Aviation network.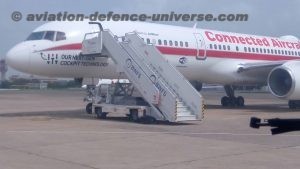 ADU. With the recent approval from the Department of Telecommunication of the in-flight connectivity, does it give a boost to your connected aircraft project and what will be the change in your marketing strategy?
 RA. With the recent decision, it's clear that the Indian market's priority is to drive growth in productivity by investing in new technology. Our Connected Aircraft offering delivers an end-to-end, integrated solution to drive this forward, helping customers with the products and services they need to improve performance, efficiency and meet the needs of their end customer – the everyday passenger or pilot.
We're already getting positive feedback from existing customers on the possibility of deploying our connected technologies and are in discussion with additional Indian carriers around the benefits our connected products and services can offer.
ADU. What are the other growth opportunities in the Indian Aviation industry you can tap?
RA. Thanks to an intensification in crude oil prices, players in the Indian low-fare market are under pressure to offset fuel costs with higher air fares for passengers. Not only will this impact demand, it will affect long-term margins, putting greater pressure on driving fuel efficiency. Honeywell makes it possible to use data analytics technology to improve fuel efficiency without airlines having to sacrifice on schedule performance, by changing operational practices and giving flight crews the right information to make informed decisions.
In fact, in February of last year, India's Jet Airways adopted our GoDirect Flight Efficiency software, which collects data from operators' IT systems to provide data analysis and reporting. Using this solution, the airline achieved five percent annual fuel savings.
ADU. Explain some of the key Honeywell technologies powering the Aviation Industry?
RA. Connectivity and connected aircraft services are the fastest-growing businesses for Honeywell and are expected to be more than a $1 billion opportunity by 2020. Our GoDirect suite of applications and services in particular are helping customers with everything from flight planning to maintenance by providing up-to-date information to drive informed decision making during all phases of flight.
Air India is using our SmartRunway/SmartLanding system with its international Boeing 777 fleet to make it easier to navigate airports for landing, taxiing and take-off. Using this system, pilots can navigate airports regardless of visibility and extend passenger safety by reducing the likelihood of runway excursions or incursions.  Similarly, Air India is using our IntuVue RDR-4000 3D weather radar to get accurate weather updates. Using the system has improved flight safety, enabling pilots to 'see' upcoming weather conditions and turbulence via predictive warnings, and take the necessary steps towards earlier weather avoidance.
ADU. Being a global company, how supportive is Honeywell of the Make in India campaign?
RA. We've had a presence in India for over eight decades and are committed to and focused on using our wealth of expertise, both technological and mechanical, to boost the aerospace and defense sectors. We've already made partnerships with local companies to address existing market challenges around increasing production. Through our long-standing relationship with HAL and TATA Power's Strategic Engineering Division, our Tactical Advanced Land Inertial Navigator, TALIN, is helping the Indian Armed Forces navigate very precisely, even where GPS satellite guidance is not available. This is helping to increase troop safety and maximise mission success.
In addition, we are supporting the Ministry of Civil Aviation's regional connectivity scheme, Ude Desh Ka Aam Naagrik (UDAN), acting in honour of its mission to revive airports and airstrips.