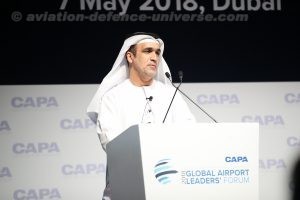 Dubai, May 7, 2018: Cutting-edge technologies including artificial intelligence and biometrics will improve the airport experience for passengers and take the aviation industry to the next level with billions of dollars spending on infrastructure, according to industry experts at Global Airport Leaders' Forum (GALF) on Monday.
GALF kicked off with the keynote addresses by Paul Griffiths, Chief Executive Officer of Dubai Airports, and Ibrahim Ahli, Deputy Chief Executive Officer of Dubai Air Navigation Services (DANS).
Griffiths said travel and tourism will buck the trend. Currently the industry supports 298 million jobs globally and by 2020 the figure will rise to 382 million. Most of the jobs will be created in Asia Pacific region. Around $7.6 trillion was contributed by the aviation industry to the global GDP during 2016 and it will be $11.5 trillion by 2027 globally.
"All these numbers show future travel looks very bright," said Griffiths.
Earlier, His Highness Sheikh Ahmed bin Saeed Al Maktoum, President of Dubai Civil Aviation Authority, Chairman of Dubai Airports and Chairman and Chief Executive of Emirates Airline and Group, inaugurated this year's GALF.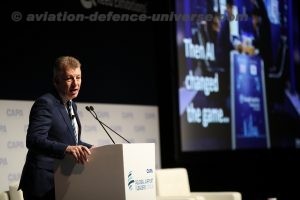 Speaking on the topic: 'Travel & Tourism – The Beacon of Hope' Griffiths highlighted the importance of innovative technologies that will change the shape of future travel and tourism.
He said that artificial intelligence (AI) will be a game changer for the future travel and it will ease the life of passengers.
He added that the machinewill be faster, better and also cheaper for most of things 'we do today.' He said statistics show decline in employments in most sectors particularly industries because of the increasing role technology. The World Economic Forum study predicts 7.1 million jobs will disappear.
He said that today around 10 million passengers step onboard the aircraft every day around the world and by 2034 the number of passengers take planes will jump to 21 million globally. Again, the majority of growth will come from Asia Pacific region with 1.8 billion passengers in the next 15 years.
Ibrahim Ahli, Deputy Chief Executive Officer of Dubai Air Navigation Services, mentioned that Dubai is a well-known name with a lot of successes in the aviation sector as a global travel hub.
He emphasized the importance of cutting-edge technologies couple with research and development. "We have a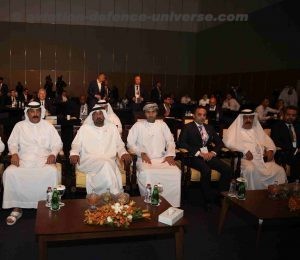 highly talented team and the team has delivered the projects that will shape the future of aviation."
He said, "DANS for the first time in the history of UAE and entire Middle East region carried out a complete restructuring of air space in a mission to meet the everyday growing demand in the aviation sector. It's capacity enhancement and further efficient utilization of air space between civil and military departments."
"We deliver average 1,500 aircraft movement daily in Dubai airspace," he said and added that this figure is expected to growth significantly.
GALF is co-located with the 18th edition of the Airport Show, the world's largest airport industry exhibition, at the Dubai International Convention and Exhibition Centre. An impressive line-up of influential leaders and experts from the world of aviation addressed the one-day GALF and discussed the global strategic challenges and opportunities facing airport operators, regulators and industry suppliers.