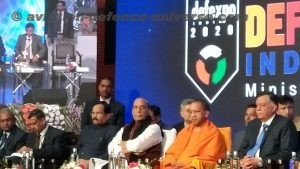 Lucknow. 04 February 2020. When Delhi's Pragati Maidan closed its gates for renovation Defexpo not only lost a permanent venue but also the feel of the national defence show in the national capital. Manohar Parrikar took it to Goa, Nirmala Sitharaman to Chennai and Rajnath Singh has now got it to Lucknow. Defence Expo has become a pet project to garner votes by the Defence Ministers in the last four years.
But this year the curtain raiser to the show turned out to be a jamboree where the state Chief Minister Yogi Adityanath clearly turned out to be the pied piper and the defence minister Rajnath Singh seemed to have taken a backseat. Claims were tall and picture painted was rosy. Exhibitors have booked 42,800 square metres of exhibition space which is 60 per cent higher than the than the previous  show in Chennai. More than 1000 Indian and foreign firms , more than 40 defence ministers and military chiefs and 200 memoranda of undertaking (MoUs) are expected to make the show the biggest defexpo.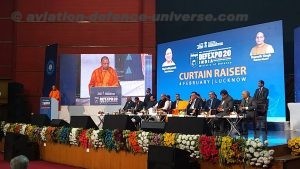 The city of Nawabs Lucknow has a hoarding of the show in virtually every 100 metres of the maon roads of the city from any direction. Both the state Chief Minister and the Defence Minister have equal space on these and UP Defence Industrial Corridor coming up around nine nodes Chitrakoot, Jhansi, Kanpur, Agra, Aligarh, Ghaziabad and Meerut seems to be the states pet project which is a nice feel. A land acquisition target of 25,000 acres for defence industry has been aimed at and nearly 3,000 acres has already been identified.
Rajnath Singh said there would be skeptics, but those would go through four stages of opposition, "first they ignore you, then they laugh at you, then they fight you, then you win. And we have come to the stage of victory."
The theme of DefExpo India 2020 is 'India: The Emerging Defence Manufacturing Hub' and the focus will be on 'Digital Transformation of Defence'. Marching alongside the government's 'Make in India' drive, DefExpo 2020 promises an excellent opportunity for the Indian defence industry to showcase its capabilities and promote its export potential.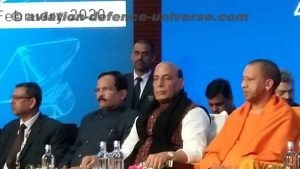 Singh said, "The government is working on making the country a defence manufacturing hub and has made sincere efforts in promoting indigenous manufacturing in the defence sector through initiatives like Make in India."
Just prior the show the Defence Minister addressed top diplomats of over 80 countries showcasing India as a major exporter of defence equipment by organising the Ambassadors' Round Table conference with aim to brief missions on the upcoming DefExpo 2020.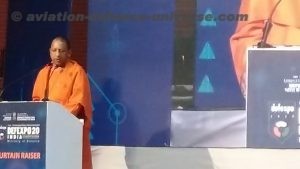 "DefExpo is an opportunity to foster partnerships and be part of shared prosperity. These strong ties can boost investment, expand manufacturing, raise the level of technology and accelerate economic growth of our respective countries," Rajnath Singh said.
He also listed out various policy reforms in critical areas, including simplifying industrial licensing process and hike of Foreign Direct Investment cap to 49 per cent. Due to the policy reforms undertaken by the government, defence production in both public and private sectors reached a record volume of Rs 80,502 crore in 2018-19. Rajnath Singh set the target of Rs 90,000 crore for 2019-20. "We have achieved an export turnover of around Rs 10,700 crore in 2018-19, with the target of this year pegged at Rs 15,000 crore," Rajnath Singh added.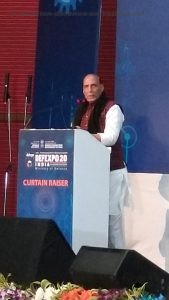 Administratively it was comfortable to get the passes and reach the venue which was well explained with indications. The curtain raiser media event at Indira Gandhi Pratishthan was also well organised despite a jam packed hall with local, national and international media in full strength.
When the day dawns tomorrow and all roads lead to Vrindavan Yojna the Defexpo 2020 venue, the picture will start getting clearer. Meanwhile the state of Uttar Pradesh seems to have put its heart and soul into organising the event and Lucknow is rife with expectation.