Government bodies, Defence and Academia come together to discuss the way forward
Bangalore . 11th July 2016. The Strategic Electronics Summit witnessed robust participation and avid interest from Academia, Industry, Govt. and Defence organisations.
The event was inaugurated by the Minister of Defence Manohar Parrikar in the presence of Dr. Ajay Kumar, Addl. Secretary, Department of Electronics & IT, Dr. G Satish Reddy, SA to Raksha Mantri, Lt. Gen. Subrata Saha, Dy. Chief of Army Staff (P&S) as well as many dignitaries from the industry including. The program was attended by over 700 delegates participating in the Conference and Exhibition which witnessed keen interest from large Defence buyers including the Defence Officials and DPSUs.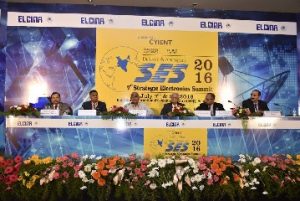 Parrikar addressed the gathering and his message clearly emphasized enhanced transparency and flexibility in the purchasing policy and procedures and changing the mindset of suspicion which had crept into the Defence Ministry and bureaucracy  hindering  the progress of the industry.
Going into details, he mentioned that scams had resulted in extreme rigidity in the procedures and even minor changes in request for proposals were blocked due to the same. Parrikar advised ELCINA to inform him about the pain points still adversely impacting the industry and he would definitely resolve this on priority.
A key announcement by the minister was the support to the Defence Electronics Testing Lab proposed jointly by ELCINA Members and BEL and advised that the contours of this project be finalized within next two months.  He would like to see the Lab  up and running by the time the  next SES was organized in 2017.
Speaking during session on Defence Opportunities for Defence Industries under Make-in-India Program, Lt Gen. Subrata Saha, Dy. Chief of Army Staff (P&S) said "there is a need to encourage R&D and Innovation in the industry with active support from academic institutes which has the capability to perform cutting edge R&D. With the liberalized and transparent norms being laid out under the new revamped DPP, there is a need to actively work in this direction to involve the Private Sector and SME's in the defence value chain."
Padma Vibhushan Dr. V. K. Aatre, Former SA to RM & Distinguished Scientist, who chaired the session Strategic Partners for Defence & Aerospace Programs said " Make in India should not be interpreted as "Manufacture in India" alone. There has to be a linkage between academia where the seeding of ideas takes place, R& D and manufacturing. The current government is looking into the right direction, whether we are going to bring in changes sooner, needs to be seen.
"There is tremendous talent in India. Like we stayed away from the IT industry, if the government can give the Industry its space to deliver on defence requirements, I am confident we will do very well. What government needs to do is lay down the policies in a simplistic manner and support them to produce high end technology. India is capable of innovating and currently we are not doing enough in that direction," Dr. Aatre further added.
Chairperson of session, "Role of Academia & Electronic SME Clusters", Padma Shri Dr. Prahlada Ramarao, Former DS & CC, R&D, DRDO, Former VC; DIAT shared,  "The Make in India campaign is not just about setting up a factory and manufacturing products. It is a complete end to end process of concepts, thinking, research, R&D, prototyping followed by manufacturing. Further, field testing followed by serial production and finally the disposal to the end users makes for the entire chain known as Make in India. The government has finally realized this over the years which are very encouraging."
Talking about academics Dr. Prahlada shared "Our academic scenario in the country is very positive. Small colleges are producing satellites that ISRO is going ahead and testing and launching. The students are very enthusiastic and want to be out there in the field and learn through outcome based techniques. We need to get better at this now."
"Are we working on state of the art issues is the most relevant question that institutions are asking today. Academia today needs to be very focused on research and work on how to maintain its confidentiality and also relevance to the larger strategic electronic industry. Aligning research of academia to the requirements of defence establishment is very crucial," shared session moderator, Dr. Vishwas Udpikar, former faculty member, IIT Member.
Rear Admiral V M Doss, VSM, ADG, QA (Naval) speaking at the session on Strategic partners for Defence and Aerospace, said, "today we have more than 500 MSME's and SME's who along with the strategic partners are providing products to the defence establishments. If the larger Make in India campaign has to success, its critical to promote thousands of MSME's and SME's where  campaigns like  Start-up India, Skill India etc. will come together".