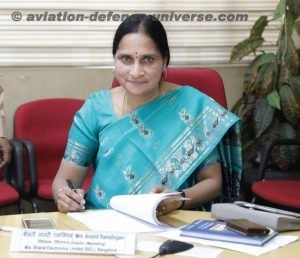 New Delhi. 30 January 2020. "In a bid to develop new markets in the Indian Ocean Region (IOR), BEL has operationalised overseas marketing offices in Vietnam, Sri Lanka, Oman and Myanmar. BEL has also expanded its Singapore and New York Regional Offices to handle marketing activities. BEL plans to work closely with Companies in other countries to increase the geo-spatial presence," said Anandi Ramalingam, Director (Marketing), BEL, in an exclusive interview to Aviation & Defence Universe(ADU) at prior Defexpo 2020.
ADU. What will BEL be showcasing at DEFEXPO 2020?
AR. At DEFEXPO 2020, BEL will showcase state-of-the-art products and systems spanning every domain of its business – Military Communication, Radar Systems, Missile Systems, Naval Systems, C4I Systems, Electronic Warfare Systems, Avionics, Anti-Submarine Warfare Systems, Tank Electronics, Electro Optics, Gun/Weapon System Upgrades, Shelters, Unmanned Systems, Homeland Security, Cyber Security, Artificial Intelligence based systems and professional electronic components. BEL will also showcase its R&D capabilities by launching/demonstrating some of its new products / technologies.
BEL's display in the area of Radar will include products/models/panels of Active Electronically Scanned Array Radar, Radar for Quick Reaction Surface-to-Air Missile, Radars for automatic detection of first-round location of artillery weapons (Weapon Locating Radar) and Border surveillance and Detection of low flying targets (like Battlefield Surveillance Radar and Air Defence Fire ControlRadar – Atulya).
BEL's display in the area of Military Communication will include products such as Software Defined Radios, Single Box Communication Solution, Secure Versatile IP Terminal, Cyber Security products/services, Encryptors, High Capacity Radio Relay, Data Diode used to create a physically secure one-way communication channel from one network to another, SDR VPX with NCW Applications, Configurable Live Mk II, etc.
Electronic Warfare and avionic products on display will include Tethered UAV, EW Suite for Airborne Application, Quadcopter UAV, Drone Guard System, Directed Infra-Red Counter Measure (DIRCM), Combined Interrogator and Transponder (CIT), CLIFF, EOS CoMPASS, etc.
Also on display will be the complete range of Electro Optics, such as Holographic Sight, TI Sights, Image Intensifier based Passive Night Sight, Target Acquisition System, Day Night Sights for Tanks, LRF Modules, Pan & Tilt – Electro Optical Director for long range surveillance applications like coastal surveillance, border surveillance, etc.
BEL will showcase its Naval Systems capability through Dipping Sonar, Airborne Sonar, Ship Communication Systems and Long Range Surface-to-Air Missile system.
Components/Technology modules on display will include TR modules (X band and C band Quad) for Radar application, Smart cards, MPM / TWT Transmitter, Low Band receiver Modules, LTCC substrates / MMR Chips, Solar Products, Electric Batteries for two / three Wheelers, Electronic Fuses for Artillery, etc.
Other Innovative solutions and Artificial Intelligence systems on display will be Face Recognition System, Social Network Analysis, Software based Record and Replay System, Video Management System, Ytterbium Fibre Laser, Power Amplifier for sonar application, LTE- Secure Mobile, Machine Intelligence & Robotic Unmanned Ground Vehicles, Radar Pulse De Interleaver, Digital Pre-distortion for Linearization of Power Amplifier, Electronics Target Systems, Decision Support Systems for Coastal Surveillance System, Imagery Solution, Automatic Train Supervisory System, Comprehensive Integrated Border Management System, Speech to Text Technology, Smart City Solutions, Space-based products, etc.
The highlight of BEL's outdoor display will be the Weapon Locating Radar – Mountain Version, KU Band SATCOM – vehicle based; X-PAR Compact version, High Altitude Shelters, Missile Containers, Indigenous Fire Control System, Advanced Landing Ground Communication Terminal (ALG-CT) and Air Defence Tactical Control Radar (ADTCR). The entire set of state-of-art equipment on offer will be a force multiplier for any Defence force.
ADU. How do you plan to increase BEL's exports?
AR. The Government is encouraging defence exports through many policy initiatives and has set a target of Rs.35,000 Crs by 2024-25. BEL has identified Exports and Offsets as one of its thrust areas and has drawn up plans to offer its select products and systems to various export markets.
BEL is giving increased thrust to harnessing the export potential of its products and systems including Homeland Security solutions, Border Protection systems and state-of-the-art systems and solutions which represent its core areas of business. Having established a Coastal Surveillance System (CSS) for a few neighbouring countries, BEL is interacting with Ministry of External Affairs for supply of CSS to other friendly countries. BEL is also exploring civil markets for Smart Cities, Solar Power Generation, etc, in developing and third world countries.
BEL is focusing on addressing Offset obligations in various RFPs of the MoD, on account of the Offset policy incorporated in the Defence Procurement Procedure. BEL has identified contract manufacturing (build to print and build to spec) for foreign OEMs and partnerships in the form of Transfer of Technology of the latest systems and solutions as areas of emerging export opportunities. Efforts are also on to establish long term supply chain relationship with global players.
In a bid to develop new markets in the Indian Ocean Region (IOR), BEL has operationalised overseas marketing offices in Vietnam, Sri Lanka, Oman and Myanmar. BEL has also expanded its Singapore and New York Regional Offices to handle marketing activities. BEL plans to work closely with Companies in other countries to increase the geo-spatial presence.
ADU. What are the main products that you export and to which all countries?
AR. BEL has been exporting products such as Communication Systems, Coastal Surveillance System, Missile Systems, Radars, Electronic Warfare Systems, Electro Optic Systems and Electro Optic Fire Control Systems, Radar Finger Printing System, Naval Systems, Radar Warning Receivers, Electronic Voting Machines and various other equipment to USA, UK, Russia, Italy, Brazil, Germany, France, Israel, Indonesia, Honduras, Malaysia, Maldives, Mauritius, Myanmar, Namibia, Seychelles, South Africa and many other friendly countries.
In 2018-19, BEL sold products and systems worth USD 21.6 million and has an export order book of USD 158 Million as on September 30, 2019.
ADU. Can you tell us about your diversification initiatives?
AR. The Defence segment continues to be BEL's main business domain covering about 85% of its revenues. However, BEL is continuously exploring diversification opportunities in Defence and allied non-defence areas for enhanced growth, leveraging its strengths and capabilities acquired in the defence electronics domain.
Segments like Radars and Weapon Systems, Communication and Network Centric Systems, Tank Electronics, Gun Upgrades, Electro Optic Systems and Electronic Warfare & Avionics Systems will continue to drive the Company's growth in the coming years. As part of its diversification strategy, BEL is also continuously exploring opportunities in Defence and allied non-Defence sectors by offering spin-off technology products.
Some of the areas BEL has already diversified into are Homeland Security and Smart City, Electronic Ammunition Fuzes, Composites, Energy Storage Systems, RF Seekers, Imaging Infra-Red (IIR) Seekers, Real Time Information System for Railways, Automatic Fare Collection Gating System for Metro rail, Intelligent Traffic Management System, Satellite Integration, Cyber Security, Unmanned Systems, Composites and Solar Power Plants.
Other areas of focus include Next Generation Indigenous Surface-to-Air Missile (SAM) System, Airborne Radars, Thermal Imager Detectors for Night Vision Devices, Indian Regional Navigation Satellite System (IRNSS), Direct Energy Weapons (DEW), Helmet Mounted Display Systems (HDMS), Directed Infra-Red Counter Measure (DIRCM), IT & Cloud Services, Ring Laser Gyro, Explosives, Propellants, Smart Bombs etc, in the Defence segment, and Space Grade Solar Cells, and Air Traffic Control Radars in the non-defence segment.
BEL has signed an MoU with Tamil Nadu Industrial Explosives Limited (TEL), a state-government undertaking of the Government of Tamil Nadu, for co-operation in the explosives segment where BEL is eyeing business growth, keeping in view of its ongoing and upcoming ammunition programmes. BEL is investing for the upgradation of existing facilities and addition of new facilities, as well as setting up of a world-class centre of excellence for ammunition related technologies for both Defence and Space requirements. The strategic partnership with TEL will also boost BEL's business opportunities in the explosives segment.