ASTRAIUS ON TRACK FOR FIRST SATELLITE LAUNCH FROM PRESTWICK SPACEPORT IN 2024
19 July 2022, Farnborough, UK: Astraius, the UK-based, horizontal launch company, has today announced two key suppliers for its innovative launch solution. Northrop Grumman has been selected as the first and second stage motor supplier, and Exquadrum will provide the upper-stage motor. With these best-of-the-best industry leaders, Astraius is on-track for first launch in Spring 2024. The announcement received the support of the UK Space Agency at the Farnborough International Air Show.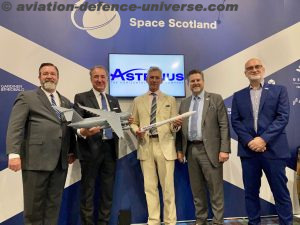 Northrop Grumman's Orion solid rocket motors will boost the Astraius launch vehicle after its extraction from the unmodified C-17 carrier aircraft. Completing the mission, Exquadrum's bespoke Astraius upper stage will precisely place satellites in their intended orbits.
Sir George Zambellas, Astraius Chairman, made today's announcement from the Space Scotland pavilion at the Farnborough International Airshow; "This is a hugely exciting moment for Astraius. We have a winning combination of proven launch and propulsion systems paired with exquisite rocket motor technology to produce a world-class capability. When coupled with Prestwick Spaceport's state-of-the-art launch vehicle and payload integration facilities, Scotland will be the UK's leader for responsive space launch."
 Kevin Seymour, Astraius CEO, said; "I am thrilled that Northrop Grumman will play a major role in our program. Their long record of flight success and clear enthusiasm for what were doing gives us absolute confidence we've made the right decision. Northrop Grumman  motors are key enablers for our industry-leading, low risk, responsive, horizontal launch capability."
Kevin Mahaffy, Exquadrum CEO, attending Farnborough for the announcement, said; "Exquadrum is excited to be part of the outstanding team that Astraius has put together to bring their unique horizontal  launch vehicle to the market. Exquadrum's controllable solid rocket motor technology, with its throttlability and precise termination ability, is an excellent fit for Astraius' upper stage application."