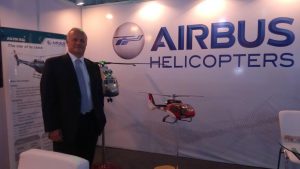 By Sangeeta Saxena
New Delhi. 23 December 2015. "We have good machines which will help in the shuttle service in the remote parts of India. Civil helicopter operations in India, which were suffering from lack of infrastructure, rigid policy and high costs, will now benefit from the new National Civil Aviation Policy and the subsequent Regional Connectivity Scheme (RCS)," stated Xavier Hay, President, Airbus Helicopters Division at Airbus Group India, in an exclusive interview to Aviation & Defence Universe(ADU).
The policy stresses that helicopters will be free to fly from point to point without prior ATC clearance in airspace below 5,000 ft and in areas other than controlled airspace, prohibited and restricted ones, and temporary segregated or restricted areas (after obtaining air defence clearance). Airport authorities will also provide or lease land for helicopter operations so that they don't interfere with fixed-wing traffic.
"For a helicopter industry growth the government said it will facilitate development of at least four heli-hubs across the country to promote regional connectivity. Helicopters play a key role in remote area connectivity, intra-city movement, tourism, law enforcement, disaster relief, search and rescue, emergency medical evacuation, etc. and Airbus choppers all fit the bill perfectly," he added.
The national policy also targets the development of helicopter emergency medical services (HEMS), a sector triggering ambitions among Western companies. Airbus Helicopters said there are 2,000 helicopters worldwide used for emergency medical services (including 1,100 in North America). But there's only a handful in India. Prior to that, the DGCA had issued in February an operations circular aiming to regulate HEMS.
"Legalisation of skies below 5000metres is on the cards but Implementation is awaited. Regulations exclusive to HEMS will be made, under which helicopters working only for HEMS operations will not require any operational clearance, including landing at accident and emergency sites, from any agency except Air Defence Clearance," said Xavier.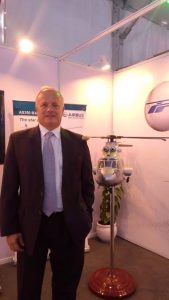 With the mantra 'Think Global, Make Local' European major Airbus Helicopters is sure of its role in the Make in India crusade of the government and is optimistic of fulfilling the rotary need of the Indian Armed Forces.
He reiterated that India's requirements for National Utility Helicopters (NUH) and Reconnaissance and Surveillance Helicopters (RSH) will be a great opportunity to generate sufficient critical mass to enable its long-term sustainability. Airbus Helicopters has been selected as preferred bidder by ICG with the H225M.
"Tourism and other services will open up opportunities for helicopters which had substantial capital investment. Airbus H125 is ideal for operations at high altitudes as well as in hot conditionst. It's optimised new cabin features a flat floor that can be quickly and easily reconfigured for various mission types including aerial work, firefighting, law enforcement, search and rescue, and passenger transport," he explained.
India with 270 odd helicopters was a market with low penetration, less than the number of helicopters either in Switzerland or Netherlands. But Hay was optimistic that the new policy with the regional connectivity scheme has created a huge potential for growth in the next decade.