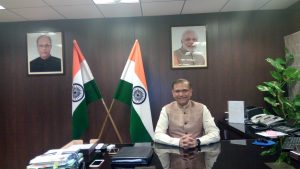 New Delhi.
Flights of fancy become real for India,  as the world celebrates 22nd International Civil Aviation Day. Indian Civil Aviation industry has ushered in a new era of expansion, driven by factors such as low-cost carriers (LCCs), modern airports, Foreign Direct Investment (FDI) in domestic airlines and regional connectivity. And the icing on this cake is the National Civil Aviation Policy announced earlier this year.
"India's aviation sector is being rapidly transformed and air travel is becoming indispensable for the general public. India is now the fastest growing major aviation market – the number of air passengers has been growing more than 20% year-on-year. Affordability, profitability and frugality are the key words which drive the sector ahead," said Jayant Sinha, Minister of State for Civil Aviation, in an exclusive interview to Aviation & Defence Universe(ADU).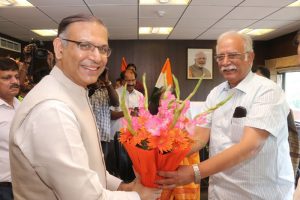 ADU. It has been more than five months and how do you find the change from North Block to Rajiv Gandhi Bhawan?
MOS. The change is a reflection of the faith the leadership has in my capabilities. Aviation is a sunrise sector. Today 9 crore fly domestically and 5 crore fly internationally. This growth is a great opportunity for me to get aviation to the international standards. Air travel for everyone is our aim along with developing the infrastructure, manpower and expertise along with safety and security. I am happy that I have been given this task to get the sector to its position in the international arena.
ADU. What are the plans you have for building capacity at the airports which really need attention? What approximately would be the investment needed to better these airports?
MOS. Expansion of airports is a priority and capacity building is what we have already begun. All airports in high-growth region need to be looked into. As for  the passenger growth, we expect the size of the Indian aviation market to grow to about 600 million air passengers annually over 10 to 12 years from now. This will mean more than a billion footfalls at the airports and we do not want capacity to become an impediment to the growth in the sector. An investment of 2.5 to 3 Lakh crores is required for this task. Building an airport is a long-drawn process and I think we need to triple our airport capacity. In 10 years, we will see four airport hubs coming up in India. Delhi airport is single-largest infrastructure project. We will be adding another runway in Delhi.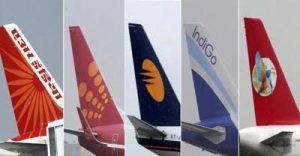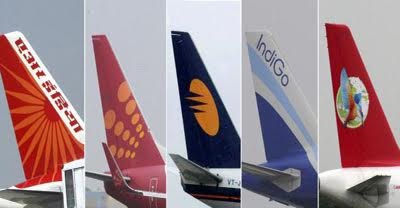 ADU. How do you propose to keep a check on the rising prices and resulting price wars amidst the airline?
MOS. There is an economic logic to surge pricing. Rates are commensurate to demand but this happens only in 1% of times and 99% are normal prices. But the regulator has to keep a tab on this if it gets beyond control. Air fare cut throat competition has resulted into lessening of prices. But this competition should not get unhealthy. What we need to do is make balance between pricing and return to make a good investment.
ADU. Will you think of making the lessor market more attractive in India?
MOS. We have started thinking on the concept  to allow foreign registered aircraft to operate in India. In case there is a default by the airline the lessors should find it easy to take back their aircraft. There is also the first loss guarantee scheme which will reduce the risk of the lessor. This means  if you cannot repossess the aircraft within 90 days, then we can provide some kind of support and guarantee for you. We are trying to make a liquid market for lessors in case of smaller aircraft to enable easy leasing. The regional market has been brought to life with all this, which will be  a big development in India's aviation sector. We could have the  hub-and-spoke model where you have big airplanes flying in the major routes with smaller airplanes working as feeder service. Here the leased aircraft could be of major use and economics would also work.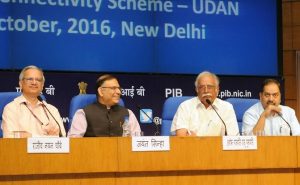 ADU. UDAN was launched with great fanfare and a real hope for regional connectivity.  What steps have you taken to enable the regional aviation market?
MOS. Flying till now is majorly between the big cities and a few tier II cities.. So, how do we connect Bikaner to Meerut or Satna  to Lucknow? UDAN (Ude Desh ka Aam Naagrik) is a scheme to empower the regional aviation market. It is a first-of-its-kind scheme, where you bid on a per-seat basis. First, we have increased the exclusivity period from one year to three years. If you win one route in the bidding process, you can run it for three years without anybody coming there. Second, we're taking steps to reduce airport charges at metro airports. So, if you're flying from, say, Silchar to Kolkata, there will be no airport charges in Kolkata. That obviously reduces the cost of flying. 75 to 100 airports should have air service. The bidding  process will be very  transparent. We've appointed MSTC for the bidding process. Which bid wins or loses will be decided based on the lowest VGF bid. Just like the way we did in case of 2G and coal block auctions.
We aim to reduce the cost of operation, bringing down airport charges, ATF costs and leasing rates through a subsidy mechanism. A viability gap funding will be provided to airlines for 3 years under the UDAN scheme. The bidding for airlines to get subsidy under the scheme will take place twice a year
ADU. Will you help moderate level business men to get an aircraft and participate in the scheme?  
MOS. The truth is that those who want to enter the fray will have the money to do so. Today, there exists such a market for leasing narrow-body aircraft and wide-body aircraft because the lessor can repossess them easily. We're working on a process where the entrepreneur can keep a security deposit of three to six months, depending on business risks, and start on a variable-cost basis rather than a fixed-cost basis. The cost of running a 72-seater aircraft is Rs 1.76 lakh per hour. One can put in a few crores as security deposit, get an ATR, bid for the route and start flying. We have reduced the entry barriers dramatically.
ADU. Will the Non-scheduled operators get an opportunity to ply their aircraft on these routes?
MOS. Well if someone is sitting with two or three aircraft and not flying them then we cannot do anything for them. It cannot be a one in a blue moon approach. They can change their format of business and be a part of India's regional connectivity. .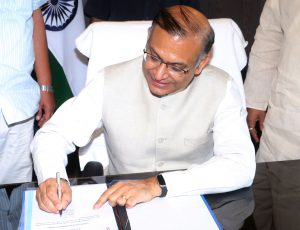 ADU. What is the subsidy government plans to give to help the  small aircraft to earn profits?
MOS. For flying an ATR-72 for 500 km or one hour if  you are leasing the aircraft, you have to recover Rs 3,500-4,000 per seat to run it profitably. So, if we are having a price cap of Rs 2,500, a subsidy of Rs 1,000-1,500 will be enough. This calculation is based on 80 per cent occupancy. We are also allowing 50 per cent of the seats to be charged at market prices from which the operator can recover more. So if you are smart and fly for 200 hours a month, you can earn Rs.4 crores every thirty days.
ADU. What will be your strategy  to start the connectivity of Tier II and III cities?
MOS. We don't believe in time lags. The scheme is demand-driven. So, we have to see what the airlines want. There are 16 under-served airports like  Agra, Allahabad and Gwalior. We would expect the airlines to bid for these airports and get started straight away. It is a  market-driven mechanism and the demand –supply ratio can be chalked out on it.
ADU. What is the government's plan to reduce cost of operations?
MOS. To reduce the cost of operations, Central Government would be providing concessions in the form of reduced excise on VAT, service tax and flexibility of code sharing at the RCS airports. Similarly, the State governments would have to lower the VAT on ATF to 1% or less, besides security and fire services free of cost and electricity, water and other utilities at substantially concessional rates. Landing and Parking charge and Terminal Navigation Landing Charges shall not be imposed by the airport operator.


ADU. And where does Air India stand in this scheme?
MOS. Air India will be bidding along with other airlines for the routes it finds attractive.
ADU. How do you plan to get Air India out of the dump it has been in, especially after the private airlines have entered the market?
MOS. It will be wrong to say it has been in a dump. We are trying get Air India functioning up to the mark. Air India has many old planes in the fleet of 100 plus aircraft which cannot travel like the new aircraft of the private airlines. We have putting in our best to revamp the Air India we got in legacy. We are planning to retire planes and getting new planes on a slow and steady basis. Image makeover of Air India is an important agenda for us. Innovation and strong steps like matching with Rajdhani prices, opening new routes and positive advertising.
ADU. The general aviation industry in India has been asking for FBOs for long but with no avail. What are your comments on it?
MOS. FBOs are very seriously being planned. I know that the lack of them have been  a significant impediment in the growth of the GA market in the country. But to put matters straight the FBO at Delhi's Indira Gandhi International Airport (IGIA) is absolutely operational.. Heliport in Delhi  is up and in action.
ADU. Is fractional ownership a failed model in India?
MOS. Not courtesy the government. I fail to understand why it cannot work here. Netjets is such a great success story  and I am sure we could emulate them .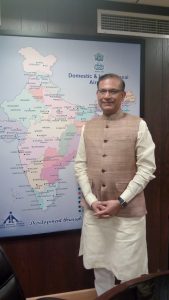 ADU. How do you plan to match steps with your government's Skill India plan?
MOS. We are already doing it. The civil aviation sector has the potential to create about 10 lakh direct jobs in the next ten years. Given a six- fold multiplier effect that jobs in this sector have, this can lead to the creation of about 60 lakh jobs – direct and indirect – in the next ten years. As jobs in the civil aviation sector tend to be of high value, this would go a long way in improving the economic condition of a large number of young people. However, to achieve this we first need to fill the gap between the demand for skilled manpower for a huge variety of trades in the sector, and the availability of the same. We have signed a MoU with the Ministry of Skill Development and Entrepreneurship for training of people in the various trades associated with the civil aviation sector.
As Told to Sangeeta Saxena , Editor, ADU.