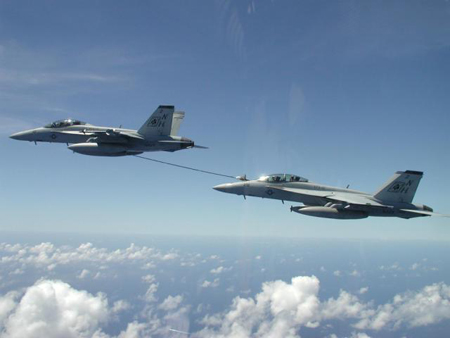 By Sangeeta Saxena
New Delhi. 25 May 2022. From flying over Goan seas to being in the hands of Tom Cruise, Boeing's F/A – 18 Super Hornet is creating rumblings to reckon with. The Indian Navy's aircraft carrier is trying these formidable mettalic birds for its maritime security needs, to be aboard the INS Vikrant.
When Indian Navy launched a global search for maritime fighter jets it planned to operate from future aircraft carriers . Some key attributes which came to mind were twin engines, stealth, survivable, lethality, networked, reliability, interoperability, easy to maintain and apt for the Indian pockets to procure. But the most important points are that the carrier aircraft need to be tough, easy to launch, easy to land, and easy to maintain.
And the time to test the Boeing F/A-18 Super Hornet is here with the possibility that a deal with the Indian Navy could be on track. The OEM with US Navy has in 2020  proved that the F/A-18 Super Hornet can operate from a "ski jump" ramp, demonstrating the fighter jet's suitability for India's aircraft carriers. The demonstrations, held at Naval Air Station Patuxent River, MD, showed that the Super Hornet is just suitable for the Indian Navy's Short Takeoff but Arrested Recovery (STOBAR) system.
Boeing officials have over the years been reiterating that the F/A-18 Super Hornet not only has a low acquisition cost, but it costs less per flight hour to operate than any other tactical aircraft in US forces inventory. As a twin engine fighter, the Super Hornet costs less to operate than single engine fighters. Also the Super Hornet does not require any scheduled Depot-Level maintenance and the engine does not require any scheduled maintenance between overhauls, they insist. Indian Navy's need is 26 and the competion between Americans,French, Russian and Swedish aircraft make it a cynosure of all eyes.
In addition Super Hornet has a buddy refuelling capability that can extend time on station, range, and endurance , can provide close and deep air support through the Active Electronically Scanned Array (AESA) radar targeting data and reliable data links, multi-mission capabilities include battle-space situational awareness, counter stealth targeting, greater range and increased acceleration, improved survivability and reduced signature and room for growth.
Boeing also explained that mounted on the shoulder of the Block III, conformal fuel tanks extend the range of the Block III by 100 nautical miles which is significantly larger range when compared to the Block II. Conformal Fuel Tanks also free up the space occupied by a centerline drop-tank giving the Navy have an additional hard-point to carry more air-to-air or air-to-ground weapons. With multi-role capabilities, advanced technologies with room to grow and low acquisition and sustainment costs, the Super Hornet is the clear choice for India, feels the US Aerospace major.
India's need of the hour is also a carrier fighter which will be able to successfully defend against — and overcome Chinese aircraft carriers with their deployed air wings consisting of Su-33/J-15s, and possibly indigenous J-20s and J-31s in the future. India should be able to lock horns when need arises.
With the QUAD Summit just having got over in Tokyo and Prime Minister Narendra Modi and President Joe Biden having reiterated on maritime security being top priority for both the nations in the Indo-Pacific and growing threats in Indian Ocean, the trials of F/A-18 for Indian Navy become all the more relevant. And the dash of glamour sprinkled by Tom Cruise makes the Super Hornet the centre of attraction.