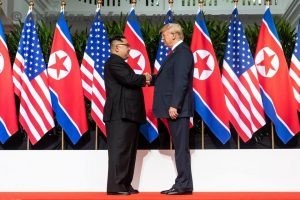 By Suresh Somu.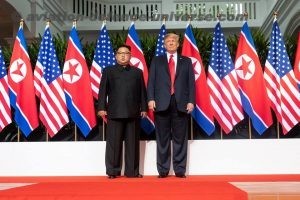 Singapore. 12 June 2018.  US President Donald  Trump and North Korean leader Kim Jong Un signed a document  which is  "important" and "comprehensive," as per Trump, as the two of them wrapped up the Singapore summit. Trump and Kim had a one-on-one meeting for 35 minutes with translators only, followed by an expanded meeting with their top advisers over a working lunch.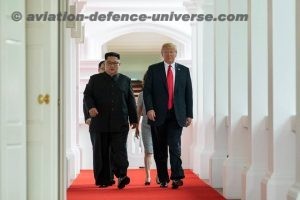 Trump told the media, " We had a really fantastic meeting. A lot of progress. Really very positive. I think better than anybody could have expected…Top of the line. Really good." Asked if Kim had agreed to give up any nuclear weapons though, the pair kept walking with no response. Trump said he "absolutely" will invite Kim to the White House.
Without divulging in details and on condition of anonymity an official said that a followup negotiation will be held  as soon as possible between  Secretary of State Mike Pompeo and a high-level North Korean official . The document  Trump and Kim signed lists four provisions, including reaffirming North Korea's "commitment to working toward complete denuclearization of the Korean peninsula." The White House has yet to officially release the document.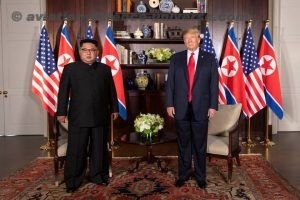 Trump when  asked by the media what surprised him most about Kim, he said "Great personality and very smart — good combination. Kim is a very worth negotiator. I learned that he's a very talented man. I also learned that he loves his country very much. "
Kim stated  through a translator, "Today we had a historic meeting and decided to leave the past behind. The world will see a major change."
As per the talk in the media the White House has provided the menu for the lunch between the two leaders. Starters were traditional prawn's cocktail served with avocado salad, green mango kerabu with honey lime dressing & fresh octopus"Oiseon", Korean stuffed cucumber and the main course of Beef short rib confit, served with potato dauphinois and steam broccolini, red wine sauce on the sidecombination of sweet & sour crispy pork and Yangzhou Fried Rice with homemade XO chili sauce andSoy Braised cod fish with radish and  Asian vegetables. Dark chocolate tartlet ganache Häagen-Dazs vanilla ice cream with cherry coulis and Tropezienne gave a sweet finish to the lunch.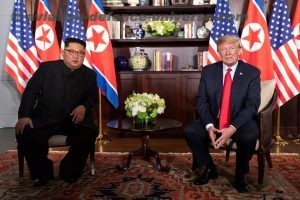 As per the  spokesperson U.S. delegation consisted of President Donald Trump, Secretary of State Mike Pompeo, Chief of staff John Kelly, National Security Adviser John Bolton, Press Secretary Sarah Sanders,  Sung Kim, U.S. Ambassador to the Philippines and Matthew Pottinger, deputy assistant to the president for Asian affairs.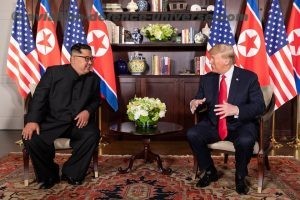 North Korean delegation was headed by  Kim Jong Un with Kim Yong Chol, Vice-Chairman, Central Committee of the Workers' Party of Korea, Ri Su Yong, Vice-Chairman, Central Committee of the Workers' Party of Korea, Ri Yong Ho, Minister of Foreign Affairs, No Kwang Chol, Minister of People's Armed Forces, Choe Son Hui, Vice-Minister of Foreign Affairs, Kim Yo Jong, First Deputy Director, Central Committee of Workers' Party of Korea and Han Kwang Sang, Director, Central Committee of Workers' Party of Korea.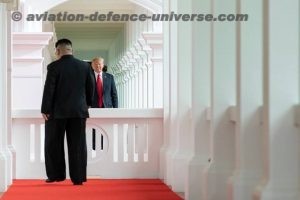 The White House says the president spoke on the phone with South Korean President Moon Jae-in and Japanese Prime Minister Shinzo Abe on Monday ahead of the summit.