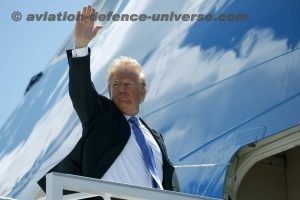 US-North Korea summit: A positive step for world peace in Singapore?
By Suresh Somu.
Singapore. 10 June 2018. Global eyes are on Singapore as the city-state lays the red carpet for the highly-anticipated USA-North Korea meeting. After will they-will they not for the past month, both the leaders who have been the cynosure of all eyes have landed at peace maker Singapore to shake  hands to put an end to uncertainty of peace in the region and the world.
The scheduled first meeting between US President Donald Trump and North Korean leader Kim Jong Un may not resolve all issues between the two countries but would rather serve as a testament to the leaders' political will.
They are scheduled to meet in Singapore on June 12, with analysts expecting Washington to convince Pyongyang to abandon its nuclear programme. North Korea is believed to have developed a miniaturised nuclear device that could be placed on a missile that could strike the US.
Washington has called that unacceptable and demanded Pyongyang embark on full and verifiable denuclearisation.
Hosting the Trump-Kim summit will give Singapore publicity and says something about the country's standing in the international community, Singapore Prime Minister Lee Hsien Loong. He says: "In terms of direct impact, (hosting the summit) gives us publicity. The fact that we have been chosen as the site of the meeting…it says something about Singapore relations with the parties and our standing in the international community."
POSITIVE OUTCOME
Lee added that from Singapore's point of view, it is important that the meeting takes place and has a positive outcome – one that sets developments "on a new trajectory, and will be conducive to the stability and security in the region".
However, he warned that the tense situation in the Korean peninsular has been ongoing for up to 70 years, and one "cannot wipe that all away in one meeting".
"What you can hope to do is start things moving in a positive direction and hope to build up progressively along the way. I think that's a long process but this is a first step which happens in Singapore and well, we are happy to be associated with it," he said.
Singapore is no slouch in hosting high-level meetings. In November 2015, Ma Ying-jeou, former President of Taiwan and Xi Jinping, President of China, were hosted for a significant meeting since their split at the end of the Chinese Civil War in 1950. Singapore also hosts a major annual defence conference every year that draws political leaders and military brass from around the world.
The White House, too, gave the thumbs-up to Singapore after experts floated a number of possible locations, including Switzerland, Mongolia and the demilitarised zone between North and South Korea.
DIPLOMATIC RELATIONS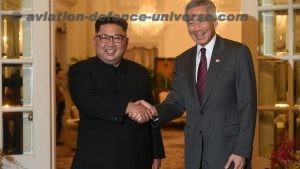 "Singapore was selected because they have been willing to hold it, and because they have diplomatic relations with both the US and North Korea. They are one of very few countries that have relationships with both countries," says a White House official.
Singapore Foreign Minister Dr Vivan Balakrishnan reiterated that "we did not put our hand up, but we were asked". He adds: "The Americans approached us first. The North Koreans subsequently came to us. I think Singaporeans can be proud that we've been chosen because they know that we are neutral, reliable, trustworthy and secure."
He also highlighted that Singapore has decades of diplomatic ties with Washington and Pyongyang.  It also serves as a regional headquarters for several large US companies and US Navy vessels, which use Singapore's port facilities. And it is also a major trading and security partner of the US despite not being a treaty ally.
In hosting this icon political event, Singapore hopes it can play a discreet back-room role over the prospect of trade war. "From Singapore's perspective, we hope it will not be a full-blown trade war because it will inevitably affect us," says Dr Vivan. He discussed the trade matter in Washington recently with US Secretary of State Mike Pompeo and National Security Advisor John Bolton.
GLOBAL ROLE
 Tongue-in-cheek, Dr Vivan, in his closed-door meetings with the US and North Korea said humbly that Singapore's role is to "serve tea and coffee". But seriously, Singapore knows it is playing a responsible global role in contributing to world peace by hosting the highest-level summit.
Singapore will pick up the overall organisational bill for S$20 million but "it's a cost we're willing to bear to play a small part".  Dr Vivan adds: "For the President of United States to sit with the leader of North Korea across the table and to have all the issues laid out for them to have a frank discussion is a significant step."
President Trump and Chairman Kim will meet on the world-famous Sentosa, a smaller tourist island off the coast of Singapore's main island. For Singapore, where law and order is utmost priority, it is pulling out all the stops to ensure the summit runs smoothly.
President Trump, who arrived later than Chairman Kim on Sunday evening, spoke positively and he expected an eventual "very positive result" with North Korea. But he dampened expectations for a breakthrough in Singapore, saying it could take several meetings to reach an agreement.
 PEACE TREATY?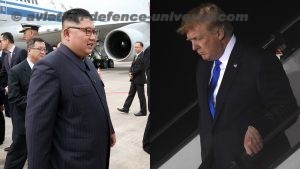 He significantly pointed out that one thing that could come out of the summit is an agreement formally ending the 1950-53 Korean War, which was concluded only with a truce, not a peace treaty.
Former US officials and analysts say that if the meeting produces a peace declaration, this could give President Trump a big headline-grabbing, made-for-TV moment on the world stage.
But they say the public relations value of such a historic event could quickly fade if Trump fails, in return, to wring any significant concessions from Kim toward the dismantling of North Korea's nuclear arsenal.
The Singapore-styled red carpets aside, the world awaits in anticipation to how the two contrasting political leaders will get the ball rolling, first, with their historic holistic handshake. And the fingers are crossed for a positive step in world peace in the little island of Singapore.