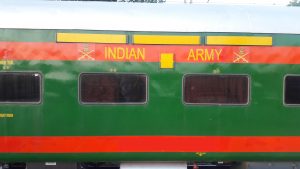 3 days of  countdown for spouses preparing for husbands  moving from Eastern sector to war zone
By Sangeeta Saxena
New Delhi. 26 July 2020. As a journalist who covered Operation Vijay from the Batalik sector memories are very strong but stronger are memories of this Army wife, who along with all the ladies of officers, JCOs and ORs had the duty of saying good bye to all the husbands at Siliguri station, as it moved to the Operation Area, in the Army Special Train. From getting to know that the call of duty for which every soldier joins the Army had come and the countdown to bid goodbye had begun, it was an experience I will never forget , even when I turn 100.
As the Commanding Officer's wife your emotions do not matter, your ladies have to be kept motivated and it is your duty to ensure they don't let fear, tears , softheartedness or despair take over their otherwise strong demeanour.
This most poignant memory of my life started when my husband and I had gone to formally see off an inspecting General and his wife at Bagdogra Airport. As we were waiting in the lounge, the officers all broke off suddenly and rushed to the adjacent area. My inquisitiveness got the better of me and I rushed to see what was happening, leaving behind the Brigadier's and General's wives for once breaking the protocol. Through the glass door saw all officers surrounding a coffin draped in the national tricolour and all of them saluting it. The two senior ladies of those good old days asked me on return -What happened? Is it a casualty? In the days of no google, no mobile phones and husbands never discussing official matters with wives, I knew it was serious , it was a soldier who had made the supreme sacrifice but nothing more. While returning from the airport at the cantonment barricade our Gypsy was stopped and there was vehicle waiting to take me home and my husband informed that he was going to the regiment, I should not wait for lunch and the adjutant will call to talk, adding to my curiosity.
I reached home and found the adjutant waiting. He smilingly said, " Mam there is a special welfare meet. All ladies are at the welfare centre and I will brief you on the agenda." He got into the vehicle and broke the news that the regiment has got orders to move to the operation area and my adrenalin rushed with a reaction- wow are you all going to Kargil? Even after 21 years I still remember the look of amusement on his face and his question, "Mam you seem happy. I am relaxed now." And by the time I could tell him that an army wife, an army sister and a DRDO daughter has been waiting all her married life for this day, we had reached the welfare centre. For the first time in my years at the regiment I could hear ladies speaking in excitement and children yelling, which was the most motivating feel- thank God they were not in silence and tears.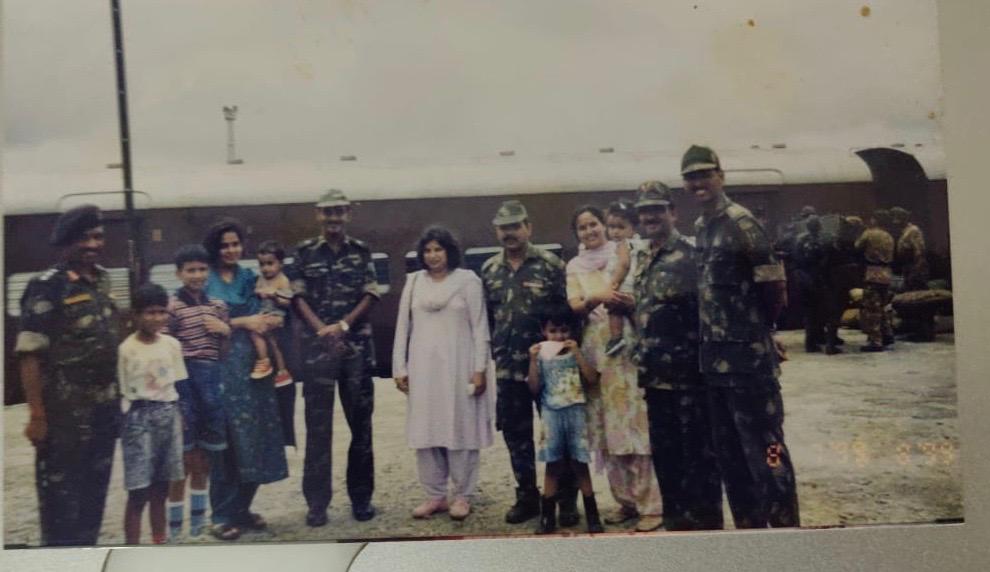 I picked up the mike and started breaking the news that it was time for us to bid a fondest and no tears farewell to our husbands who would be moving in the special train to Kargil in precisely three days and together they all said in unision – yes we know . I realised that it was my husband who was the only one not having broken the news to his wife personally and believe me I still keep reprimanding him for this. And post that it was an hour plus of them speaking I listening and getting convinced for the millionth time that it is these ladies who make our soldiers the best in the world. Their silent support, their strength to keep the husbands from not getting deterred from their greater national role, their ability to manage the homes to perfection and their competence to raise children as great human beings make the tribe of army wives the most capable women .
The discussion that day was on what could be made to send along with the husbands , would survive for at least six months and in unknown circumstances give them ready made food. However much the Adjutant told them that cooks would be their all throughout to look after their needs but our ladies' spirits were not to be dampened. Finally each Company Commander's wife took the task on her own to get the ladies together to make whatever they wanted to but in large quantities so that the forced bachelors also go their share for munching. All pickle jars from each and every household I am sure were donated for the cause. It was two days of cooking, packing and handing over these more than two truckloads of snacks and other goodies while the menfolk were busy packing the regiment for this most awaited move. And all these days we wives hardly got to see our husbands who were probably in their busiest schedule.
On the third day the news came that Indian Railways has parked its train for the regiment at the station and it dawned that the countdown had begun. After shifting the regimental assets to the train, the husbands all came back to their homes to meet their families and pick up their personal stuff and so did mine. Last minute instructions by the CO to the first lady were – ensure whichever family wants to go home ask the rear to get the bookings done and board them in the trains, whoever wants to stay back can do so till whenever they want, confirm admissions of the children of all recently landed families, do not leave them till the regiment has reached its destination and all matters are within the control of the rear here. He very subtly told me you can't start your assignment of covering Operation Vijay as a journalist till your duties as the CO's wife are over and this time I agreed with him.
The train was parked on a deserted far off , probably unused platform which was filled to capacity with ladies and children brightly dressed and in festive mood. My journalistic mind was finding it hard to accept that expect for seven – eight women and some children most of them had no tears in their eyes. They were happily chatting with their husbands, children were in their fathers' laps if small or hugging the dad if big, and civilians on the platform who had come to flag off the special train were bewildered. For nearly four hours the families were on the platform till the signal was given for movement. The moment was captured for eternity in my mind when the children rushed to gave their fond hugs , wives bid goodbyes , the soldiers rushed into their compartments and it was a sea of hands waving byes out of the doors and windows of the train.
As the train went beyond sight into horizon, I turned and saw that most eyes were moist and some pouring tears. Now probably was the time to let our emotions take over for a few minutes and feel happy that we didn't let our men folk leave with troubled minds for what we all knew was war. Even though our head knows that going to war is exactly what our spouse has been trained for, even if we understand that on a logical level, our heart doesn't quite get it. But we were lucky to have of been a part our partner's preparation for the deployment and fortunately were not on a summer vacation back home. I think the worst part of that is when you don't get to say goodbye and we were lucky to have got three days to prepare for this wave and wishing then well in the operation.