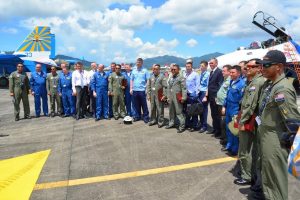 Langkawi. March 21, 2017. On the first day of the "LIMA'17" international exhibition (Malaysia) top-management of Irkut Corporation and UAC held a meeting with Russian and Malaysian pilots.
Pilots of the "Russian Knights" aerobatics group and the 11th squadron of the Royal Air Force of Malaysia perform on supermanoeuverable Su-30SM and Su-30MKM aircraft respectively.
The air aces of the two countries, whose performances constantly evoke admiration of the audience, highly praised the flight characteristics of their aircraft.
President of Irkut Corporation Oleg Demchenko marked the high skills of pilots and their ability to use the maximum extent of the fighter's capabilities.
First vice-president of UAC Alexander Tulyakov said: "Positive evaluation of aircraft given by pilots is very important for us – the developers and manufacturers".
The meeting resulted with a joint photo shoot against the background of Su-30SM and Su-30MKM aircraft.