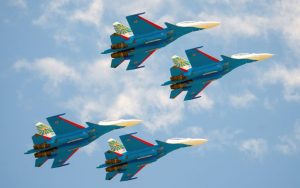 Langkawi. 22 March 2017. Russia's most lethal fighter jets have a very interesting change of role. They are now the Russian Knights and the Flanker team is flying outside Russia for the first time.
LtGen Andrey Yudin stated that Su-30SM fighters, which are being flown by the "Russian Knights" aerobatic team in Malaysia, featured essentially new piloting and combat capabilities.
The Russian Knights is an aerobatic demonstration team of the Russian Air Force. Originally formed on April 5, 1991 at the Kubinka Air Base as a team of six Sukhoi Su-27s. In what is a major development the team is in Langkawi International Maritime and Aerospace Exhibition with the Su-30SM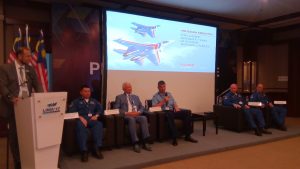 The lead pilot of "Russian Knight" Col Andrey Alekseev stressed: "It is the great honour for us to represent Russian Air Force with the best-in-the-world Su-30SM fighters, here in Malaysia. He also claimed that the new aircraft are completely comfortable for pilots. "All pilots of our aerobatic team have mastered Su-30SM, so we will start to demonstrate aerobatics of six-aircraft formation soon," he added.
The Su-30SM fighter jet is a specialised version of the thrust-vectoring Su-30MKI and MKM variants for the Russian military, fitted with Bars-R radar and the wide-angle HUD.
President of the Irkut Corporation Oleg Demchenko, named "Russian Knights" pilots as the national treasure of Russia.
Five Su-30SMs, including a backup plane arrived at LIMA after three domestic halts and two international breaks one each at Vietnam and China.